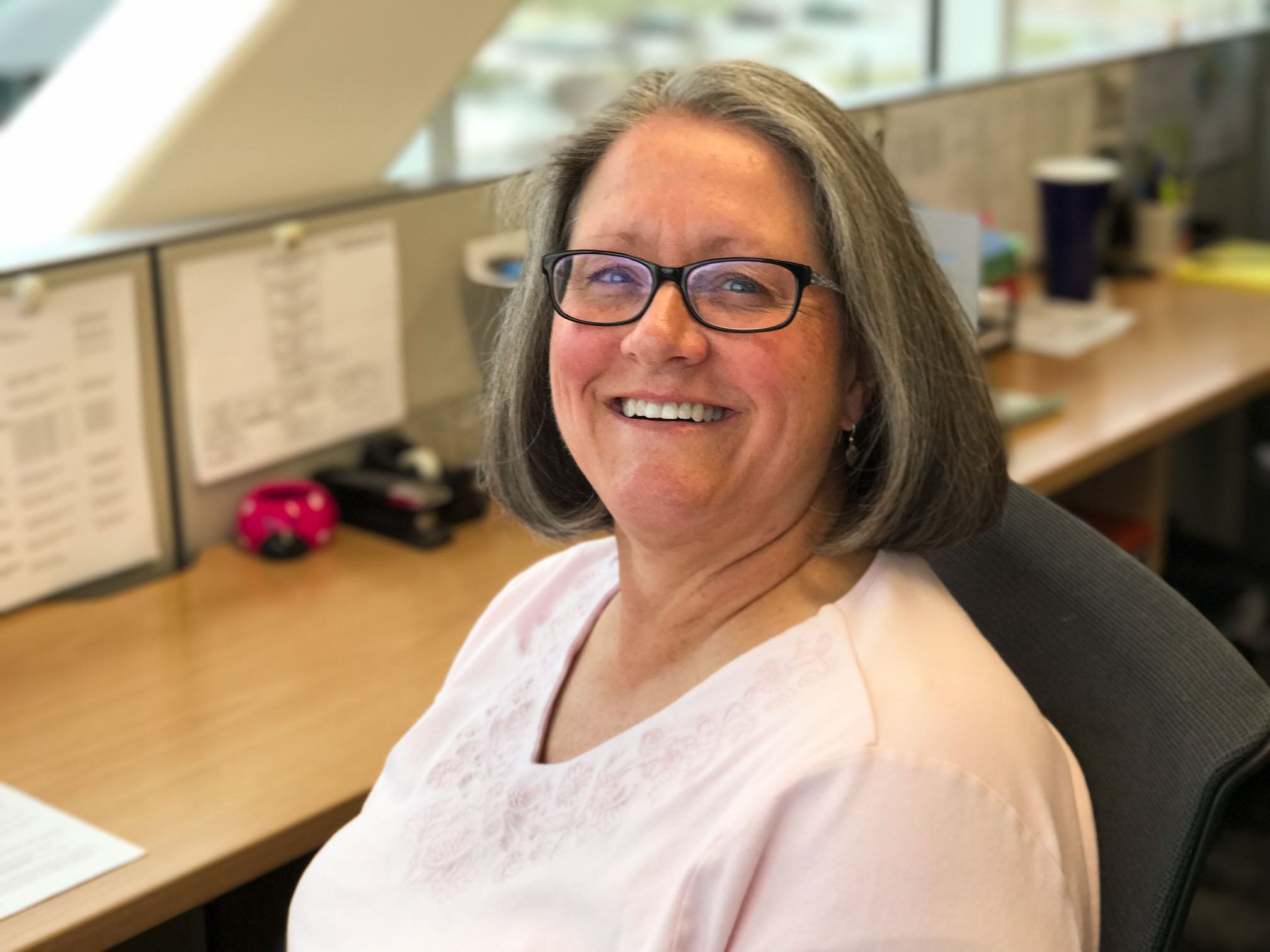 Polly Gregory started at CHG Healthcare in 1997 as a client representative on our
CompHealth
government team. About 15 years ago, she moved to our legal department and is currently a senior contracts administrator. "Basically that means I review contracts and RFPs all day, every day," Polly says. "Sometimes it's our standard contract template, which the client has made changes to, but more often than not, it is the client's nonstandard contract. Part of the review process could also include having a conference call with that particular client's legal or risk management department to negotiate the terms of a contract." One of the reasons Polly loves working at CHG is the opportunity she has to learn new skills and grow her career. "I never thought I would be here 20 years," Polly shares. "In all my other jobs before CHG, I was looking for something new to move to after three years. But my positions here have always offered a challenge and the opportunity to learn something new. Another reason I'm still here is the people I get to associate with every day." Learn more about Polly in the Q&A below.
What is your most memorable moment at CHG so far?
This is a tough one, but I would have to say a couple of years ago when a co-worker (who I think works just as hard as I do and juggles being a mom as well) nominated me for the department's MVP award and I was actually chosen. I really don't think I am anyone special and just try to do my job the best I can but it's always nice when someone recognizes the work you do.
What advice do you have for others looking to grow their career?
Always be open to new opportunities and willing to take on new responsibilities and challenges. I am on the legal team because I always said yes each time I was asked to do something new.
What was it like when you first started working here?
Professional business attire every day. Flexible schedules would not have even been considered. I remember when Mike Weinholtz came on as CEO and how everyone's attitudes relaxed. We could wear jeans to work! We could have fun at work!
What changes have you witnessed throughout the years?
The amazing effect a company can have on its employees when they truly value them and do everything they can to make going to work something you want to do, not just something you have to do. I pretty much work 45-plus hours per week, and there have been a few times after a really stressful day when I thought I could just walk out the door and not come back. I keep coming back because even with crazy, stressful days, I enjoy what I do and I know I would never find another company to work for that treats it employees as well as CHG.
What is an interesting fact about you?
I grew up in a close family, where the boys ruled. I have seven brothers! My sisters and I just tried to keep up or stay out of their way.
If you had a day to do anything at all, what would you do?
That's a tough one. I know it's weird, but I love to clean my house! I love walking barefoot on clean floors and the smell of furniture polish. But I can also be really lazy and just curl up in a chair and read a good book or watch a favorite movie.
If you were stranded on a desert island, what three things would you take with you?
A good book I could read over and over again, a Dutch oven, because you can cook pretty much anything in a Dutch oven and my dog Millie who loves me no matter what.
If you could share a meal with any three people, living or dead, who would they be and why?
I love history, so I think Abraham Lincoln would be there because of the Civil War. I would also want my parents there. They passed away 18 years ago this year and I would ask them all the things I never thought to ask them while growing up. I would love to have my mom's brownie recipe, they were the best!