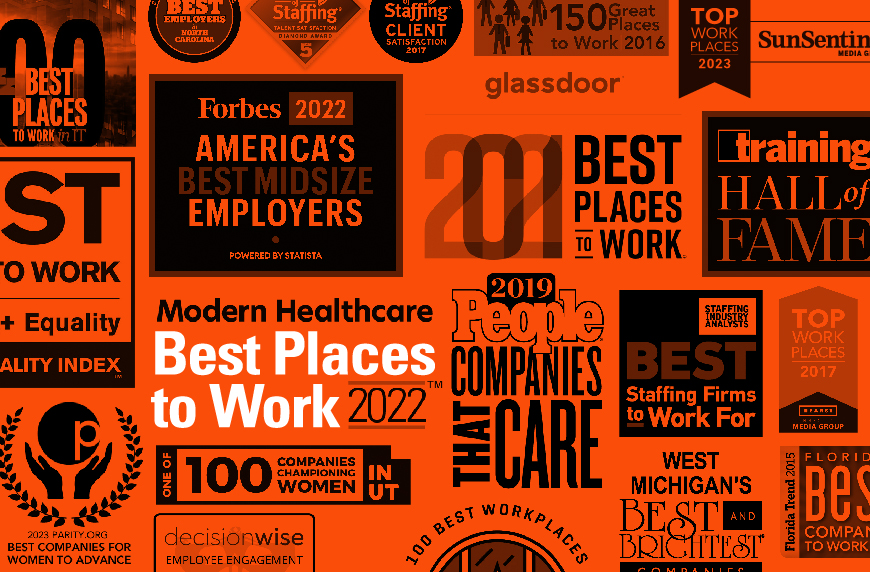 At CHG Healthcare, our people are at the heart of everything we do and the reason we've consistently been recognized as one of the best places to work for more than a decade. Together, we've cultivated a people-focused culture that encourages employees to bring their authentic selves to work. We have worked hard to create an inclusive and welcoming environment that celebrates diversity and promotes workplace flexibility.
But don't take our word for it. Here are just a few of the awards that have recognized our people-first culture over the years and why we're considered a top place to work.
A great place to work
In 2021, Glassdoor included CHG on its annual Employee Choice Awards list of Best Places to Work. Winners are determined solely based on the feedback employees have voluntarily and anonymously shared on Glassdoor.
Although 2020 was a tough year, our people rallied together to take care of each other and our community while continuing to place healthcare providers in facilities around the world when they were needed the most. From the top down, our people showed what living our core values actually means and continued to put people first and make a difference during tumultuous times.
Here's what one reviewer shared about working at CHG during this time:
"CHG truly stands behind its 'free to be me' motto. They expect excellence but know that it comes in all shapes, sizes, and colors. They've masterfully handled the COVID pandemic by providing everyone the resources and equipment to work fully remote. They put our safety top-of-mind and have kept us home even when the cities have re-opened. The benefits are amazing — great healthcare coverage, paid maternity leave, fertility treatment coverage, and generous PTO. The CEO is extremely transparent and caring. He'll take the time to learn your name and about you, no matter your title or tenure."
In addition to Glassdoor, we've also been included on Forbes' list of America's Top Employers as well as recognized for more than 10 years on Fortune's list of 100 Best Companies to Work For.
RELATED: Overview of the benefits offered at CHG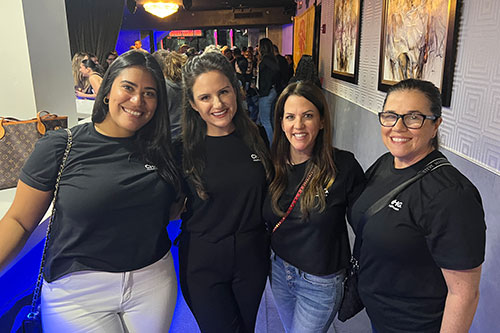 Championing women
Advancing women in the workplace is more than an initiative at CHG. It's who we are. In fact, 60% of our workforce identifies as women, and more than 50% of leaders in the company identify as women. Additionally, on average, women at CHG are paid 100.24% compared to men.
So, we're excited to be recognized this year by Inspire InUtah as one of its 100 Companies Championing Women. An initiative of the Utah Governor's Office of Economic Opportunity, Inspire InUtah helps support women in the workplace and women entrepreneurs. We're also excited to be included on the 2023 Parity.org Best Companies for Women to Advance List, which recognizes organizations that are creating the culture and conditions where women can rise.
"Our commitment to advancing women is part of our overall commitment to creating a work environment where everyone feels respected, included, and has an opportunity to be successful," shares Christine VanCampen, CHG's vice president of diversity, equity, and inclusion.
Although we're not normally considered a tech company, CHG has a robust digital division that provides a variety of opportunities for women to grow in their technology careers. We also have a variety of employee inclusion groups that support women including WIT and Wisdom, a group focused on advancing women in technology. And for the fourth consecutive year, we were recognized on the Women In Tech Council's Shatter List, which identifies companies working to create more gender-inclusive cultures that advance women in tech.
Best in our industry
In addition to being a best place to work in the U.S., we're also one of the best places to work in our industry. For the fourth consecutive year, Modern Healthcare recognized CHG on its annual Best Places to Work list that highlights healthcare companies that empower employees to provide superior patient care and customer service. We've also been recognized in the past on Inavero's Best of Staffing list and Staffing Industry Analyst's Best Staffing Firms to Work For list.
Ready to join our team?
If you're searching for a company that genuinely cares about its employees and fosters a people-focused culture that allows you to grow in your career, then CHG is the place for you. Awards aside, we're committed to our people's well-being and creating a supportive and flexible work environment where everyone feels valued and can thrive both professionally and personally.
Want to work for a company that truly is a great place to work? Check out our current openings!