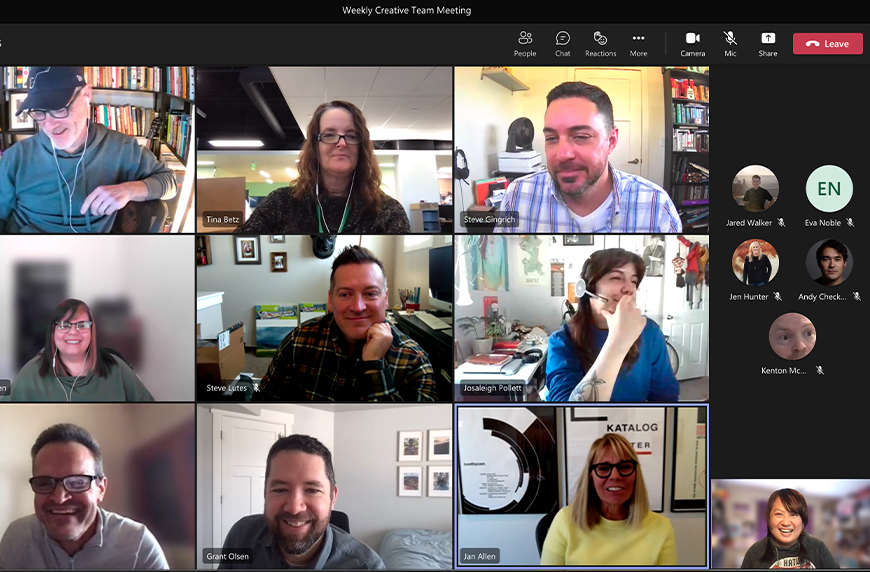 What works great for one person may not work as well for another. That's why at CHG Healthcare we encourage our employees to work in partnership with their leaders to develop the schedule that works best for both them and the business. While many employees enjoy going into the office every day, others find a hybrid schedule — splitting their time between home and the office — works well for them. Some employees are successful working fully remote, and only occasionally visit the office. Here's how this workplace flexibility has positively impacted the lives of three CHG employees.
A remote wanderer's dream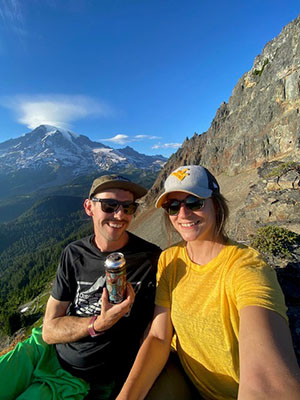 Chase Johnson, a member of CHG's interactive marketing team, has always been known in the office as a spirited person who invents quirky challenges — like doing something that scared him every day for a month. So, it was no surprise to hear that Chase and his girlfriend, Meg Leberknight — who works as a part-time writer for CHG — left Salt Lake City, home of CHG's headquarters, to explore the U.S. and work fully remote for a year.
"I've never lived outside of Utah before. I started dating my girlfriend right around when the pandemic hit, and she's well-traveled. So, we devised this plan where we would go live somewhere different every quarter for a year," says Chase.
They hit the road and explored Pittsburgh first — because of the low cost of living and proximity to Meg's parents. Then they made their way to Seattle, where Chase has a network of friends. Next on the list, they're thinking either Las Vegas or Northern California.
"I am able to do my job and have the freedom to do the other things in my life," Chase says.
And to his surprise, being remote hasn't stalled his career either. He recently received a promotion while living his newfound nomadic life.
An introvert's comfort zone
UX designer, Kelly Glenn, is one of the many CHG employees who doesn't live near any of CHG's offices, which are located in Connecticut, North Carolina, South Florida, and Utah.
Although she's the sole member of CHG's digital team who is located in Dallas, Texas, she says she's really enjoying her first work-from-home job after years of working in-house at agencies.
"I think working virtually has opened up a lot of opportunities for people to just be more relaxed and have work/life balance. Most of the time I just stay in sweats all day," Kelly says.
Her 10-person team is now based in various states across the U.S., but they always find ways to stay connected and engaged.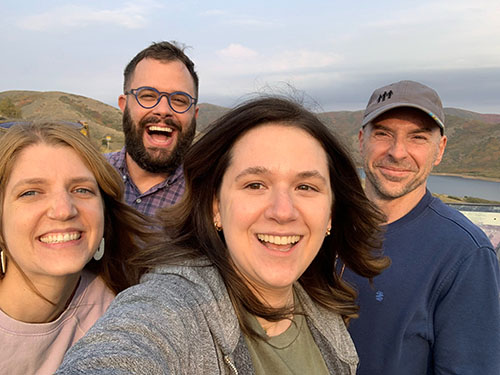 "I don't feel disconnected from my leader. We have an awesome relationship and we've only met in person once. He and anybody that I need to talk to are always just a click away, whether it's Zoom, Teams, or Slack," explains Kelly.
In terms of experiencing CHG's fun workplace culture, Kelly says she always feels included.
"They're really good about sending out DoorDash gift cards, or whatever else, to make sure the people who are remote can participate in lunches and other activities," she says.
"Everybody is super smart, and our digital org moves fast. There's always an eye on improving technologies and everything else that we're making. The best way I could describe the digital org, is that it's a startup experience with the backing of a billion-dollar company," says Kelly.
A parent's lifesaver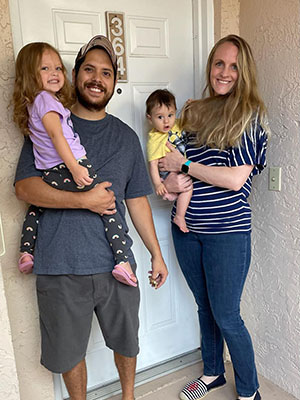 Our sales teams have been just as successful with the hybrid work model as our business partners. Jennifer Canon is a leader of our associate recruitment team for our RNnetwork division based in Boca Raton, Florida. Her team works at hyper speed to support sales consultants and their healthcare providers. Jennifer is the first one to admit they haven't missed a beat since changing to a remote environment.
"I think the team has really excelled working from home," says Jennifer.
And she believes virtual work has increased efficiency for leadership, as well. "When we were all in the office, going from meeting to meeting took time. I feel like I personally have more time to do work," she says.
That extra time has benefitted her personal life as well. No more 40-minute commute means more quality time to go around — and it's been a game changer for her family.
"My husband actually works overnight, and he watches the kids in the morning. It's been nice for him because I've been able to help them on my lunch break now and let him sleep a little bit longer," she says.
Since Jennifer values her work-from-home life so much, as a leader she encourages her people to embrace this ever-evolving world of work to see what will help them to achieve their personal best work/life balance.
"I encourage my people to ask if they want a different schedule. If you don't ask, the answer is always going to be, no. But if you do ask, then we can maybe see if it's something that does work," Jennifer says.
Employees across the nation
Since CHG adopted a hybrid workplace model, we've been able to attract top talent from across the U.S., and we currently have employees in 44 states. We're thrilled to be able to provide opportunities to job candidates looking to grow their careers at a company that provides top-notch benefits like workplace and schedule flexibility.
RELATED: Overview of the Benefits Offered at CHG
CHG Healthcare is currently hiring. If you're looking for a company where you can grow your career, be yourself, and have the flexibility you need for a better work/life balance, check out our open positions.