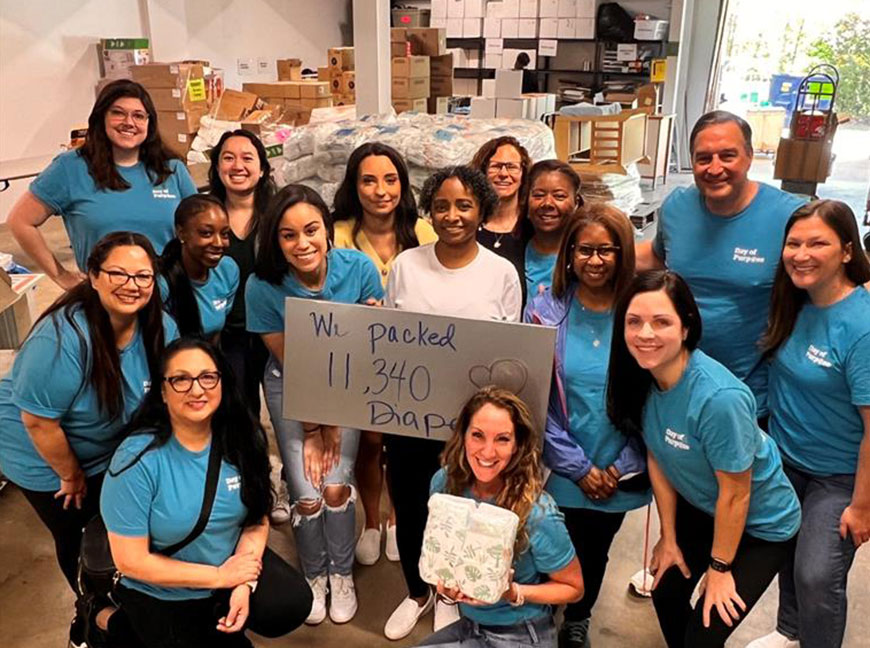 Putting People First is at the core of everything we do at CHG Healthcare. It's what inspires us to make a difference not only for each other and our providers but in the communities where we live. So, in addition to delivering healthcare professionals to the places they're needed most, we also give back through our community impact program and the Making a Difference Foundation. Here's how these programs work.
Community impact program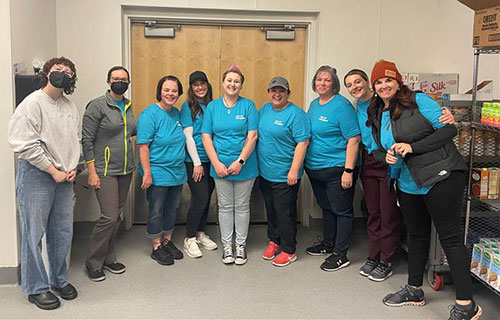 CHG's community impact program is dedicated to creating opportunities for our people to volunteer and give back to the community. Some of these opportunities include:
Volunteer time off (VTO): Each year, our people get up to 16 hours of individual VTO and unlimited hours for volunteering with their teams.
Making a Difference Week: For nearly two decades, we've hosted our annual Making a Difference Week to raise money for nonprofit organizations close to our hearts. Last year, our people raised more than $367,000.
Employee volunteer trips: We offer employees the chance to make a difference through company-sponsored humanitarian trips. Past trips include Peru, Poland, and the Navajo Nation.
Day of Purpose: This year, we kicked off our very first Day of Purpose — a company-wide volunteer event. More than 700 employees volunteered 2,131 hours in 11 states, doing everything from preparing meal kits and donating blood to planting trees and cleaning up public spaces.
LEARN MORE: 7 ways CHG employees gave back to their communities in 2022
Making a Difference Foundation
The Making a Difference Foundation was created to support medical providers and CHG employees in giving back to their communities around the world. From medical missions in Thailand to targeted grants for initiatives closer to home, the idea is that every person can create a ripple effect of positive change in the world.
Medical missions: Working with nonprofit partners, the foundation gives healthcare providers the opportunity to serve medical missions in underserved communities around the world
Sustainable healthcare grants: The foundation provides multi-year grants to free healthcare clinics that offer direct healthcare to uninsured patients
Local grants: The foundation provides grants to local organizations whose missions match the passions of CHG employees. These grants are given to causes and nonprofits our people are actively involved in volunteering with.
Disaster relief grants: Natural disasters, hurricanes, and health pandemics are just some of the disasters that the foundation has been able to support by sending relief funds to organizations that provide help during times of crisis
CHG employees giving back to their communities
With so many ways to make a difference, our people have made a huge impact through their service to the community.
Cleaning up after a hurricane
After Hurricane Ian left a path of destruction in late September of last year, seven CHG employees volunteered with All Hands and Hearts on a company-sponsored trip to Fort Myers, Florida, in March. The group cleaned up homes destroyed by the hurricane to prepare them for restoration.
"We spent five days in these homes either ripping out the things that needed to go — flooring, walls, nails — and making sure that all of the damaged material was gone, so it would be ready for contractors to come in and begin restoring these homes," shares Gina Locigno, manager of people and culture.
Although the work was hard and the heat made the days feel long, knowing they were helping families who'd been displaced for six months get closer to moving back into their homes was more than rewarding.
"It was just really touching when the homeowners would stop by," Gina says. "They would tell us a little bit of their story, and it was just honestly the fact that we got to see just how appreciative they were for the work we were doing, knowing that it meant literally the world to them to get back into their homes."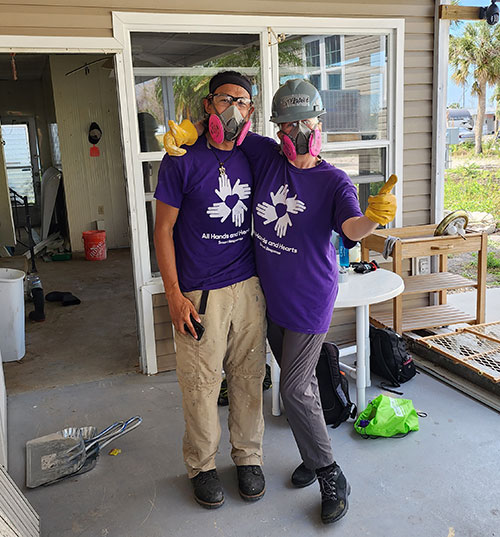 Supporting a worthy cause
Since 2018, Weatherby sales consultant Don England has volunteered with Rebuilding Together Broward County, a nonprofit dedicated to ensuring a safe and healthy home for every person and revitalizing struggling neighborhoods. Their mission is to repair homes, strengthen communities, and rebuild lives — something Don is passionate about.
"Home ownership is expensive, and there are unforeseen costs, especially as you get older or you've gotten in a position where you can't afford the upkeep," says Don. "People want a place they can be comfortable and feel safe in and know that things aren't so awry that it's not that welcoming of a place. Homes are a major part of a community and having pride in your space helps you be a better contributor to the community as a whole."
Although Don started with Rebuilding Together as a volunteer five years ago, he's now on the board, which has given him insight into the cost of volunteerism.
"It's helped me realize that even if I volunteer somewhere, I probably need to pay for my volunteerism because there are costs of having volunteers come and work; it's not actually free labor to them."
Knowing the costs of running a nonprofit, Don has applied for local grants with the Making a Difference Foundation on behalf of Rebuilding Together and has been awarded three grants over the last few years, totaling $5,500.
Don shares, "When you take the VTO and the number of hours that CHG provides its employees and the opportunities for grants for nonprofits that matter to you, there's no other organization I've been a part of that even come close to this company."
Interested in working for a company that cares about giving back to the community?