Kerstin James, Business Partner training specialist at CompHealth locum tenens in Salt Lake City, Utah, says that her role as a trainer is to educate and inspire new hires, the same way she was when she first joined CHG.
"Our new hires are coming from all walks of life, just like I did two years ago," Kerstin says. "I love hearing their stories and helping them realize their great potential within the company."
Kerstin was originally hired as an assistant on the medical staffing services team, from which she advanced to the position of coordinator before joining the CORE training team.
"I have gained such a valuable education in my time here," she shares. "I love to learn, and my leaders both past and present always challenge me to be the best I can be. I hope to provide that same environment."
Read on to find out how working at CHG helped make the transition from military to civilian life easier for Kerstin and her family!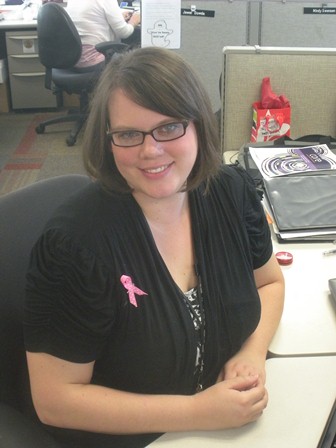 CHG has not only had a huge impact on my career, but on my whole life. My husband served in the Navy for seven years, during which time we moved around a lot! When he finished his tour of service two years ago, I found myself in a moving truck headed to Salt Lake City and completely terrified! All I had known up until that day was the Navy telling us what to do, where to live, what to wear – everything! I emailed Aimee Waters, an old college roommate, asking her if she knew of a great place to work in the area. Immediately, Aimee wrote me back asking for a resume because her department was looking for an assistant on the medical staff services team. With my background in front and back office work for physicians, this was a perfect fit! I interviewed for the position and was offered the job a week later.

My time at CHG has been nothing short of amazing. I was worried that our family's transition from military to civilian life would be difficult, but CHG has helped our family. It is amazing to come to work every day for a company that celebrates individuals and allows us to contribute to a common goal. Work/life balance was not the focus in the Navy; in fact, my husband was deployed most of the year. He was even gone when our youngest daughter was born.Our time serving this country was worth every minute, but now that we have moved on, I am grateful that I have found a new passion within the walls of CHG. I am encouraged to stretch myself and continue to grow. My husband and three children provide the balance I need to maintain focus at work and remain happy when I come home. I never have to worry about my husband missing a birthday, holiday or a major life event, and CHG's generous paid holidays and PTO allow me to be there, too! Last Christmas was the first we had spent together in four years.

My life truly would not be what it is today if CHG hadn't given me the chance to come and be part of this great organization. Every morning when I wake up to go to work, I think to myself, "How can I take on the world today?"

CHG gives me that opportunity every single day.

Are you looking for a job that gives you better work/life balance? Check out CHG's career page to see if there's an opening for you!