In this series, My CHG Story, we highlight employees and their unique experiences at CHG.
Fredrik Svensson, software engineer at CHG in Salt Lake City, started at the company in 2002 and currently works on the SharePoint team, helping to create the new CHG Healthcare website. He says he likes being involved in all parts of the websites the IT department creates, including interface, style and functionality, and he likes the culture best at CHG.
"We have the best culture of any company I have been involved with, and it shows every day, from the way the executives know everyone's names and their open-door policy to the fundraising events we put on every year for charity," Fredrik expresses. "We have a lot of fun at CHG, and it motivates the employees to perform."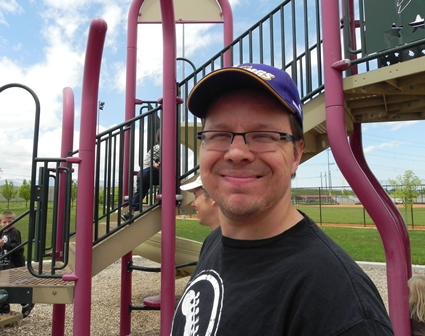 Check out Fredrik's CHG story, involving an embarrassing Valentine's Day memory and elevator conversation, below!
It was Valentine's Day 2007, and my fifth anniversary with CHG had occurred two weeks earlier. I had snuck out of the office to run and get my wife some flowers, and when I got back, the people who worked around me were looking at me funny. I asked what was up and they said Mike Weinholtz [the CEO] and Don DeCamp [CHG's former chief people officer] had stopped by to give me my five-year anniversary gift and bonus check. When Mike asked where I was, they said I was probably in the bathroom!
Another time, a colleague and I were walking toward the elevators on the fifth floor, and we were talking about martinis, a common interest between us. We got in the elevators and were riding down, still talking about martinis. I told him, "My wife likes them dirty," meaning a martini with olive juice added. I then realized the elevator had stopped to let some people on, and I was really embarrassed because that sentence, taken out of context, could easily be misconstrued. So I blurted out, "We were just talking about martinis!" Everyone on the elevator started laughing. That is the CHG culture in a nutshell. We like to have a good time.