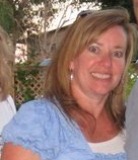 Name: Traci England-Nelson
Job Title: Director, A/R and credit at CHG in Salt Lake City
Years with CHG: 20
What is your favorite part about working at CHG? First and foremost, the people. Second, the great opportunities that have come with working for a growing company with great people.
What one story best describes your experience at CHG? It's more one word than a story that always comes to mind: rollercoaster. Unbeknownst to me when I started, CompHealth (at the time) was going through some changes. Day two on the job included champagne toasts when CompHealth officially went from a private company to public [before it was owned by private investors as it is today]. It was definitely representation that the company was all about: good change, growth and many opportunities; hence, the word "rollercoaster."
If someone asked you what you do, how would you answer them? I tell them that I work for the largest healthcare staffing company in the U.S. and usually get an inquisitive look. So I then go on to explain that CHG staffs hospitals and clinics all over the U.S. and Virgin Islands, in which our providers care for thousands of people every day.
Why did you choose to work at CHG? I was working for SkyWest with crazy hours and wanted a regular 9-5 job. I also thought maybe I could meet a cute, rich doctor. LOL.
What is your favorite event that you have participated in at CHG and why? There are so many over the years; however, I love United Way Week as it gives us all an opportunity to give back to our communities.
What is your favorite core value at CHG? Putting People First. Over the years, one of my favorite things to do has been to recognize people, whether it's with little things or awards. I love hosting crazy contests and events and making sure we have some fun to celebrate all the hard work we do.
If you could choose your last meal, what would it be? Mexican, including tasty spicy salsa, homemade chips, enchiladas, chili rellenos, chili verde and lots of Diet Coke with fresh lemon.
What five things would you take to a deserted island? 1) Diet Coke, 2) fresh lemon, 3) sunscreen, 4) music and 5) a decked-out RV (I didn't think a hotel room would qualify as one thing).
In a movie about your life, who would you choose to star as you? "Mini me" would have to be my youngest daughter, but I don't think she'd have to do much acting. For an older me, I would choose Reese Witherspoon. We don't look anything alike, but I've always liked her and find her intriguing.