CHG is sometimes referred to as a "big, happy family." For some employees, however, that phrase rings very true — they work each day with their family, whether it be a spouse, sibling, son, daughter, mother or father. Get to know our real-life CHG families in this series of weekly stories, We Are Family!
We Are Family: Just the Two of Us
Driving to and from work at the Salt Lake office is one of Tina Clegg's favorite parts of the day because she shares it with her son, TC Macfarlane.
"TC and I both like to laugh, and he likes to tease me, so more often than not we find ourselves laughing about the most ridiculous things," Tina shares. "Some of the looks on the road we get when we are laughing are pretty comical, so that gets us laughing even more."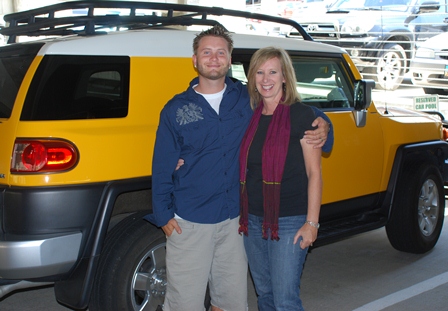 Tina, who has worked at CHG for nearly nine years, enjoys her role as request for proposal (RFP) administrator on the corporate business development team. "One of the most important items I was looking for in a company when job hunting was stability. CHG has proven to me I made the right choice," Tina says. "I feel very fortunate to have such a great job and great people to work with and to do what I love to do."
She referred TC to the company in 2009 when he was looking for a job and says she knew CHG would also be a good fit for him.
"I was sure he would like the great culture and the young salespeople network in the locum tenens division," she says. "We are both very happy to work for such a wonderful company and be able to say we are employees of CHG."
TC, a staffing consultant on the CompHealth locum tenens primary care team, agrees with Tina.
"It is the best place to work with great people to work with. I really like how the company always has something fun to do, and they really do put the employees first," TC expresses.
When Tina and TC aren't hard at work in their separate divisions, they're eating lunch together in the Gathering Room — which doesn't go unnoticed by their friends.
"More often than not, we get teased by other employees who know us," Tina says. "Friends say, 'TC, you sure are spoiled. I wish my mom made me lunch every day.' Even though I've worked here longer than TC, I'm better known as TC's mom."
Though TC may be better known at CHG than Tina is, he is quick to compliment his mom and recognize the value of his relationship with her.
"Everyone who knows my mom here at CHG always tells me what a wonderful lady she is," TC shares. "I am very lucky to work at the same place with my mom. We enjoy each other's time."