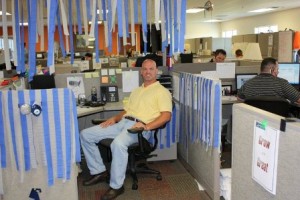 Healthcare Traveler magazine named Travis Nunley, recruiter at Foundation Medical Staffing in Edmond, Okla., as a Recruiter of the Year for the publication. He was nominated by one of his travelers and was spotlighted in the December issue of Healthcare Traveler. To get to know more about Travis, we got him to answer a few questions for us!
Q: What is your exact title and what team are you on? A: Client account manager at Foundation Rehab Staffing.
Q: How long have you worked at Foundation? A: Nine years.
Q: Each day when you arrive at work, what is your primary focus? A: Open more jobs all across the country for our providers.
Q: What do you strive to accomplish each and every day? A: One, open jobs. Two, let my clients know I care about their needs, not just the placement.
Q: What is the key to your success? A: My Foundation family. Continued support, encouragement, and knowing I can make a difference.
Q: What do you find most rewarding about your job? A: I can see direct results from my job. I see a client receive a quality therapist. I know we made a difference.
Q: What do you know now that you wish you knew the week you started at Foundation? A: That it truly is a job of patience and timing. Keep plugging and great things will happen — not right away, but they do happen.
Q: What are you most looking forward to in 2011? A: My job title has been truly focused at this point. I have an exact direction, one solid purpose and a focus that allows me to point all my energy in one place. It will be fun!