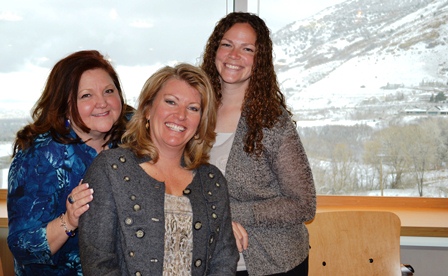 Tracy Horsley, left, Janet Cattani and Kym Fessler recently received promotions.
The CompHealth locum tenens division recently promoted three of its leaders to director positions in the company! Learn more about their new roles below:
Kym Fessler
Kym Fessler has been promoted to director of medical staff services and also celebrates her ninth anniversary with CHG this month. She began as an assignment coordinator and since then has worked as an administrative trainer, administrative supervisor and administrative manager. During the past three years, she supervised all of the administrative managers and also oversaw senior Business Partner development in 2011. Kym has performed most administrative functions at some point in her career and helped to launch CompHealth locum tenens' medical staff services, hospital privileges and payroll teams. In her new role, Kym will oversee the medical staff services team, which includes more than 20 team members.
Tracy Horsley
Tracy Horsley has been promoted to director of service and deliverability. She joined CHLT in 2008 as an administrative manager and shortly afterward headed the launch of the CompHealth locum tenens payroll team and became the team manager. In 2010, she took over leadership of the housing team, and in 2011, she resumed leadership of the licensing team. Tracy was the fourth-quarter winner of the Don DeCamp Inspirational Leadership Award [a company award recognizing great leaders] and received numerous nominations from members of all the teams she has supervised –- proving that she is very capable of leading the charge in her new role. As service and deliverability director, Tracy will be responsible for communicating and enforcing strategic vision around quality and service measurements for the hospital privileges, housing and licensing teams.
Janet Cattani
Janet Cattani has been promoted to director of training for the CompHealth locum tenens division. She joined the training team in November 2006, when the team had only five members and the new-hire training program was only one week long! Since then, under the guidance of CompHealth locum tenens vice president Stephanie Rollheiser, Janet has successfully built and executed a world class new-hire training program with more than eight weeks of classes. She has also been instrumental in developing a myriad of training and development curriculum for the division, including leadership development and continuing education. Janet has built the CORE team to include nine skilled trainers and provide a specialized focus for all training and development needs in the division.