When March 7 rolled around, Zac Brigante, a sales consultant for Weatherby Healthcare in Cary, N.C., celebrated his first year at CHG. During this time, Zac has come to appreciate the independence he enjoys because of the trust CHG leaders have in their employees.
"I see it every day I come to work," Zac says. "They trust that you will get the job done. It's certainly not a free-for-all. Everyone has their own role to play, but there's a lot of freedom to get your job done."
As a sales consultant, Zac recruits pulmonary and critical physicians to fill the needs of medical facilities and hospitals.
"Although our work can be high-stress, CHG has a very low-stress environment, which I think allows for greater productivity," Zac says. In the end, Zac believes that the best thing about working at CHG is how much control he has over his work.
"My success is completely up to me," Zac says. "I determine my fate."
Read how Zac took the risk of moving his young family to join CHG— all thanks to the influence of a helpful CHG sales consultant!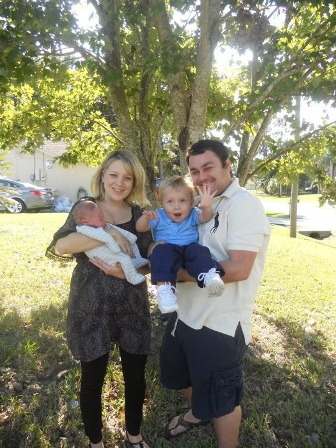 Before I came to CHG, I was a manager at a diagnostic image radiation therapy center in Florida. In the two years I was there, I often spoke with Lynda Nolan, a sales consultant for Weatherby Healthcare, who was easily the best vendor I ever worked with. She was very personal. When I called her, I didn't have to say who I was. It was almost unreal, actually, because she was so happy.
Thanks to Lynda's influence, one day I decided to do a little bit of research. I knew what Weatherby Healthcare did and how they did it, but I wanted to know more about the company as a whole. Of course, upon looking into Weatherby, I stumbled onto CHG as well. I was impressed with what I read. So between that and Lynda's positive attitude every day, I decided that Weatherby Healthcare was a company I wanted to work for.
So, in February 2011, I left the cancer center, picked up my entire life and moved to North Carolina. At the time, my wife was one month pregnant and had to stay behind. We had just bought a house and I had never lived outside of Florida. There was nothing bad about working at the cancer center; it was even in my hometown. However, the influence from talking to Lynda and doing the research about the company was just too powerful and compelling to ignore.
You never really know who you're talking to or the impact you might be having. The Red Ribbon Service influenced me to change my career, move my family, rent out a house we just bought and leave everything to live in a city we knew nothing about.
Now, my family and I are all together again and I look forward to coming to work every single day.
I'm a firm believer that you reap what you sow. I get out what I put in to every day. My days are never monotonous: I enjoy coming to work and having something different that I can control. Now, I'm doing exactly what I always envisioned I would be doing.