Shay Rolfson, manager of operations at CompHealth locum tenens in Salt Lake City, Utah, is perhaps better known as the reigning eating champ of the Salt Lake office, having taken out the competition in both a pizza-eating contest in 2010 and a pie-eating contest in 2011, all for the sake of charity.
After an impressive display of fearless fortitude in the face of a large pepperoni pizza and a 12-inch pumpkin pie, Shay has retired from United Way eating contests, but he continues to appreciate all that CHG does to make a difference in the lives of others.
"There is no single thing that makes CHG a great place to work," Shay says. "The thing I would say that I have been the most impressed with is the way the people of this company continue to put their money where their mouth is when it comes to Putting People First. In other organizations, that's just talk, but here at CHG, it's the real deal here. "
As a manager of operations on the primary care team, Shay oversees a number of people and has the opportunity to see this dedication to Putting People First at all levels of the company.
"My favorite part of my job is definitely the people I work with. Everybody has a high level of professionalism that is balanced with a lighthearted and good-natured attitude. Everybody is driving and striving to do the right thing, even if it doesn't fall in their favor. They are good, sound people that make good decisions."
Read all about a time Shay witnessed this good decision-making in his story below!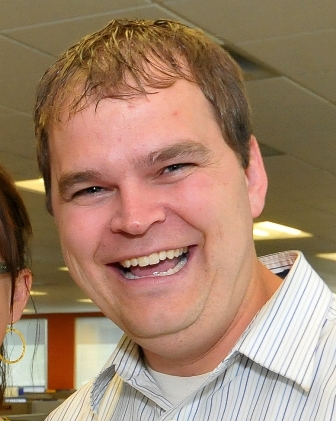 A few months back, we had an active client that was bought out by another active client. Each of these clients had been working with a different representative on the team, so when they merged, one representative would have to lose a client. The two representatives got together to talk about who should take over and how they should handle the situation. In the end, they decided that the representative who had been with the company the longest should have it. After solving the problem together, they brought me into the conversation to let me know what they had decided and how they had decided it.
During the conversation, we discussed how giving up a client would mean that the newer representative was going to have a lower commission check. However, the more veteran representative said that he did not want to see his teammate go without pay for work he had done or had planned on doing and said he would pay the other employee if the company couldn't. In the end, he didn't have to pay anything out-of-pocket, but I was very impressed with his attitude and willingness to look out for another person. It was a great example of an employee making a good choice instead of merely looking out for himself. That kind of positive decision making and great teamwork goes on ever day at CHG.
Is the well-being of others important to you? If so, check out our jobs page to see if we have an opening for you!