For the past two years, Kristina Paras, travel consultant at CHG in Salt Lake City, has loved her job booking travel for doctors. She certainly liked the people she worked with, but nothing could compare to the love and gratitude she felt for her CHG family after a tragic ATV accident sent her world into a tumultuous, spinning uncertainty.
"September 22, 2012 changed my life, my beautiful daughter's life and anyone's lives we've touched since that day forever," Kristina says. "I am so grateful for the opportunity to tell my story. I, and anyone I tell my story to, cannot believe what an amazing company I work for."
Read on to find out what happened and why Kristina is so grateful to CHG.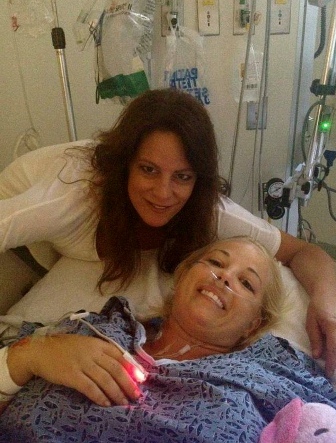 Kristina (left) and her daughter, Sarah, in the trama center

It started as a beautiful morning in Brian Head, Utah. My daughter, Sarah, her boyfriend and some friends decided to go on a leisurely ATV ride to enjoy the changing leaves. Suddenly, my daughter found herself veering off the path and hitting a tree log which sent her rolling and flipping the ATV she was driving. She heard and felt every breaking bone as she was crushed by the ATV. After waiting a painful hour and a half, she was met by Life Flight and flown to Las Vegas Medical Center.

I was called, and by the time my daughter was prepped for surgery, my son and I touched down in Las Vegas with nothing more than an overnight bag. Sarah had broken her back, clavicle and four ribs. Her spine was severely compressed, but not severed. The doctors told me it would take a miracle for her to walk again, and she works every day towards that miracle.

While I prayed and stood a vigil by my daughter's side in the trauma room, the travel team in Salt Lake City sprang into action. They sent out a plea to the travel department and the teams for whom I book travel for asking for PTO donations. Human resources said that within an hour after asking for donations, I received the maximum donated PTO time allowed. They reached out to the travel vendors we book for, and took cash donations from the travel department and my teams.

I chose to send my daughter to one of the leading spinal cord injury hospitals in the nation, Craig Hospital in Englewood, Colo. Ten days later, my daughter, her boyfriend and I flew directly to Colorado. By the time my daughter landed, she was very sick. She had contracted spinal meningitis and was immediately sent to Swedish Medical Center in Denver where she spent the next two weeks in intensive care. From there, my daughter spent the next two months at Craig Hospital learning to be as strong and independent as anyone with her injury could be.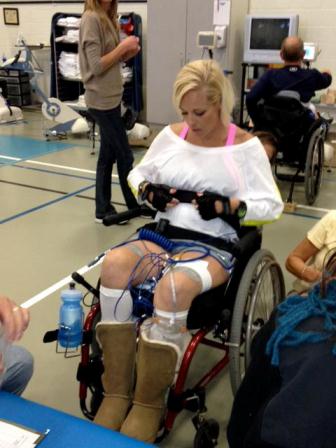 Sarah does rehab at Craig Hospital

If it weren't for my CHG family and my supervisor Kaylynne Reece, there is absolutely no doubt my daughter would not be as healthy, strong and independent as she is, not to mention have been able to retain her beautiful spirit. Working for a company like CHG, which provides such an incredible program like FMLA, I was allowed to be a mother first, never leaving Sarah's side other than to come home to supervise the necessary home modifications. It allowed me to do what was necessary to give my daughter the very best outcome after such a devastating, life-changing injury.

Sarah is now home, going to rehab five days a week. We've learned more about life, love, family, friends and people than we ever would have otherwise. I will never ever be able to express my sincere gratitude to my CHG family enough, and I will forever be touched by the generosity and true sense of family I felt through such a devastating time, and the time since. Sarah's ongoing recovery is a daily topic in the office, as my co-workers have also been touched and affected by the inspiration she has been. My CHG family has grown extremely close, and I look forward to going into work with them each and every day.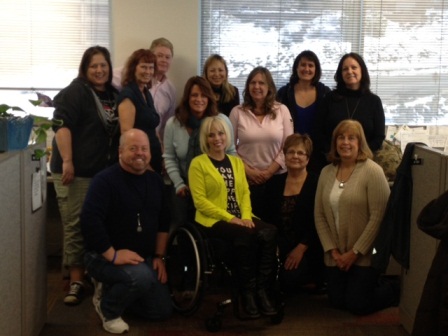 Kristina and Sarah (center) pose with the travel team.

Would you like working at CHG? Check out CHG's career page to see if there is a perfect opening for you!