In this series, My CHG Story, we highlight employees and their unique experiences at CHG.
Aubree Nash, hospital privilege application assistant at CompHealth locum tenens in Salt Lake City, has been with CHG for four years. As an application assistant, she pre-fills the hospital privilege applications before sending them to doctors. However, in addition to her regular duties, she is also filling in as a hospital privileges coordinator in order to help out another team member while she is on maternity leave.
"As a hospital privileges coordinator, in addition to filling out applications,"Aubree explains, "I work as a liaison between hospital and doctor to assist in getting privileges in place for the doctors' locum tenens assignment at the hospital. The hospital contacts me with their needs, and if I cannot fulfill those needs with what we have on file for the doctor, I will contact the doctor for the information."
In her four years here, Aubree has grown to appreciate the detail-oriented nature of her role. But as much as she enjoys her job, she credits her leaders and co-workers alike with making her experience at CHG a happy one.
"The people are the best thing about CHG," she says.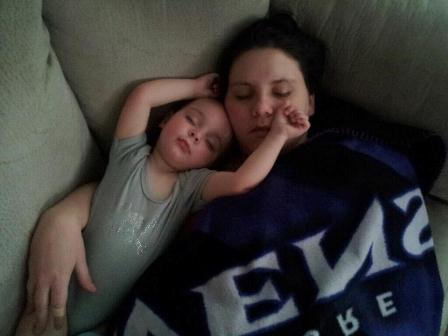 Read about Aubree's experience with CHG's dedication to family and balance below!
I never thought I would want to be a stay-at-home mom. I always assumed I would want to work and be away from home. After the birth of my daughter, my feelings changed dramatically. It seemed no matter how hard I tried, I could not shake the feeling that I was missing out on my daughter's life because I was working full time. People kept telling me it would get easier and it would get better, but it just got worse. I was miserable at work and I was miserable at home. After months of struggling I decided enough was enough and I went to my manager, Naomi Ward, to put in my two weeks notice. Naomi convinced me to let her try to figure something out to help me. I agreed to wait and see what options she could come up with. The next day, she came back with some different options to cut my hours so I could be home with my daughter more. We worked together and found a way that I could cut my hours to 30 per week so I could be home on Thursday and Friday but still keep the health benefits that my family needed. It took a few months to transition everything, but just knowing that things would soon be changing made it better.
I have been working in my new schedule and position since August and I am so happy with it. I have tons more time with my daughter and I love my job again! I am so grateful that I have a leader that cares about my well-being and values me as an employee enough to work with me to find other options that will promote MY personal work and life balance. It is leaders like Naomi that make CHG an amazing company.