Cindy Berry is a UX designer who joined LocumsMart earlier this year. Here's how she became part of the CHG Healthcare family.
Cindy started her IT career building computers for a small construction company. She progressed to a system administrator and then a network engineer.
"I liked to joke about it, but it was true. If it was plugged in, I supported it," Cindy says with a laugh, adding, "I even fixed the coffee maker several times!"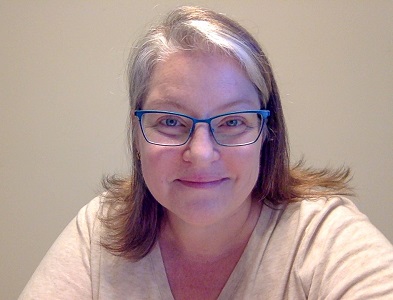 Cindy liked her job but, as she puts it, one day she "got a bug" to do something different. She decided to go to school in graphic design. Cindy says with all her experience on the back end of computing, it was only natural to transition to designing what the front-end of the user's experience, or UX, should be.
Her goal was to create UX design that is useful and intuitive. She earned a degree in graphic design and kept up her rigorous day job.
The company grew and went through several mergers. Ultimately, it was acquired by IBM.
Just as Cindy was settling into her new career, IBM shifted their business focus to other portfolio offerings. Suddenly out of a job, Cindy turned the tide to her advantage by honing her design skills and networking with other UX designers. She spotted a job post on LinkedIn with LocumsMart, a division of CHG, and applied.
The talent acquisition team agreed and quickly hired her. In the three months she's been with LocumsMart, Cindy says she's had plenty of opportunities to grow and contribute.
"I kind of fill all roles here," Cindy explains. "I'm a visual designer, the UX designer, I do a bit of strategy from the design perspective, and I'm starting to get into gathering some user research."
Cindy adds, "I'm very involved with the team and I like that. I like having the holistic view of how I contribute."
Are you ready to make a change? Check out our current openings.