Work. Work. Work. Not at CHG Healthcare! Play is an important part of who we are as individuals and as a company. We take our work seriously but we're also pretty passionate about some of the things we do off the clock. With work buddies like these, it's no surprise water cooler conversations extend way beyond just what's happening at the office.
Going the distance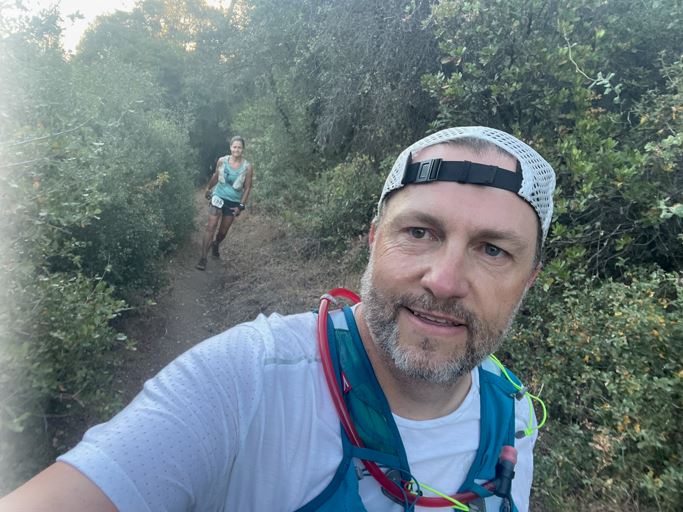 Mark Robbins is a passionate trail runner who's hooked on ultra-running – races that are longer than a marathon in distance. Mark's completed two dozen of these races. He's especially hooked on 100-mile trail races. You read that right. One hundred miles of steep hills, lonely night stretches, amazing scenery, and aching muscles.
His passion has recently taken a twist. On the last 50 miles of a 100-mile race, the runners are allowed to have pacers. That's where Mark comes in. Fellow runners often ask him to be their pacer, the "go to" guy that helps them beat the clock and their own limitations.
"One of the reasons I get asked to pace is I know the sport very well," Mark, who is a member of our CompHealth medical staffing division, explains. "I think I know what it takes mentally because I've done it so many times before. I'll know when they need a pep talk and when they need a chewing out."
Depending on the runner's preference, Mark runs just ahead or a bit behind the racer. "It's a big, big mental game. Most of the time, I'm building and encouraging but sometimes I need to get into somebody's ear."
There's a huge level of trust between the runner and the pacer. Mark says one of his most rewarding experiences was helping a woman he barely knew. She asked him to pace her from mile 75 to 100. As they ran, he knew she was struggling and may not make the cut-off time. Mark also knew she had the strength and sheer guts to make it.
Running side by side he said, "Look, I need you to trust me. We're just going to go for it. Do you trust me?"
She did. He picked up the pace and she followed, managing to shave two hours off her time. Better yet, the time she gained gave her husband the opportunity to pace her for the last six miles of the race. The two of them crossed the finish line together.
Mark says, "To help somebody else have that experience is really motivating to me."
Making a splash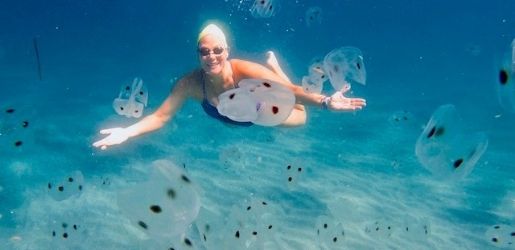 Vanessa Bonebrake grew up in Costa Rica and says she's been swimming for as long as she can remember. It's only been in the last six years or so that she started open water swimming. She uses the Florida coast near where she works at RNnetwork, our nurse staffing division, as her training ground for competitive swimming. Her most recent race was a 12.5-mile swim around Key West, Florida. Vanessa finished first in her age group with a time of 4:53:38.
Every morning before work, weather and tides permitting, Vanessa and a partner swim two miles. The water is clear and filled with all kinds of fish.
"It's like swimming in an aquarium!" she says.
Depending on the time of year, Vanessa may be accompanied by dolphins, a manatee family, or star fish. Those are the nice neighbors. Then there are barracudas, sharks, stingrays, and jelly fish. A vinegar wipe down at the end of her work-out helps minimize the pain from the jelly fish stings.
The beauty isn't lost on Vanessa but she's not just sightseeing. It's a rigorous training she takes seriously. She always swims with a buddy or two. A neon buoy attached to her body alerts boaters and other recreationists she's in the water. It also carries the food and drink she needs to keep up her strength.
During her race around Key West, husband Dan, also an RNN rep, paddled alongside in a kayak as Vanessa swam.
"He makes sure that I eat and hydrate every 45 minutes during my races," Vanessa said. "He's done it many times. This year my nephew joined him, and they cheered me on the whole way!"
The soccer stats man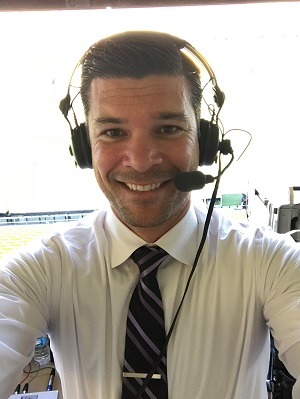 You won't hear him yelling, "Gooooooalllll!" but you will hear Jay Nolly doing the color commentary for Real Salt Lake, Utah's professional soccer team on ESPN 700 radio.
Jay spent eight years as a pro soccer goalie in Salt Lake; Washington, DC; Chicago, and Vancouver, Canada. When an ankle injury forced his retirement, he decided to rehab in Utah, where his wife's family was located. Since he still knew so many players and coaches, part of his rehabilitation included working out with the Real team. When their color commentator moved out of state, the team offered Jay a shot.
That was six years ago. Since then, Jay's done every home radio broadcast, as well as three to five television broadcasts each year, outside his role as a sales leader at CHG.
"I love it!" Jay exclaims. "I get to stay connected to the soccer world and sometimes I get to bring my son and daughter."
The job comes with plenty of homework. He spends the week watching highlights of all the games. Jay says getting to know the home team is easy. It's all the visiting teams you have to know inside and out.
"I have to have a good understanding of all the games and players, their backgrounds, stats, and career highlights for on-the-fly conversations," Jay explains. "It's a challenge and it's really helped my speaking skills."
Jay says analyzing situations on the soccer field helps keep him at the top of his game in the office as well. "I think it helps keep my brain sharp. I'm always thinking."
If you like to work and play hard, we've probably got a place for you. Check out job opportunities here and join us!