Having fun at work is standard procedure for CHG Healthcare employees. It's just the way we do business. That's one of the reasons why two of our offices have on-site pickleball courts. You'll find our folks playing at CHG's headquarters in Salt Lake City, Utah, and our CompHealth division in Trumbull, Connecticut.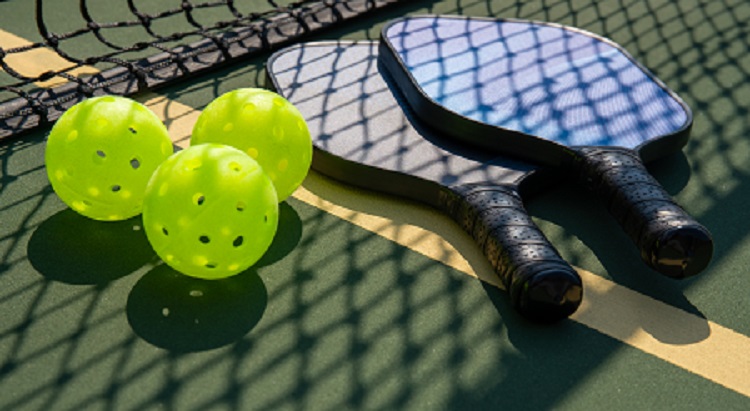 Pickleball is a crazy combination of tennis, ping pong, and badminton that's sweeping the country. But don't go adding the label "old man's game."
"People look at the game and say, 'It's for old people,'" John Giglietta, president of CompHealth, says. "But you play, and you get hooked!"
That's exactly what happened to John. The guys on his softball team decided to start a men's pickleball league and invited him to give it a try. "Fifteen minutes into playing, I got online and ordered myself a racquet!" he says.
Then he took it a step further by taking the game to work and CompHealth folks joined the fun. Prior to the pandemic, John offered lunch hour lessons for anyone who wanted to play and there were always after work games.
According to the USA Pickleball Association (there really is one), the game was invented in 1965 by three Seattle-area dads with bored kids. They scrounged up a mishmash of sports equipment and the rest is history. Today, the Sports Fitness Industry Association says more than three million people are playing what they call the fastest growing sport in the U.S. There's a pickleball channel (you read that right), tournaments throughout the world, and even a pickleball hall of fame.
As for that funny name, the story goes one of those three founding dads had a dog named Pickles. Every time anyone hit the ball, Pickles would try to steal it and make a run for the woods.
Pickleball picks up steam at CHG
CHG president Scott Beck is also a pickleball player. He's been rolling through our headquarters lately on a medical scooter after he injured his Achilles tendon when a game got a little too aggressive.
Sean Riddle, CompHealth sales consultant, has also gotten on the pickleball bandwagon and enjoys playing with John. "I would definitely like to get on his level!" he says of John's skill. "He sets a high bar, but he makes it easy and fun."
Back in Salt Lake City, CHG's marketing team also took up the sport. Rose Woolstenhulme, senior production designer, says, "I'm not very good at sports, but I am good at getting people together." She says she's never played tennis but pickleball was fun and easier to learn than she thought. An added bonus: "It's fun to see a different side of your co-workers," Rose says. "I'd definitely recommend it."
Want to join our team? (And we're not just talking pickleball.) Check out our list of job openings and apply today!