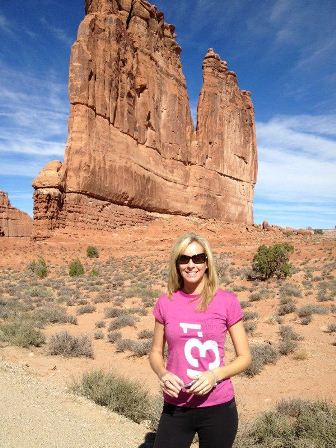 In the Going Places series, we profile leaders at CHG and discover what they've learned throughout their time at the company.

Name: Chantelle Jones
Position: Manager of operations for rehab marketing at CompHealth allied health staffing in Grand Rapids, Mich.
Years at CHG: 2
What is your most memorable experience at CHG? I would have to say my most memorable experience (so far) was during my foundational training in Salt Lake City. I was impressed with the informative, fun-filled training I was receiving and in awe of the amazing building and the wonderful trainers. My training happened to be the same week as United Way Week (lucky me)! It was while watching the auction and the executive team have a dance competition that I realized I had accepted an opportunity with the best company in our industry. I thought to myself, "This is it. There couldn't possibly be a company that is more mindful of its employees and community in our industry than CHG."
What is your favorite core value and why? My favorite core value is Putting People First. This core value is something I believe, practice and embrace as a core value in all parts of my life. If everyone embraced and lived this core value, we would have a much more peaceful planet/world. Yes, I know I sound like a hippie — and I'm good with that.
What is your career background and what brought you to CHG? I've worked for a few great companies, always in sales. I worked in the outdoors industry for MooseJaw Mountaineering and then Marmot. Both companies were awesome and so much fun. Later, I made the career change to the staffing industry and was with a direct competitor for five years before I was recruited to work at CHG/CompHealth.
What is your favorite part about your job? My favorite part of my job is the people I work with, hands down. We have an amazing group of individuals working at CHG. I am always impressed with the level of knowledge, competitiveness, success and drive of the individuals that CHG attracts. Everyone I've had interactions with so far has been super friendly. BONUS!
What do you like to do when you aren't at work? Work hard, play hard. That is my mantra. I spend most of my personal time with my active and adventurous family (I have two children and an amazing husband). Our passions include travel, good food and anything outdoors/physical fitness-related. Individually, I am an avid runner, wine enthusiast and foodie. I enjoy reading and love being outdoors.
What have you learned about yourself working at CHG? I've learned that I love change and learning new things. Change is the only constant thing in life, so I embrace it. Ultimately, this allows for growth and natural evolution. Resisting is just wasted energy. Plus, life would get kind of boring if things were to just stay the same all the time.
How have you grown as a leader at CHG? I think I have grown as a leader the most by being more comfortable when having critical conversations and practicing transparency. In my previous positions, the teams and companies tended to be smaller than CHG. I wasn't exposed to the diverse personalities and different work styles that I'm exposed to now. CHG has provided me with the opportunity to successfully work with many different types of people and personalities. The great mentors and training/tools on how to work with all types of people I've received while at CHG has helped with my work life and but also my personal life.
Who has influenced you most in your career at CHG and how? There are several people that have influenced me in my short time with the organization. Sandra Raehl (CompHealth allied health staffing president) helps me regularly practice patience and grace by leading by example. She is always willing to pass on the lessons she has learned from her experiences. Julie Ptak originally recruited me to CHG/CompHealth, of which I will always be appreciative. Her passion, knowledge and understanding of our industry never ceases to amaze me. She's awesome. And most recently, my mentor, Dianne Hunsaker, has helped me further cultivate my skills of keeping people on task and accountable and staying grounded. She's fabulous.
How do you know that what you do at CHG matters? That is simple — we help people. Whether it is helping a client find a provider, or helping a provider find a job, or helping a patient getting the medical treatment they need, we are helping people. If helping people doesn't matter, I don't know what does!