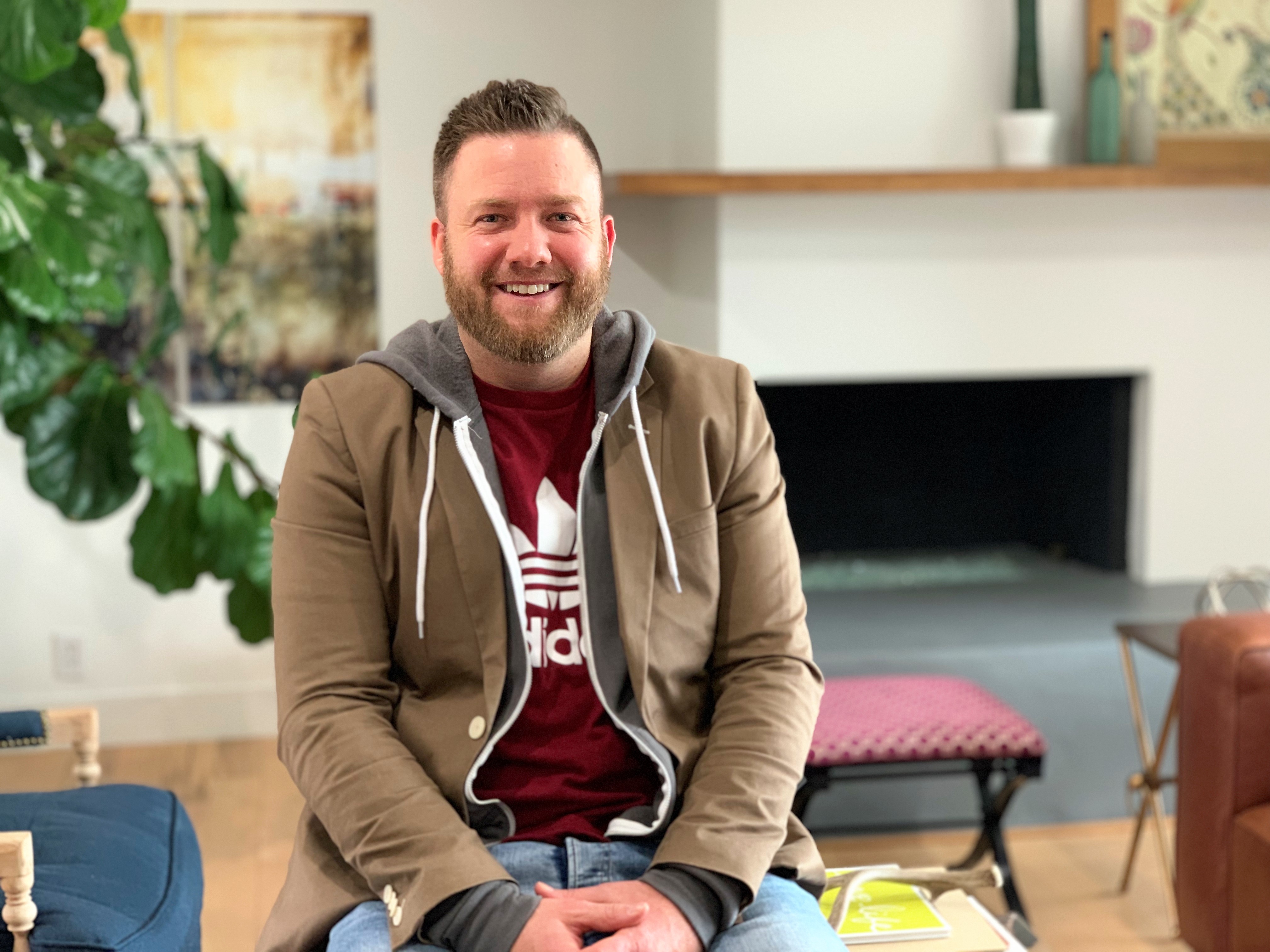 A long time ago in a galaxy far, far away, lived a young Padawan named Garrett Davis who grew up to be one of the universe's most revered Jedi Knights, using the Force to place physicians in healthcare facilities around the country.
At least that's how Garrett's story would start if this were a Star Wars movie, something Garrett is a huge fan of. And when I say huge, I mean HUGE. Garrett's massive collection of Star Wars memorabilia is proof of that.
A love to last a lifetime
Garrett's love affair with Star Wars began when he was a "wee young lad." His mother would rent the movies for the family to watch together for movie nights.
"We'd make popcorn, and then we'd watch the original film the first night, then watch 'Empire Strikes Back,' and then 'Return of the Jedi,'" Garrett recalls. "It was just a story that I became fascinated with. I loved the characters, especially Darth Vader."
For Garrett, the story is the ultimate hero's journey with the classic struggle between good and evil weaved throughout.
"You have Anakin or Luke being called to adventure and learning from their mentors and choosing between good and evil," Garrett shares. "It's just something that has life lessons inside of it. There are things I can teach my son. You know, if you look at Anakin's life, here is this young innocent child who — based on certain circumstances and being manipulated — made some bad choices, but then it was the love of his son that kind of brought him back to the good side."
A collection worthy of a Jedi Master
When you ask Garrett how many items he has in his Star Wars collection, his answer is "too many." But if he had to guess, it would be thousands. Not surprising since he started collecting when he was kid.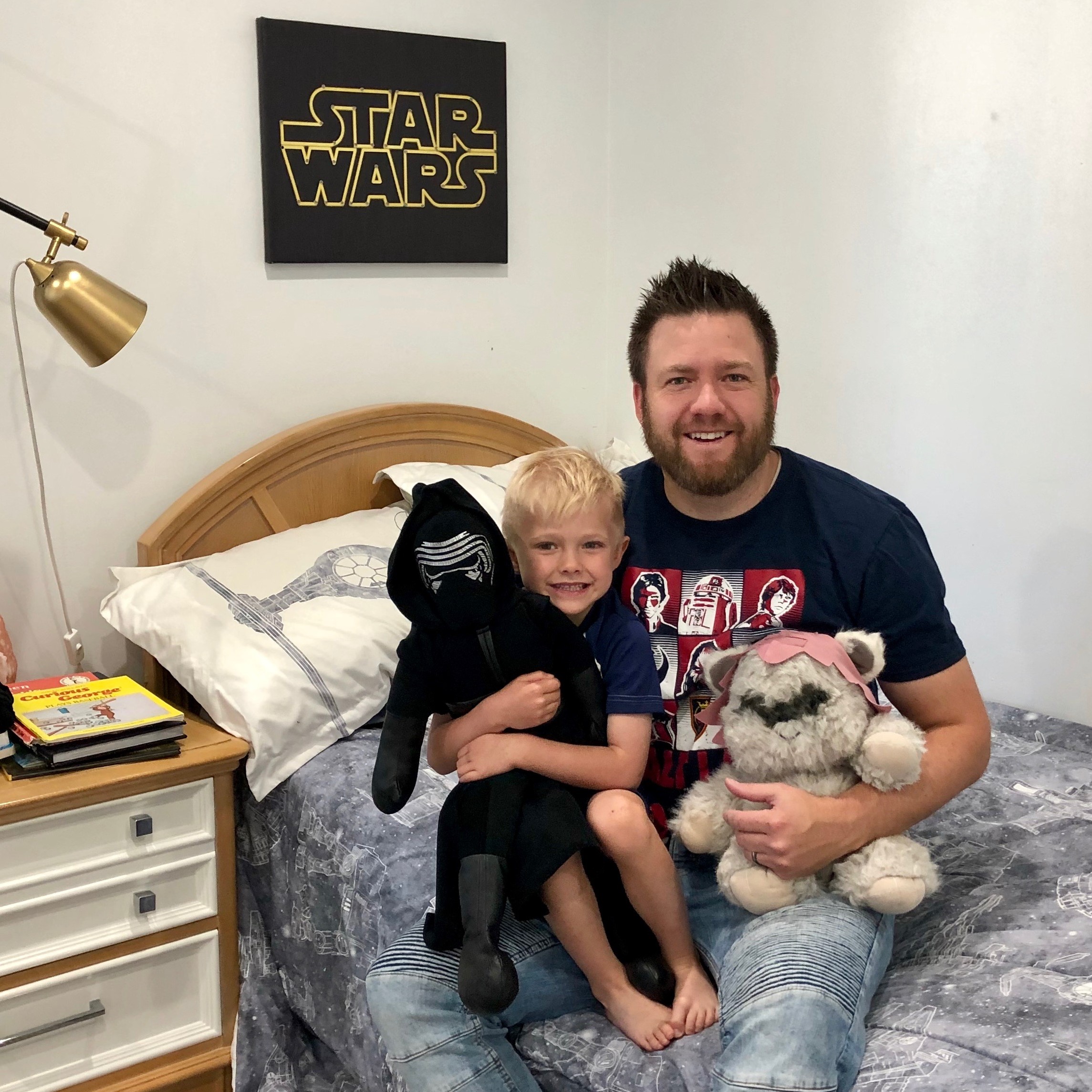 "The first item I ever collected had to be my plush Ewok stuffed animal because I was about four years old when 'Return of the Jedi' was released in theaters," recalls Garrett. "We still have the Ewok. It's in my son's room and he'll occasionally sleep with it. What I love about collecting is I feel like every time I collect something, I'm bringing a piece of the movie home with me. So, whether it's a favorite scene or a favorite character, when I get the action figure, I feel like I have a piece of the movie."
Garrett's collection is prominently displayed in what his wife, Whitney, calls the Fan Cave — an entire room dedicated to housing his collectibles. Although Whitney isn't an avid Star Wars fan, she's very supportive of his passion for the films and their son's growing love for it as well.
"With our son, Ren, becoming a fan, she's more involved," says Garrett. "She watches some of the animated shows with us, and she's definitely involved in some Star Wars battles in Ren's toy room. She's very great at doing that even though she may not know all the dialogue from the movies like Ren and I do."
A family affair
Not only does Garrett share his love for Star Wars with Ren, it's also something that he's been able to enjoy with his entire family.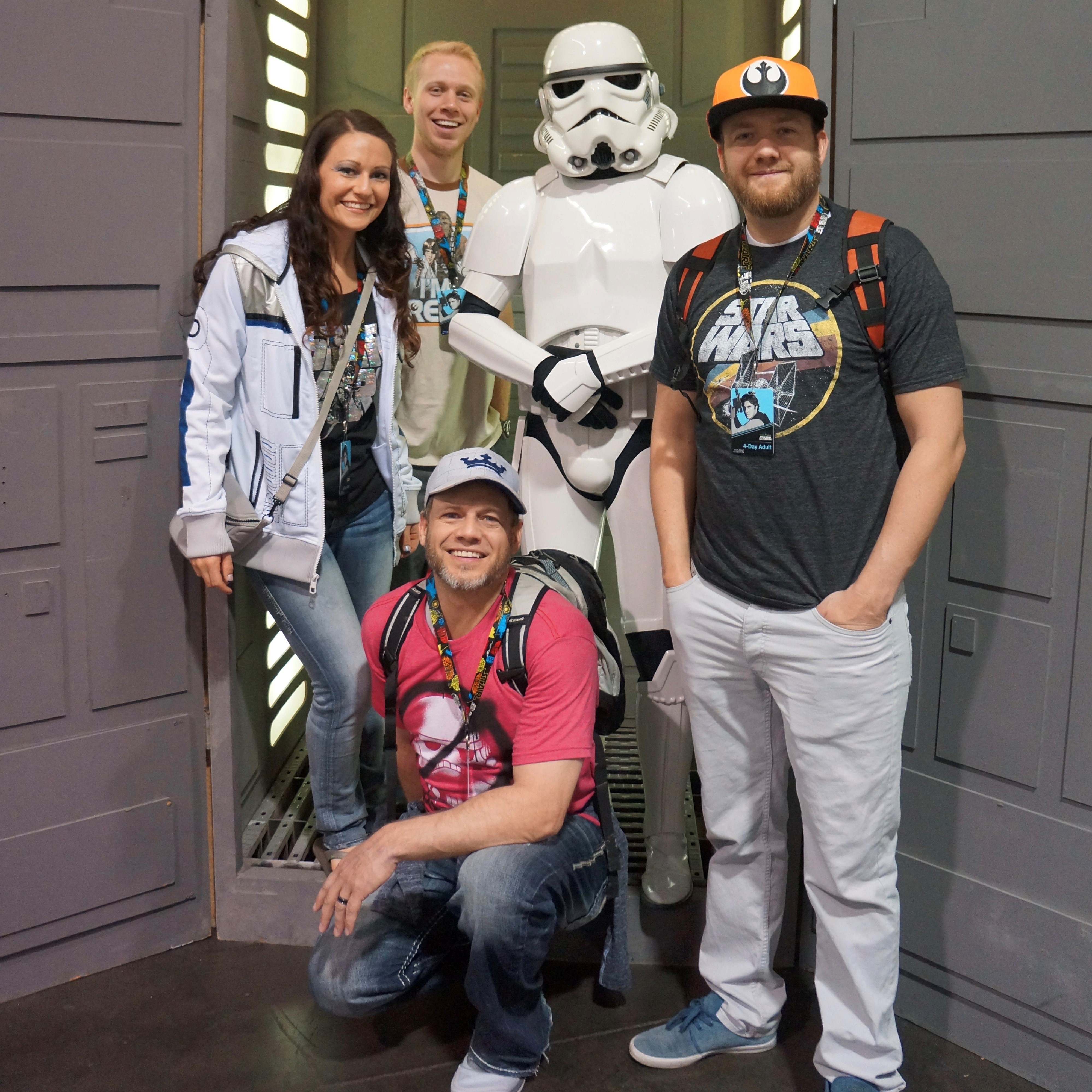 "Star Wars, for me, has always been about family, whether it was growing up with my brother and sisters and my mom and dad — it was something that always connected us," says Garrett. "I'm still connected with my brother by it. We go to Star Wars celebration conventions together; we show up at midnight to buy the new merchandise that's released. And so, to now have a four-year-old son that just loves it as well has been really enjoyable. It's created a definite connection between us."
The family's passion for Star Wars has even spilled over into their love for soccer.
"You'd think I wouldn't have any more room left to be passionate about something since I'm so passionate about Star Wars, but with soccer, it's a similar thing," says Garrett.
So, when Salt Lake City announced in 2005 that they were getting a professional soccer team — Real Salt Lake (RSL) — Garrett and his family got season tickets and have cheered on the team ever since. But the highlight for Garrett was when he was able to combine his two passions into one ultimate fandom crossover.
"We were just talking about the upcoming Real Salt Lake season and I was like, 'Hey, I should paint my Boba Fett helmet into RSL colors and just wear it to the match. That would be a fun way just to show my fandom for the team and for Start Wars,'" Garrett recalls. "I started wearing the helmet to games and people got a kick out of it, taking pictures, and so eventually I got the rest of the armor and painted it RSL colors and started wearing the full gear to games."
When RSL had a game on Star Wars day — May the Fourth (be with you) — they reached out to their favorite bounty hunter and asked Garrett to carry the flag out for the national anthem and even put his picture on the game-day program.
But why stop there?
Garrett also built an RSL costume for Ren, turning the pair into a Jango and Boba Fett duo for this year's season.
Using the Force for good
Although Garrett may not be a Jedi in real life, he does use a Jedi-like approach to help hospitals and clinics fill staffing gaps as a client rep on our Global Medical Staffing division's domestic psychiatry team.
"The best part about my job is just driving to work each day and understanding there's this sense of purpose. By placing physicians in facilities, we are helping people receive healthcare that maybe otherwise wouldn't be able to receive that, and that's very fulfilling," he says.
Another bonus about working at CHG is that he's able to show off his love for Star Wars at the office and display a few items from his collection at his desk.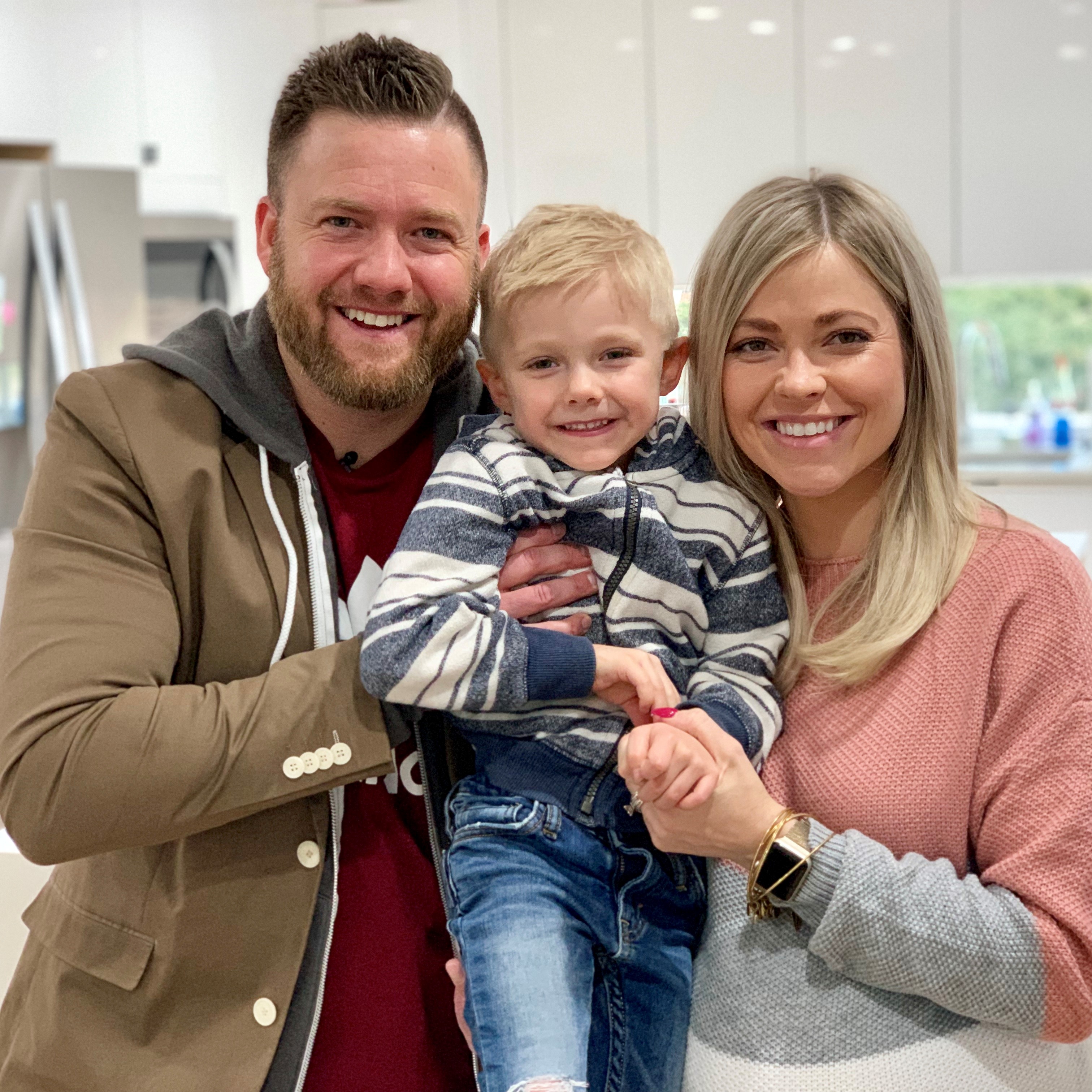 "I've got a little Boba Fett on my monitor that reminds me, 'Hey, be a good bounty hunter and find some good needs out there for our physician recruiters to fill.' And people at work know I'm a big fan, so they razz me a little bit when they know I'm taking my lunch break to run up to the comic bookstore and buy some new comics or some new collectibles. But it's been really fun. If I'm lucky to have the title or honor of being The Star Wars Guy at work, I'm very, very happy about that."
But Garrett is more than just The Star Wars Guy, he's a talented client recruiter and caring father and husband who is passionate about making a difference in the world.
"I feel like everyone has that moment in life where they're Luke Skywalker; they're looking at the sunset and they're like, 'I want to do more. I want to do something of value with my life.' The great thing about CHG is when I go to work every day, I have that feeling like I've looked at the sunset and I'm now becoming a Jedi Knight. I'm doing more, I'm out there doing something good in the world."
Want to work at a company where you can bring your whole self to work? Check out the career opportunities with us.