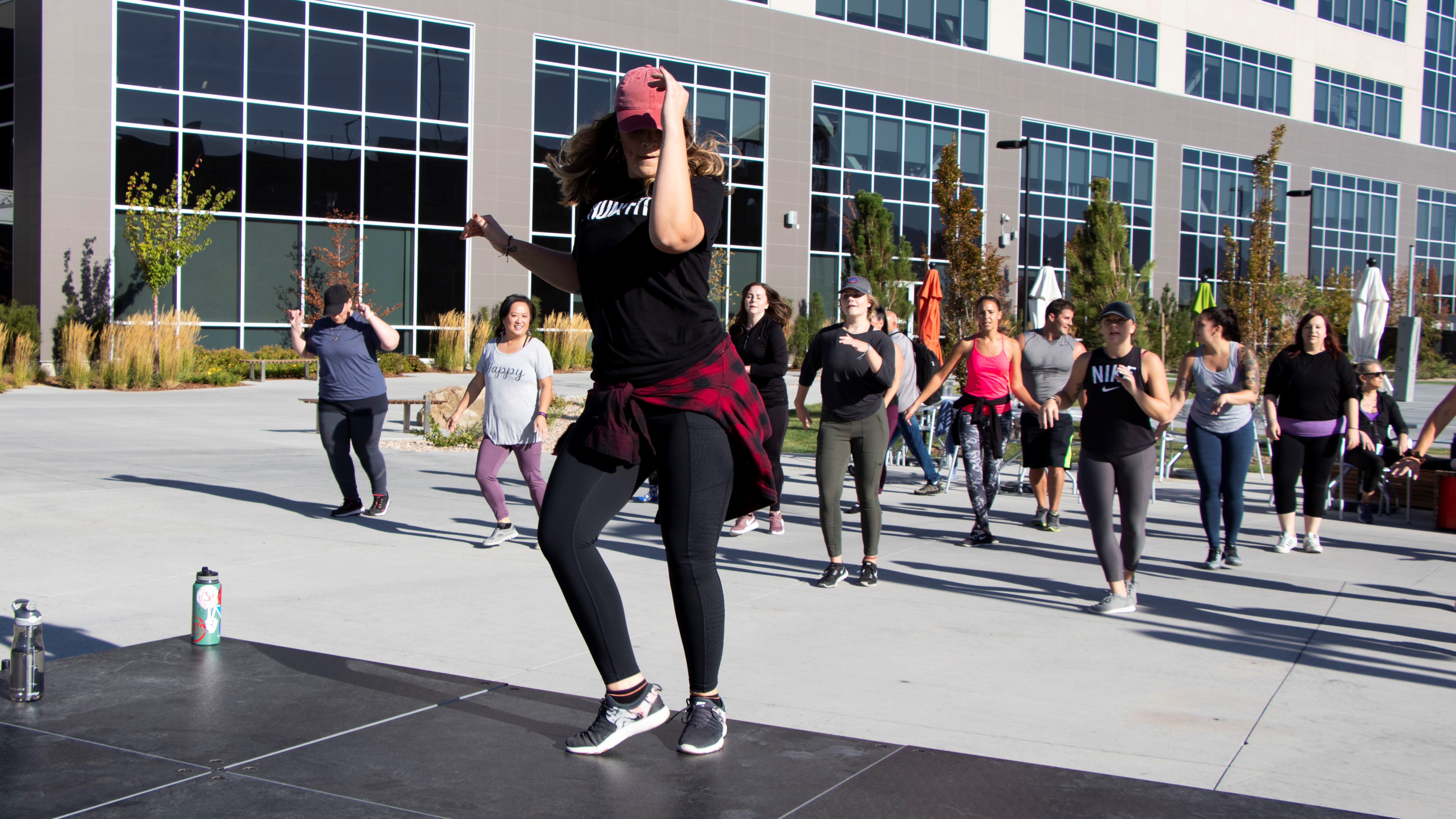 CHG Healthcare's offices are outfitted with free on-site gyms, which are equipped with workout rooms where our people can participate in fitness classes like yoga and spin. Our employees are able to take advantage of our fitness classes for free, due largely in part to our fitness gurus generously donating their time and expertise.
The genesis of a life dedicated to fitness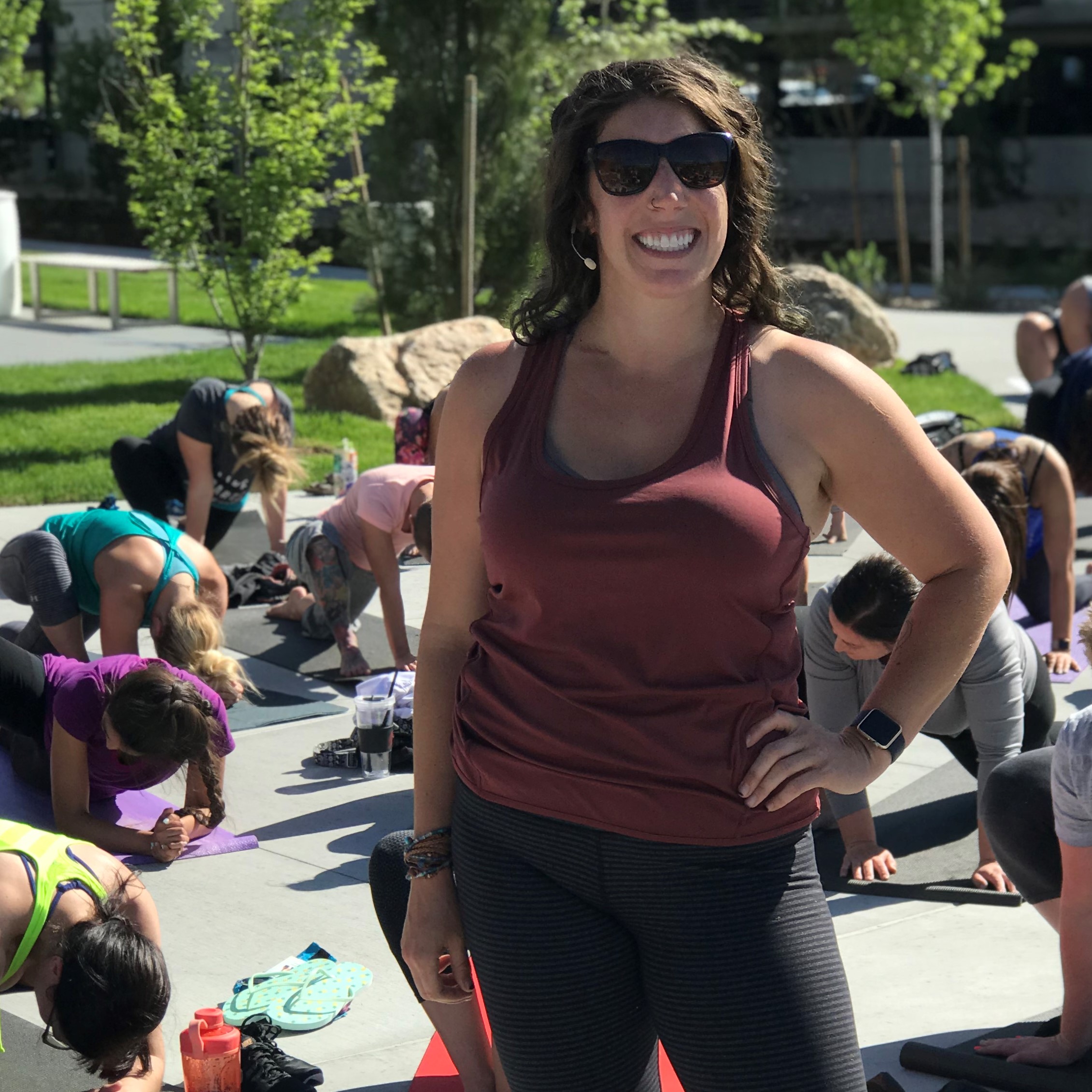 Email marketing specialist Mallory King is a yoga instructor outside of CHG. She's been practicing yoga for more than 12 years, but it wasn't until she was in a studio, listening to Ginuine's song "In Those Jeans," that everything clicked. When the song came on, she says, she lost herself in the movement. "That's when the fire really started burning." Mallory shares her love of yoga, leading a class every Wednesday night at our CHG headquarters.
We're also lucky to have financial analyst Maria Slaugh teach [LC1] a spin class in our Utah headquarters. Her fitness career started as a college basketball player, then she began to look for something that was lower impact that didn't force her to sacrifice the cardio side of fitness. She really enjoyed her spin classes — not just for the awesome cardio workout, but also because it was really fun.
"The music played during my spin class helped me get into it, and it helped that I had a fun instructor who played upbeat music in a variety of genres. I was getting a great workout without even noticing how hard I was breathing," Maria shares. "It was truly one of the first forms of exercise that I could zone out while working up a sweat."
Alyse Ainsworth, assistant brand manager with our marketing team, has brought her passion for dance to her PHUNK FIT classes. Having begun her dance career at age three, she says it's something she's naturally passionate about.
"I knew I wanted to be someone who would continue on with a dancing career after high school, but life caught up with me," Alyse explains, "and I started going through the motions of being an adult. I pushed my passion aside but it was always still there."
After taking dance fitness classes for fun over the last ten years, she knew she wanted to motivate others through dance.
"I feel free when I'm dancing," she says. "I'm usually self-critical, but the moment I start to dance, my cares go away. It's so empowering, and I'm able to enjoy what I'm doing without worrying what other people think."
Being extroverted doesn't mean there isn't trepidation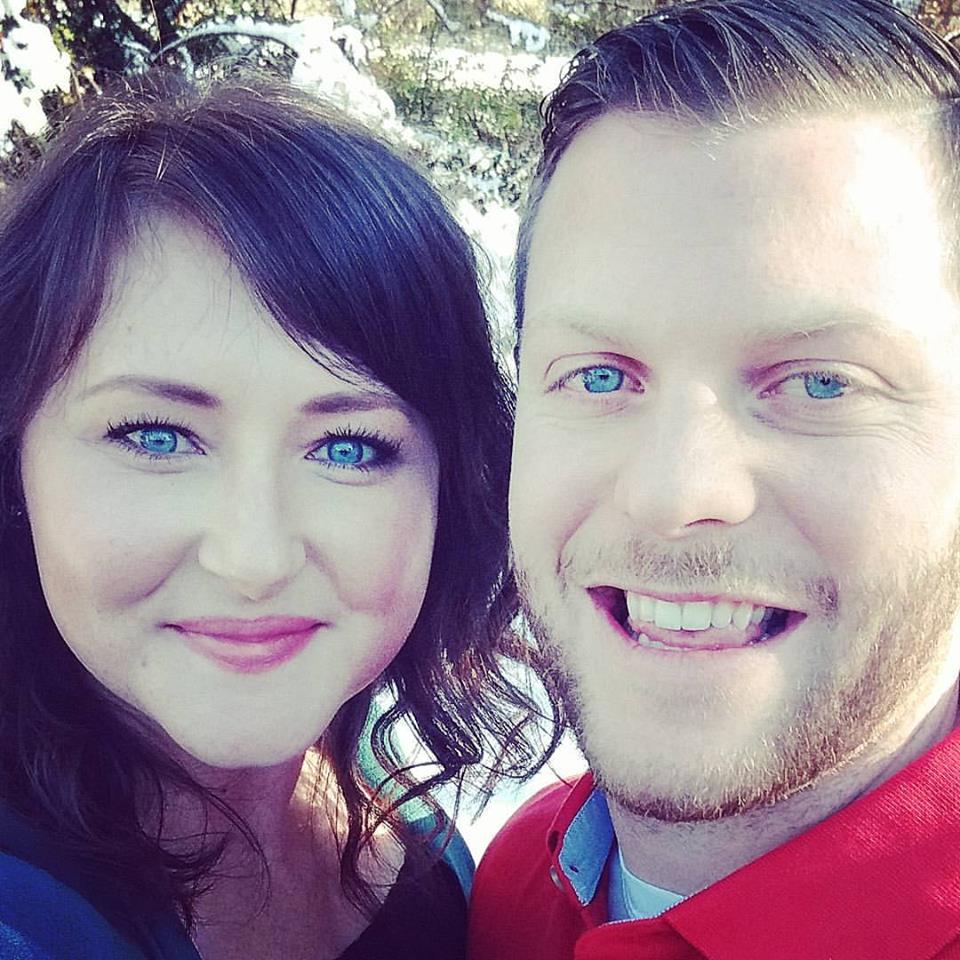 Maria says her friends describe her as an extrovert, but she was still very nervous for her first class. She wanted to impress her classes like her favorite spin instructors had made an impression upon her.
"I wanted to find balance in using motivational words, time tempos that coincided with the music playing, and play music to keep attendees motivated but not offended by any lyrics were all fears that went through my head leading up to my first class," she recalls.
Not-so-introverted Mallory says her biggest fear was turning her love of yoga into a job.
"I didn't want to lose my love for yoga because I made it into something I had to do."
Being an instructor requires some level of confidence, but PHUNK FIT?
"My fear was that nobody would enjoy my class or leave feeling empowered," Alyse says. "What if I didn't bring the energy, look, and skill people expected? You don't go get your hair done by a hairstylist with terrible hair. Why would someone come to my fitness class if I didn't bring enough energy and skill?"
Fitness class horror stories
Alyse's very first PHUNK FIT class didn't go exactly as planned.
"I forgot so many steps, and everyone could tell," she says. "I wasn't as confident as I am now, so I didn't wing it like I can now. It was like an awkward silence but with music. I still forget steps from time to time but now I just make it up on the spot. At this point, people can't really tell if I mess up and when they do notice I just laugh it off with everyone."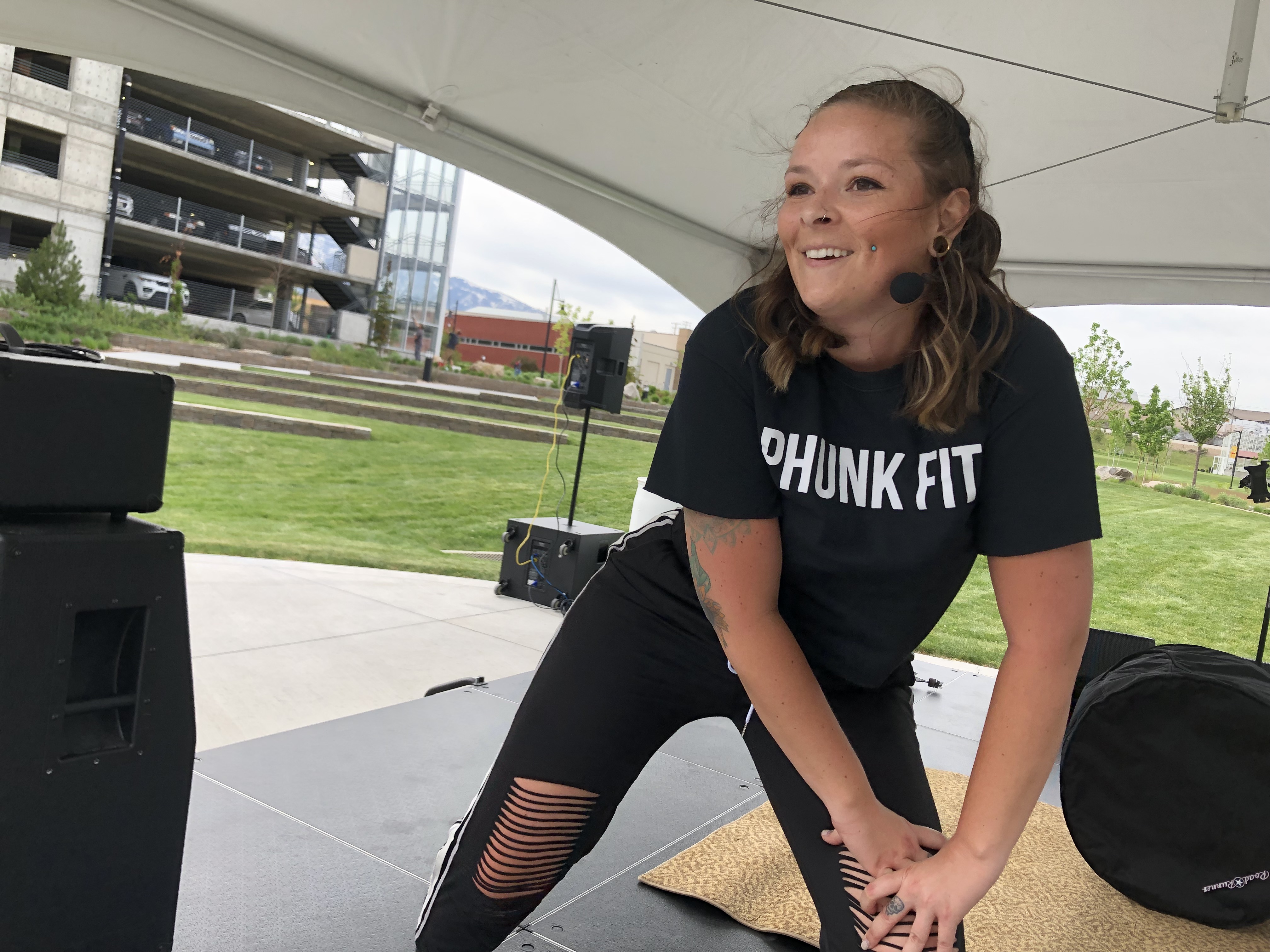 For Mallory, she says she has more stories than she can recall, but in each instance she's learned to keep the flow moving and accept that these things will happen. One such horror story?
"I arrive to class, the speaker system is locked up (my class is heavily based on music and sound), the room is loud with a lot of A/Cs going, I have no music, no mic, and a class full of students," she says. "Flowing without tunes is awkward for everyone. I could have canceled. But my students came both for a workout and to feel relaxed. So, I came up with a new plan, on the fly."
She explains, "If teaching yoga has taught me anything, it's that even the best-laid plans can and will crumble. Your ability to stay calm in uncomfortable situations, however, will help you grow more than if your plans work out."
Maria couldn't agree more. And when the room in which she was teaching was having technical difficulties, she found that her class was very forgiving, and it ended up to be a really good one.
"My phone wouldn't connect and play over the audio system, and my blue tooth speaker (plan B) wasn't working either," Maria recalls, "I was so embarrassed. Luckily, the group who attended that class was very forgiving and we circled up around my phone and had a great class."
Free to Be Me at CHG
Our fitness gurus couldn't be more grateful that they're allowed the freedom and flexibility to share their passion with their coworkers. Alyse also feels that CHG even gave her the push she needed to commit to being a fitness instructor.
"Because CHG's gym has an open room available to teach, it eliminated all my excuses to start teaching," she says.
Maria has felt nothing but support and encouragement from her team and leaders to continue to teach.
"When you connect with people like I'm surrounded by at CHG, I feel like I can naturally let my guard down and be my true self."
Want to join our CHG family? Check out our open jobs.