For benefits supervisor Anne Hopkins, working at CHG has had a positive impact on her work/life balance. "I mean it from the bottom of my heart when I say that working for CHG has truly changed my life," Anne shares. "I now have an actual work/life balance, which is so important when you have both a 4-year-old and a 3-year-old little girl." Learn more about Anne's First Impressions of CHG.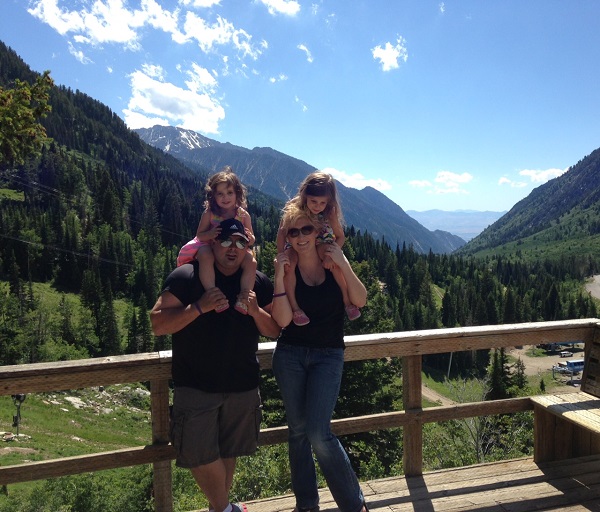 What do you do at CHG, and what do you like about your job?
I am a supervisor of the benefits team. Being able to present to our new hires during Foundational Training and watching their faces light up when we tell them about the amazing benefits package CHG has and to see the amazement on their faces that we offer services like a free health clinic is beyond rewarding. I truly work with the most caring, talented people each and every day. The benefits team is my second family, and I enjoy coming to work every day to spend time learning and growing with them.
When did you come to CHG?
July 8, 2013, I just celebrated my one-year anniversary!
How did you hear about CHG, and what made you want to apply?
Not only was CHG previously a client of the former company I worked for, but I knew several current employees that told me what a great place it was to work at. I had attended conferences where Nicole Thurman, CHG's senior benefits director, spoke about all of the innovative benefits programs that CHG offered their people. I was inspired by her passion and wanted to be a part of an organization that cared so deeply about their people.
Where were you working before you came to CHG?
I spent the last 15 years of my career working for Health Insurance TPAs, most recently in account management servicing large employer groups. It has been an eye-opening experience to be on the employer side of benefits versus the insurance side. Benefits has been my life's work, so I am thankful every day to work for a company that provides such a rich benefits package and truly values their people.
How has working at CHG compared to your other working experience?
I mean it from the bottom of my heart when I say that working for CHG has truly changed my life. I now have an actual work/life balance, which is so important when you have both a 4-year-old and a 3-year-old little girl. Previously, I was traveling three to four times a month and the expectation was to check emails until 1 a.m. I will never forget my first week at CHG when Kevin Ricklefs, CHG's senior vice president of HR, came over to my desk at 5:05 p.m. and told me to go home to my family. Working for CHG has given me not only professional-development opportunities, but given me my family life back as well.
What can you tell me about your first day?
My team made me feel so welcome. I was given a Wellness work-out bag filled with a CHG water bottle and coffee mug, and my team took me out to lunch. I remember being introduced to so many people and greeted with warm smiles!
What has been your most memorable experience so far?
Three months after I started working at CHG, my mom was diagnosed with terminal pancreatic cancer and given a life expectancy of 10-13 months. In an instant, my entire world changed. Not only was this extremely, emotionally devastating, but I had to find a daycare provider for my kids because she was their primary caregiver while my husband and I work. I was nervous being a new employee and not having much PTO as well as being able to balance helping my mom receive the care she needed. My leader called me into her office one day and told me that our team had gotten together and donated almost three weeks of PTO, so I would be able to help take my mom to her chemotherapy appointments. I will never forget that act of generosity and kindness.
How have you seen CHG's core value of Quality and Professionalism in action?
It never ceases to amaze me how collaborative the teams across different divisions are. There is such a can-do spirit within CHG, and every person is committed to doing things right and helping you achieve the best quality possible. Over the course of a year, I've had the pleasure of working with our corporate communications, facilities, payroll, finance and marketing teams on several projects, and I've never been made to feel like I was on an island. Help is always there no matter what your job role is and that shows our company's commitment to Quality and Professionalism.
How do you know that your work at CHG matters?
I have the opportunity to assist people on a daily basis with issues that impact their lives. When I can explain someone's benefits plans to them, assist in researching a claims concern or help someone get the medical treatment they need, I know that the work I do matters. Our team lives and breathes Putting People First, and I'm proud to be a part of that.
Do you have any advice for new or potential CHG employees?
Embrace our motto of "Free to be Me at CHG." I came from what is considered a traditional professional atmosphere, and it wasn't until I let my guard down and truly was myself that I felt like I was living the CHG culture. Have fun, don't hesitate to introduce yourself to people you may not know and feel fortunate every day to work for a company like we do!