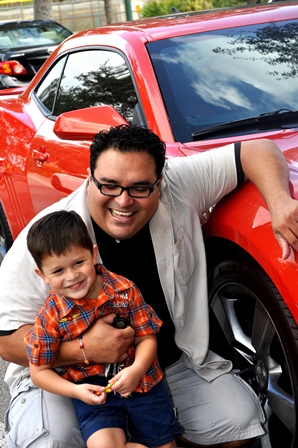 Name: Silas Escalante
Job title: IT systems engineer at CHG in Fort Lauderdale, Fla.
Years with CHG: 2.5
What is your favorite part about working at CHG? The people.
What is your most memorable experience at CHG? This year, I did Rock Your Body, and I have to say by far it has been the best experience for me. I had done it in the past but didn't really commit to it like I did this year. I have wanted to make a healthier life change so that I can be around for my son and to be able to really participate with him as he grows up. So, this year I formed a workout group that met three times a week during lunch and watched what I was eating in a way that I could manage and maintain even after RYB ended. The workout group has really made an impact because it is made of other people here at CHG that are committed to each other and making positive changes in our lives, and I am very thankful for them. Again, the people here have inspired me to be healthier, and I know I have inspired them as well. The group started off as a small group of four people, and today it is as large as 38 people. CHG has made a positive impact on my work/life balance, and I am thankful that others here have benefitted from it as well.
If someone asked you what you do, how would you answer them? When I am asked where I work, I am always proud to say I work for the best healthcare staffing company in the industry as an IT systems engineer.
Why did you choose to work at CHG? Honestly, CHG chose me. Through Pat Kennedy (president of Weatherby Healthcare), I heard that there was a temporary position available in the IT department because the company was expanding and needed temporary help. I interviewed and was hired. Within three months, I was offered a full-time position and was very excited to accept.
What is your favorite core value at CHG and why? Without a doubt, Putting People First is my favorite. I worked more than 14 years in higher education administration and student affairs, working with college student and helping them reach their goals. I am and always have been a people person and could not work somewhere that I didn't have contact with people, so this core value is right up my alley. It is the primary reason I love working here at CHG.
How do you know that your work at CHG matters?The people here always make sure that I know that what I do matters, whether it is through a Putting People First award nomination, gifts or thank-you letters. It is such a great place to work.
What do you like to do when you aren't at work? I recently got scuba-certified, so I love to dive and fish. It is one of my passions. Growing up in Texas, I really enjoy being outdoors.
What is your hidden talent? I make amazing Mexican food, which I bring to the office on occasion. I'm known for ceviche, salsa and breakfast tacos. My co-workers in my area love it!
If you could choose your last meal, what would it be? In-N-Out Burger and ceviche!
What five things would you take to a deserted island? My son, a boat, fishing poles, Big Red and an unlimited supply of fuel.
In a movie about your life, who would you choose to star as you? Dean Cain.