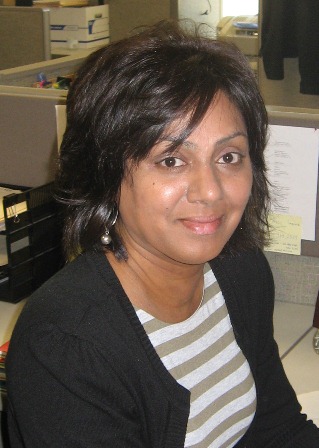 Name: Sheela Ayyaru
Job Title: Credentialing specialist at Foundation Medical Staffing in Edmond, Okla.
Years with CHG: 1
What is your favorite part about working at CHG? The equality and the time and efforts that are made to make CHG a better place to work.
What one story best describes your experience at CHG? Recently, I was presented the Snoopy Award [awarded to those who provide excellent service and come up with solutions], and I know my efforts were recognized and people appreciate what I have done. This is very fulfilling.
If someone asked you what you do, how would you answer them? I am a credentialing specialist, and I make sure that our travelers are qualified and meet our client's requirements.
Why did you choose to work at CHG? I would say I did not choose but was blessed to be hired at CHG. I think it's a thought that every CHG employee would like to say.
What is your favorite event that you have participated in at CHG and why? I have liked the Employee Appreciation Week every time. This gets all of us to come together and to appreciate what every one of us does for CHG.
What is your favorite core value at CHG? It is definitely Putting People First. This policy brings out the best character of a person.
If you could choose your last meal, what would it be? My last meal would be nasi lemak, a Malaysian dish with coconut rice!
What five things would you take to a deserted island? Probably a knife, my $19.99 phone, makeup (don't know who I am going to impress), hair dryer (cannot live without it) and a few of my best outfits (again, not sure who I am going to impress)!
In a movie about your life, who would you choose to star as you? Definitely Kate Beckinsale!