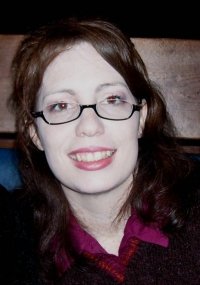 Name: Melissa Meserole
Job Title: Housing manager at Foundation Medical Staffing in Edmond, Okla.
Years with CHG: Almost 3
What is your favorite part about working at CHG? Every day brings a new challenge.
If someone asked you what you do, how would you answer them? I usually tell people that I work for a company that recruits and places Health Care Professionals and that my job is to find and set up their housing for them, including everything that entails, such as paying the bills, sending notices, etc.
Why did you choose to work at CHG? At the time that I was looking for a job I was on a wine-tasting tour with about 50 friends and acquaintances. At one of the stops, I was talking to Angela Lux, who was currently working for CHG/FMS and she told me they were looking to create a new position in housing, and it sounded like it was right up my alley. Prior to that I had gone on several church planting trips to KU with two other CHG/FMS employees, and they always talked highly of the company. When I came in for my interview, I realized there were several people that I knew. I felt that if all these great people were working here, then it had to be a pretty good place.
What five things would you take to a desert island? A Bible, iPhone -- it has everything -- sunscreen, (I'm so fair I would burn to a crisp if I didn't have it), toothpaste and a friend to enjoy it with me.
What is your favorite event that you have participated in at CHG and why? My favorite event by far has been Rock Your Body, including this last year being part of the Partners in Fitness. I love this event for several reasons. One reason is that almost everyone participates, so I think it brings the whole office together. The other reason is because I have discovered that I am really interested in health and nutrition. I also really enjoy encouraging other people in their journey to health.
 
In a movie about your life, who would you choose to star as you?A lot of people tell me I remind them of Melissa Gilbert (Laura Ingalls from Little House on the Prairie). However, I would probably choose Meg Ryan. I love the sweetness and zest for life she has brought to most of her characters.
What is your favorite core value at CHG? Most definitely Putting People First. I think this is a core value that everyone should embrace and live out everyday!
If you could choose your last meal, what would it be? This is a hard one! I love to cook, and there are so many great ways to put food together that I'm not sure I can choose just one meal. However, dinner at Ted's Escondido would definitely be at the top of the list.