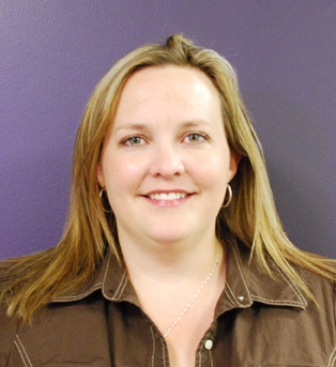 Name: Lisa Kelly
Job Title: Operations manager for CompHealth permanent placement in Salt Lake City, Utah
Years with CHG: 6
What is your favorite part about working at CHG? Hands down, the people! I love the culture that we have now, and it has been really fun watching it become what it is today!
What one story best describes your experience at CHG? Looking back on my first day at CHG is pretty funny. I thought it was creepy how happy and nice everyone was here, because I assumed it was faked or forced. I had worked for another staffing company for a few years before coming to CHG and had gone with many people during their first-day orientation when I placed them. The common situation was usually that you would get the tour from the most upbeat, perky person in the building, and if you glanced over their shoulder people were NOT smiling. Usually, people were rolling their eyes and generally looking miserable. At that point in my career, I thought that no workplace could be nearly universally happy. Then I started at CHG, and everyone was friendly and welcoming to me! In the elevators, people would ask if I was new and if I liked it here, and people would give you a smile when you walked by in the hall. People were constantly celebrating when they placed a doctor in an underserved area and talked about their open jobs with compassion for the needs of the community, not just because they wanted the commission. It was such a huge culture shift for me that I felt like I was in The Stepford Wives at first. It took me about two months to realize why CHG is so awesome and that all of the smiles were genuine! You can enjoy your job! Epiphany!
If someone asked you what you do, how would you answer them? Having been over the hiring department for CHG for many years, I always have my recruiting hat on, so I will admit I have a speech ready to go for anyone that asks (okay, maybe even for a few I just tell instead of waiting for them to ask). If I think I want them to work for CHG, I tell them that I work for the only company in the state of Utah that is on Fortune magazine's 100 Best Places to Work List. That usually hooks them in! Then I launch into my speech about being able to help communities find doctors and the incredible culture. However, if I don't want them to work here or I just want them to go away, I just stick with the short version and say I help place doctors around the country.
Why did you choose to work at CHG? I was ready for something new, so when I got the call from Aaron Jordin about a position here, I was excited to talk to him! He had a pretty darn good pitch that got me over here for an interview!
What is your favorite event that you have participated in at CHG and why? I have so many favorites, but the most memorable was probably the pooch parade a few years ago. I brought my dog in all dressed up (which I swore I would never do) and have never laughed so hard at the creativity of my co-workers and their crazy dogs!
What is your favorite Core Value at CHG? You have to have all five of the core values in order to make up what CHG is today, so I don't think I can pick one favorite that doesn't need the other four! They all have value and are all based on a foundation of Putting People First, which allows me to help my team by encouraging them to grow both personally and professionally. I don't think I would enjoy being a leader nearly as much without being able to make people's needs my priority. When it is only about the numbers and the almighty dollar, we all lose. But if we all get to grow and thrive in an environment where we are appreciated, you get a happy team, happy leaders, and the growth in skills and revenue becomes a great side effect of the contributions we make to the healthcare industry.
If you could choose your last meal, what would it be? A medium-rare bleu cheese-crusted New York strip steak (I'm salivating just thinking about it!) and a bottle of my favorite wine.
What five things would you take to a deserted island? A fully stocked sailboat, a still and three friends.
In a movie about your life, who would you choose to star as you? Drew Barrymore