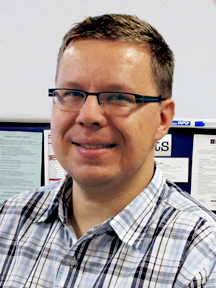 Name: Fredrik Svensson
Job Title: Web developer at CHG in Salt Lake City, Utah
Years with CHG: 8
What is your favorite part about working at CHG? The awesome people I get to interact with every day.
What one story best describes your experience at CHG? In 2003, I was chosen as Employee of the Month. Ever since I have been here, CHG has been extremely generous in their ways of rewarding employees. And now employees get to nominate each other for awards (thanks to a Web-based nomination form that I created)!
If someone asked you what you do, how would you answer them? I am involved in some way in everything CHG creates that ends up on the Web, usually as programmer, but I often help with images, video and other aesthetic elements.
Why did you choose to work at CHG? I was looking for a job in early 2002, and CHG had a Webmaster position open. It was my first time working in an office for a large company, and they made me feel right at home right away.
What is your favorite event that you have participated in at CHG and why? United Way Day of Caring. Every year we get a half day off to do some good in the community. Painting, yard work, etc. at a community center is very fulfilling when you see the gratitude of the people who benefit.
What is your favorite Core Value at CHG? Putting people first, of course!
If you could choose your last meal, what would it be? All-you-can-eat crab legs
What five things would you take to a desert island? There are no islands in a desert.
In a movie about your life, who would you choose to star as you? Tim Robbins, because we look alike.