CHG's IT department was selected as one of Computerworld's 100 Best Places to Work in IT in 2012! Now in its 19th year, Computerworld's award program showcases those IT departments that excel based on the benefits, compensation and work environment offered to workers. This is the first time CHG has applied for the award, and the IT team celebrated its ranking of 100 with a breakfast on June 18.
"I am very excited that we made the list, especially since this is the first time we applied for the honor," says Rachel Heitz, senior director of the IT department. "I am also very excited about the investment that CHG is making in IT right now and am excited to see us on the list for many years to come!"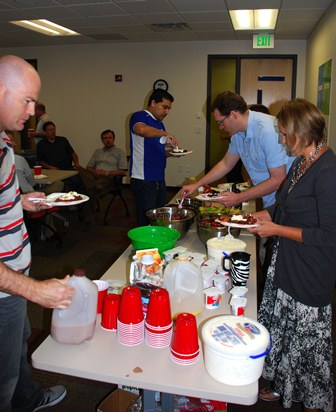 CHG's IT department celebrated its win with a breakfast June 18.
Rachel believes that CHG's culture and dedication to Putting People First sets CHG apart from other companies.
"Other IT organizations where I have worked are so focused on project delivery that they forget how the constant pressure, deadlines and countless hours can impact people's work life balance," Rachel says. "There's always room for improvement, but I think we try to balance the need to deliver projects on time with the need to ensure people enjoy their jobs and don't get burnt out, especially on a long project like FOX."
The IT department's current initiatives revolve around building and implementing Front Office eXtreme, or FOX, a new front office system built on an already-existing platform, but with customized solutions and components that are needed for healthcare staffing services.
In addition to implementing and improving FOX, Eric Lindeman, director of product management, says that CHG's IT department is continuously upgrading software, from revamping websites to upgrading email and phone systems.
"Working at CHG allows you to work with a wide breadth of technology," Eric says. "You also have the opportunity to see how what you do contributes to the business and makes a difference in the lives of others."
"One of the things we do more than any other company I have worked for is have fun," Rachel says. "Having fun is one of our guiding principles, and rarely a day goes by when there isn't something fun to do, from a fun Friday Challenge, to an IT social, to an impromptu Nerf battle, or even a full-on Nerf ambush on MSS or marketing, we make fun part of what we do!"
Check out the full ComputerWorld Best Places list now!