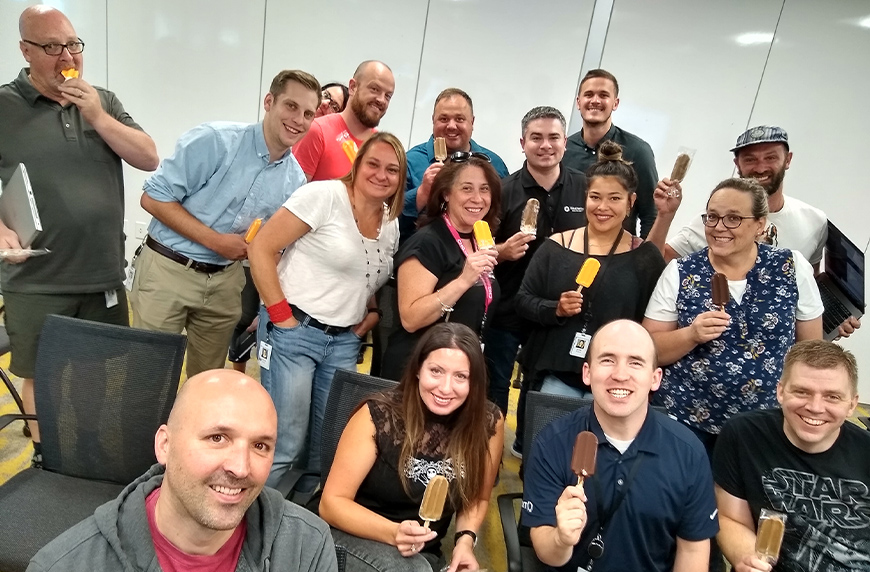 Tech jobs can be found at nearly any company, but not every company can offer you intricate problems to solve; access to the most up-to-date, diverse technology platforms; and an award-winning company culture. Here are ways tech jobs at CHG Healthcare are different (and better).
1. A problem solver's paradise
Scott Boecker, CHG's chief digital officer, says that a tech job at CHG involves solving unique and complex problems. He notes, "We're not just designing a single product; multiple products are touched through the journey of a provider being placed at a hospital. If career wise you'd like to be at the juncture where people and technology together are solving a big problem, we are absolutely the place to be."
Boecker started in product management and has continued to expand his professional skillset over the years at various companies, continuously gaining broader knowledge of what it takes to work at the executive level in tech. Boecker has worked for Ticketmaster, Realtor.com, and Nike, to name a few. Primarily, his roles were focused in consumer product management, product design, marketing, public relations, and business intelligence. He says, "I have an affinity for businesses that are both customer facing and client facing. Because not only do you get to influence what that company is doing, but as a company you're influencing an industry."
2. Award-winning culture
Another reason Boecker was drawn to CHG was the company culture, centered around our core value of Putting People First. "I immediately fell in love with the people, with the culture. The authenticity of the culture really spoke to me," he commented. "It's not just about the perks. We genuinely invest in people and their development, which speaks to how long a lot of folks have been here. This is not a place to just work for two years, burn yourself out, take a break, and go do it somewhere else all over again. That is not what we're looking for."
Across the board, company culture is consistently lauded as a top draw among CHG employees. Employee engagement and satisfaction parameters are remarkably high, and the success and productivity of both individual departments and the company reinforce this.
Jeff Despain, vice president of engineering, says the feedback he's gotten from his teams is overwhelmingly positive. "They really enjoy their coworkers and their work environment, which is an important part of the culture of CHG," he says. "But they also like the technical side of their work. I think what our engineers like about their tech jobs at CHG is that it's just the full gamut of a positive work environment, technical stack, and best practices that benefit them and their career."
Rahul Belani, vice president of product, says CHG's culture was one of things that attracted him to CHG. "Personally, when I'm looking at an opportunity, I look at the environment I'm going to be joining more than the job that I'm going to be doing," Belani says. "I look at the leadership team, the environment, the company culture, and so on. CHG clearly stands out when it comes to culture, it's genuine."
3. On the cutting edge of technology
CHG utilizes a combination of diverse technologies, some of which are built in-house, and many of which partner with big-name companies such as Salesforce, Bullhorn, Snowflake, and AWS.
Technology-wise, Despain says that CHG is comparable to many software companies. "We're using the same tech stack as they are, and we're on the leading edge of technology, which may be surprising to engineers who come to work at CHG," he says. "We're using the latest technologies in what we're doing. And not only that, we reinforce a good work/life balance. Like in startups, our engineers have that excitement about working with cutting-edge technology. Unlike tech startups, we're not working 12-hour days and burning people out."
Despain notes that one of the engaging things for CHG's engineers is building something that's driving value and having a positive impact. "And hearing the feedback about the difference we're making is such an amazing bonus," he says.
"You get a lot of experience with how to build, partner, integrate, and understand how to connect programs efficiently," Boecker says. "In terms of building up your skillset and learning how to scale, there are a lot of similarities that you'd see at a larger tech company."
Boecker also recognizes where CHG is different from the typical tech company. "I think what makes us different is CHG's mission," he says. "At the end of the day we're connecting providers to assignments in order to make sure individuals get great healthcare, and we can't lose sight of that mission." He adds, "We're invested in our people and committed to sustaining growth for the long haul, not just short-term growth at all costs. We've been here 40 years, and we want to be here another 40 years and continue to grow and lead the industry."
4. Diversity of thought
Bringing together people of different backgrounds and schools of thought are imperative to creating the best product possible. Aurelia Redd, senior director of people and culture for CHG's digital team, tells us, "If we fill a room with people and every person thinks the same, acts the same, and talks the same, we're not going to challenge ourselves to create a better solution."
"In technology, we actually seek as much diversity as possible," she says. "In all things — gender, race, political views, extroverts versus introverts — we bring those people together for the diversity of thought."
Redd's professional experience began in the healthcare sector. And at CHG, she spearheads a new initiative of the digital team as project implementation manager. As the tech department continued to grow rapidly, the need for a people and culture division specific to the digital team developed, and Redd took the lead.
Redd's team has created two inclusion groups for the department, one for people of color and one for women in technology. Redd tells us, "The purpose of the groups is not to exclude others, but to create a community where somebody can come to work and know there's somebody like them that they can connect with outside of their day-to-day work."
Redd says, "A challenge our leaders have undertaken is to take resumes and block out the person's name so they have no predisposition of any type of discriminatory things that could be there to change their mind before they even meet the person." Creating equal opportunities for all is key to supporting a diverse workforce, she says.
Despain adds, "Diversity and difference of opinion on the engineering team is important to us. Different engineers' input and experiences help us innovate better, bring different skills to the table, and enable better ideation. Diversity helps keep us from getting stale."
5. Time to breathe
Once hired, Belani notes, "Onboarding at CHG is extremely unique. We don't expect people to start producing on day one. We encourage them to take their time, get to know the team, get to know the problem they're trying to solve. We'll figure out what your contributions are going to be down the road."
He also commented on the ability to work on-site or remotely. "CHG encourages and supports the work environment that works for you. If working remote is what you prefer, we make it a point to include all our remote employees on a daily basis to make them feel part of the team."
Healthcare staffing driven by cutting-edge technology
"We may not be first and foremost a technology company, but we're doing a lot of the things technology companies aren't even able to do," Despain says. "We're really focused on building a world-class engineering organization."
Additionally, Despain says, CHG has started using tech industry data and benchmarking tools to help us evaluate and compare CHG against other companies at an engineering level. "We're committed to becoming a world-class engineering org."
Healthcare staffing may not be the first workplace that comes to mind when seeking out jobs in technology. But with complex problems to be solved, our company culture and dedication to advancement in the field might make CHG Healthcare's tech department your perfect career fit.
CHG Healthcare is hiring! If you're looking for a company where you can grow your tech career, be yourself, and have the flexibility you need for a better work/life balance, check out our open positions.