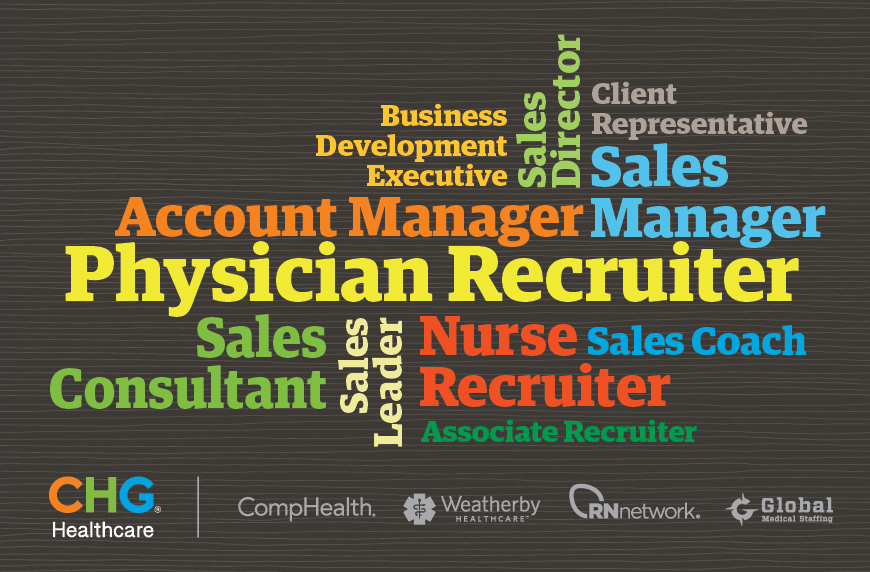 CHG Healthcare shook up healthcare in 1979 by inventing the locum tenens staffing model, which enables physicians to fill in where there's a temporary need or shortage of care. Today, we connect doctors, nurses, and other healthcare professionals with patients all over the world who need their care. As the largest locum tenens staffing firm in America, our providers treat millions of patients each year.
Many different opportunities to grow your sales career
Our industry is growing, and demand is high, so if you're a hard-working and motivated sales professional you'll have plenty of opportunity to advance in your career. There are many different sales jobs at CHG; here's a brief introduction to a few of the most common.
---
Think big! | CHG Healthcare Enterprise Client Solutions
Are you ready to build strong partnerships with leaders of some of the largest healthcare organizations in America? Consider applying for one of these roles with CHG's Enterprise Client Solutions Group.
Business Development Executive
Research and contact new and existing clients to solicit new business for all of CHG's divisions
Work to cultivate strong relationships with C-level executives
Deliver strategic financial and service results for some of the country's largest health systems
Account Manager
Manage the day-to-day interactions and workflow with existing clients representing all of CHG's divisions
Foster strong relationships and identify opportunities to grow the business
---
Small but feisty | CompHealth Allied
CompHealth Allied may not be CHG's largest division, but it's one of the scrappiest. Just like the allied healthcare providers we serve, we make a big impact by bringing healthcare to patients who might otherwise have to travel long distances or go without care.
Provider Representative/Inside Sales
Reach out to allied health professionals to learn their career goals
Build a network of interested providers
Match them with healthcare facilities that need their services
Client Representative
Help healthcare facilities get the providers they need to meet patient demand
Work with prospective and current clients to solicit business and strengthen the relationship
Communicate needs and requirements to provider representatives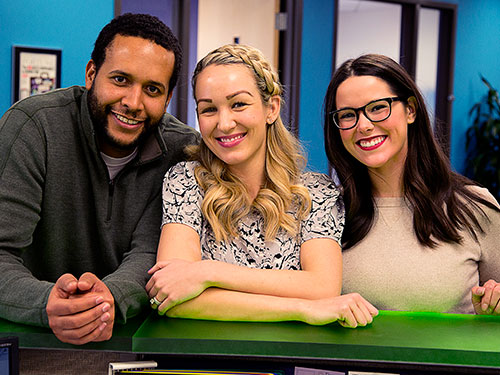 Work for the locum tenens O.G. | CompHealth Locum Tenens
CompHealth was the first company to offer locum tenens staffing and is still the industry leader in connecting physicians to healthcare facilities that need their help. There are many sales roles at CompHealth where you can grow in your career and make a big difference in the lives of others.
Associate Recruiter/Associate Sales Consultant
Assist with research and sales-related support activities
Contact leads to generate new candidate applications
Respond to new inquiries
Call existing candidates in database to help generate and assess interest in specific job opportunities
Physician Recruiter/Sales Consultant
Find and contact physicians who are interested in working locum tenens
Match them up with jobs that meet their unique needs
Build and maintain long-term relationships that make a difference in the lives of both physicians and their patients
Sales Coach
Monitor and evaluate sales staff performance
Assist in the development of curriculum for new sales hires and existing staff
Perform side-by-side coaching and group instruction
Help sales team members to learn how to manage their pipelines, improve their selling technique, and develop in their careers
Sales Manager/Director
Assist division leaders in setting and achieving division's goals
Run your own desk and support the production and performance of your sales team
Help your team develop and contribute to the overall success of the organization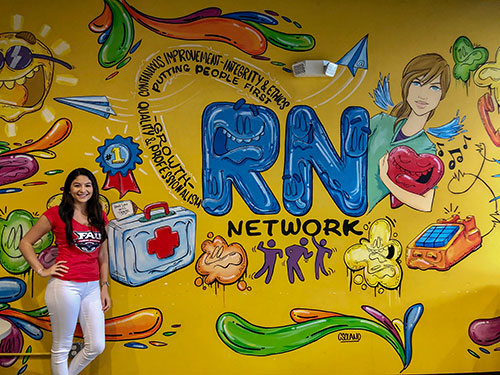 Getting nurses where they're needed | RNnetwork
Nurses are well known as the backbone of healthcare. Doctors may get most of the glory, but nurses are the ones who are always at the bedside. As a leading provider of travel nurses, RNnetwork plays a critical role in getting nurses to where they are needed the most.
Nurse Recruiter
Provide prospective nurse travelers with information regarding available positions
Maintain regular contact with nurses during assignments
Encourage nurses to contract for additional assignments
Become a nurse's friend and advocate
---
Staffing all around the world | Global Medical Staffing
From Australia to New Zealand, healthcare facilities worldwide have an urgent need for doctors. A need Global Medical Staffing was born to fill, matching doctors with clients all around the world. If you're as unique and adventurous as the assignments we offer, consider joining the Global team.
Physician Recruiter/Inside Sales
Act as the single point of contact for physicians
Coordinate all aspects of the sales process
Negotiate the recruitment, interviewing, marketing, and hiring of candidates with existing clients in the U.S. and abroad
---
Join the locum tenens experts | Weatherby Healthcare
Weatherby Healthcare prides itself on being the leader in providing highly qualified locum tenens physicians, physician assistants, and nurse practitioners to healthcare facilities in all 50 states. Weatherby may not be the first, but nobody does it better.
Associate Recruiter/Associate Sales Consultant
Support the sales team and assist Weatherby sales consultants in recruiting providers
Gain the experience and skills to run your own desk as a successful sales consultant
Physician Recruiter/Inside Sales Consultant
Establish strong, trusting relationships with both physicians and healthcare facilities
Reach out to doctors to learn their career goals
Match them with healthcare facilities that need their services
Sales Leader
Lead a high-performance sales team to reach ambitious goals
Identify opportunities for team member growth and development
Be a coach and mentor who inspires your team to strive for excellence and be successful in achieving their goals
Ready to learn more?
If you're a go-getter, you could really make a name for yourself on one of our high-performing sales teams. Check out our open positions and apply today!