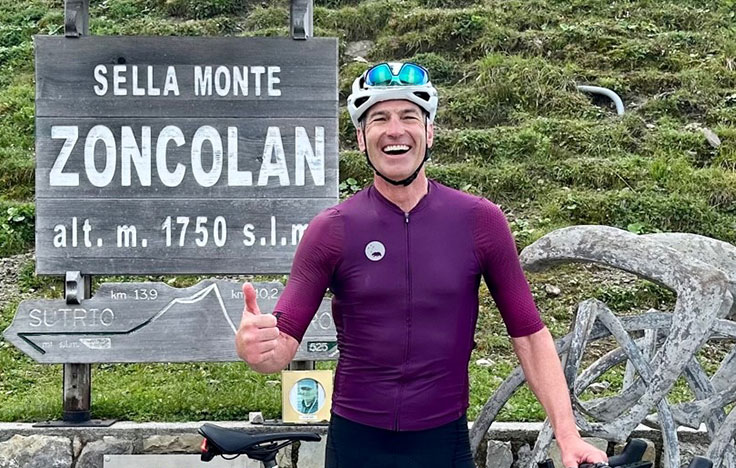 It's hard to find a company like CHG, with a mission to serve patients across the world, great benefits, and a culture of collaboration. And even better? It's a company that invests in its people and their growth. That's why CHG employees see promotions, career development, and even complete career changes if it's right for them. Here are the stories of five employees — just a few of the many who have flourished in their career since coming to CHG.
Meet some CHG employees whose careers have flourished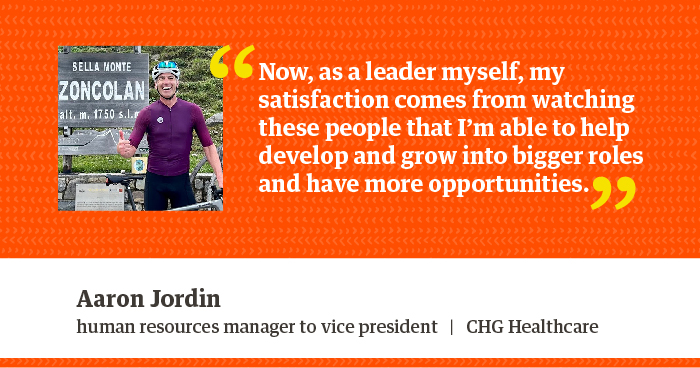 Aaron Jordin, human resources manager to VP
Aaron Jordin is one of the most tenured people at CHG. When he started as the human resources manager, there were only two people on his team. He built CHG's talent acquisition team from scratch. And the building didn't stop there; his scope started to cover housing and facilities, and then real estate for the whole company.
Aaron even supervised the construction of a new headquarters for CHG. During that project, he achieved the impossible: finishing on time and under budget.
Now, as vice president of operational services, Aaron is responsible for credentialing, quality management, contract buy-outs, workplace and real estate, and housing. And it's a team that's a whole lot bigger than the two people he started with.

Since Aaron has personally seen the benefits of growing within a company, he makes sure to help others on his team do the same.
"My satisfaction comes from watching these people that I'm able to help develop and grow into bigger roles and more opportunity."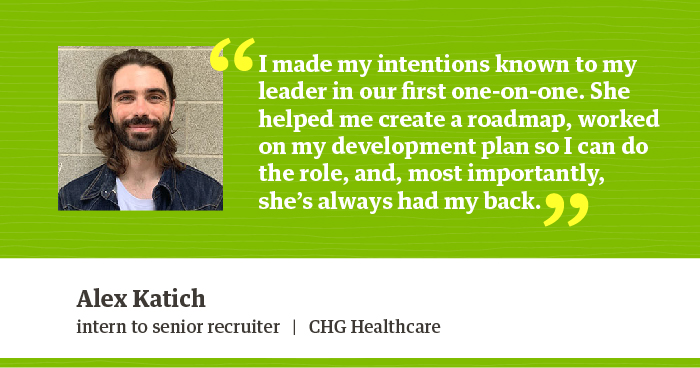 Alex Katich, intern to senior recruiter
When Alex Katich was searching for internships during college, CHG was at the top of his list. In the summer of 2016, he worked on the culture team, helping them brainstorm volunteer time off opportunities and tweaking CHG's bereavement policies.
The internship went so well that Alex definitely wanted to stay at CHG, and specifically work in talent acquisition. He started as a temp right after his internship. A few months later, Alex joined the talent acquisition team in a permanent role. Since then, he has moved from associate recruiter to talent acquisition specialist, and now he's a senior recruiter.
Alex's advice for how to grow your career at CHG? Communicate with your manager. "I made my intentions known to my leader in our first one-on-one. She helped me create a roadmap, worked on my development plan so I could do the role, and, more importantly, she's always had my back."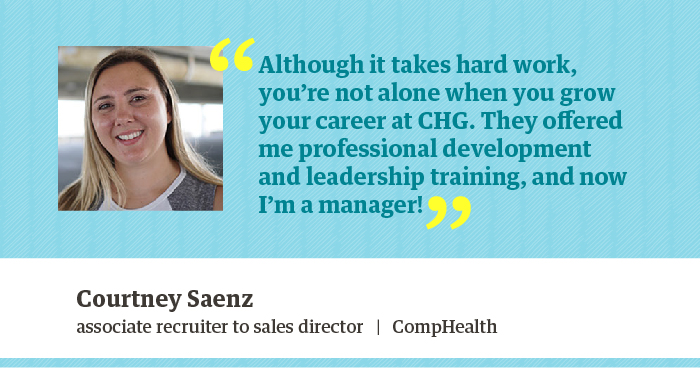 Courtney Saenz, associate recruiter to sales director
In 2013, Courtney Saenz saw CHG's mission statement and immediately felt driven by connecting patients to healthcare providers. She started as an associate recruiter on CompHealth's emergency medicine team and quickly grew in her role. After just five months, she got a promotion to be a consultant on the CompHealth pediatric team.
"I realized that to build a strong business, I would need to dedicate myself to the job even when times weren't easy," says Courtney.
"Although it takes hard work, you're not alone when you grow your career at CHG," Courtney says. As Courtney grew in her career, CHG was there to offer professional development. Before she started as a placing manager, she took CHG's LEAP (Leader Evaluation and Assessment Program) course. Then, when she started working as a manager, she took the People-Centered Leadership training.

Courtney has been at CHG for more than 10 years, and now she's the director of the oncology/radiology team.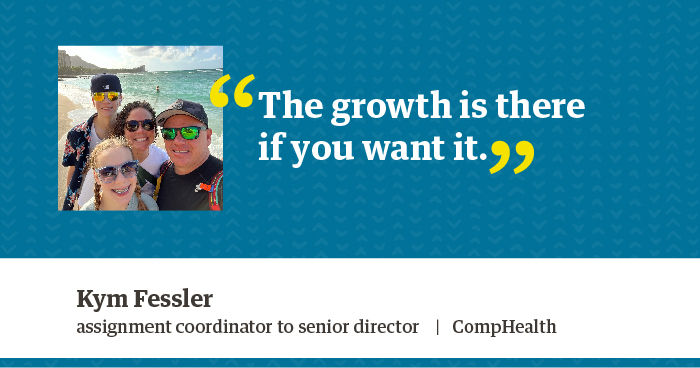 Kym Fessler, assignment coordinator to senior director
Over two decades ago, Kym joined CompHealth as an assignment coordinator but quickly realized she wanted more. "I knew pretty quickly that I wanted to do something different, so I pursued leadership." With the support of her leader and learning and development courses along the way, Kym is now a senior director over CompHealth's payroll and assignment coordinator teams.
Kym's career has flourished over the years, and she's had the opportunity to contribute in many different roles. She not only helped build the foundation for the business partner trainer program, but she's led several different teams during her tenure at CHG, including a sales team.
"Because of the balance I have in my life, with the help of supportive leaders, colleagues, and the major flexibility offered by CHG, I don't intend to leave anytime soon. I was able to grow into the person and leader I am now, and I wouldn't have stayed if I didn't love it," says Kym. "The growth is there if you want it."
Nicole Norton, recruiter to business applications manager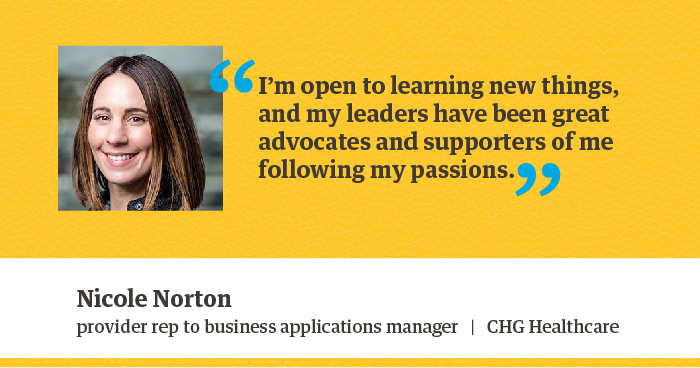 CHG supports training its people for promotions and leadership, and it supports them in moving around departments until they find the right fit. Nicole Norton is a perfect example. She started as a recruiter, even though she didn't have a sales background. But she also had a background in training, so she quickly moved into a technical trainer role.

Then, Nicole leaned into the technical side of her experience and started working as a systems administrator. A few years later, she started working as a project manager, where she saw quick promotions. Most recently, she's been working as a business applications manager.

"I'm very open to learning new things, and my leaders have been great advocates and supporters of me following my passion," says Nicole.
 CHG Healthcare is hiring. If you're looking for a company that supports employee career growth, apply today!