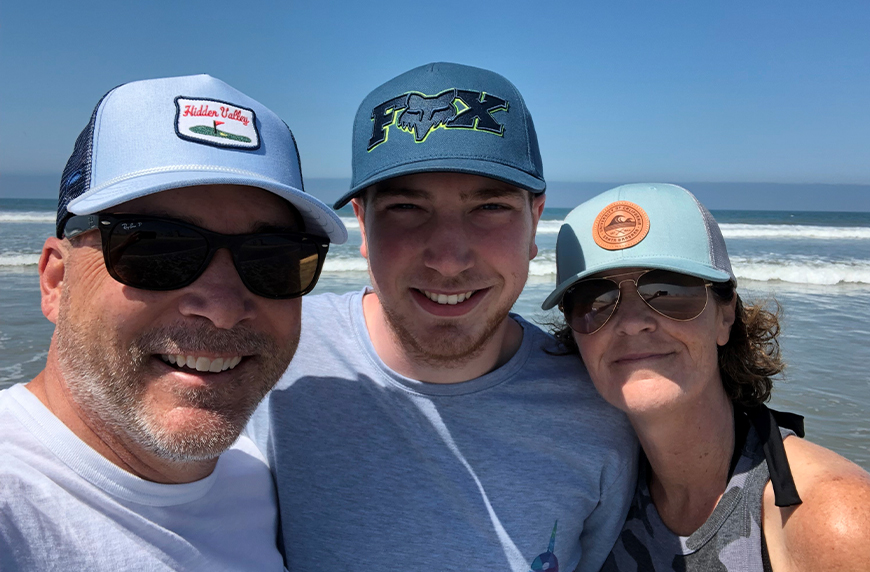 Almost any parent will tell you their child is special — that he or she has talents or abilities that set them apart from their peers. For two CHG Healthcare families, that description is especially true. Celia and Fred Dumas and Nicole and Jeff Freeman each have grown sons with special needs. Chad Dumas has Down syndrome. Jake Freeman has autism with mental and physical disabilities. While their parents' experiences are different, the abiding love they have for their boys is very much the same. Here are their stories.
Raising a child with Down syndrome
Celia is a sales manager for CHG Healthcare's enterprise client solutions team. When her son, Chad Dumas, was born in 1987, Celia says there wasn't a lot of help available for parents or children. Celia remembers, "I had a well-meaning family member visit me in the hospital and drop off some books for me to read. The books all talked about institutionalizing these children."
Celia and Fred wanted more for their son. A lot more.
"We were at the doctors a lot during the first five years," Celia recalls. "The one phrase I hated hearing when we were meeting with doctors or teachers was, 'Well, you know Chad has Down syndrome.' It was a frequent response as to why they wouldn't do this or start that. I don't believe it was from not wanting to help; at that time there were many unknowns, and it was difficult for anyone to know what to do."
It takes a village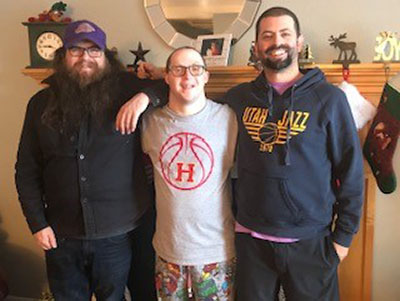 Experts told them it would probably take years for Chad to walk. His muscles were so weak he probably wouldn't be able to do much for the first year of his life. Early intervention programs were just being introduced at their school district. A physical therapist came to their home weekly to work with Chad, but he was almost three before he could walk.
By the time he was five, Chad had struggled with numerous health challenges, including heart and lung surgeries. She and Fred routinely scheduled their time off to coincide with Salt Lake's winter air pollution inversions that always resulted in pneumonia for Chad.
When Celia joined the CHG family, she found an employer that provided a whole new level of support. Her leaders understood and encouraged her when she needed to take time off for medical or school appointments or to handle a problem. She says she's grateful for CHG's support for her family. "It makes a big difference having an employer that cares about the unique challenges of raising a special needs child."
Coming to terms with autism
Jeff Freeman is CHG's senior vice president of culture and engagement. He and his wife Nicole have found raising a son with autism to be a rewarding experience. "It's easy to get caught up in what Jake can't do or won't be able to do," Jeff admits. "But I truly believe he was a gift. These types of kids aren't here for you to teach them. They're here for them to teach you."
Jeff remembers, "When we were trying to find what was going on with Jake, we had a teacher and she pulled us aside. She sat Nicole and me down and she said, 'You two just need to stop!' And we said, 'What do you mean?' She said, 'Just love him. Just love him. Quit trying to measure everything he's doing and not doing. He will grow. He's just going to grow at a different pace and he's going to do things differently than others.' And that was kind of a turning point for us with raising Jake. We started just enjoying Jake."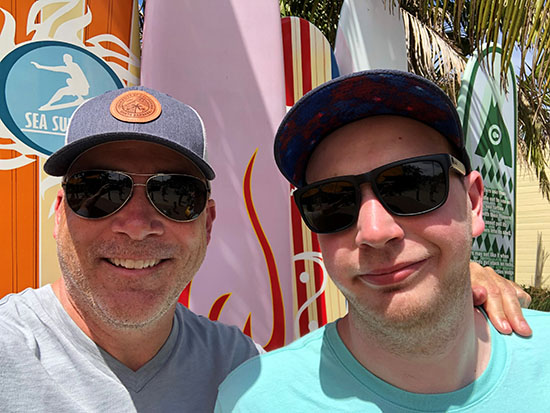 Like any other child
Celia and Fred, along with their other sons, Travis and Bryson, determined early on to treat Chad like any other child. "It gets you out of the mindset that he's so fragile," she explains. "We were not going to allow him to just sit at home and not have the activities that other kids have."
The strategy worked for their family. Family vacations, youth sports leagues, and school. Chad did it all. "I think it really helped him from a social aspect," Celia says. "He's extremely social."
Chad loves basketball and has a phenomenal memory. He knows all the Utah Jazz player stats and is very proud of his ability to recall random information at will. He remembers every CHG colleague of Celia's he's ever met, along with their birthdates, and he loves to swipe her CHG swag.
Lessons in parenting
If you ask Celia what she's learned from parenting Chad, she'll tell you immediately and honestly, "Patience." From hours and hours spent on the phone since Chad's infancy trying to locate resources for him, to helping him find meaningful involvement at a local non-profit.
"They really can do a lot. You just have to support them," Celia says. "Help them find what fills their cup. That will fill your cup too."
Jeff adds, "If I could pick a hero, it would be Jake. Just the innocence and the purity with which he lives his life. It's inspiring. I'm a pretty lucky guy."
Join a company that really cares about its employees and their families. Check out our current job openings.