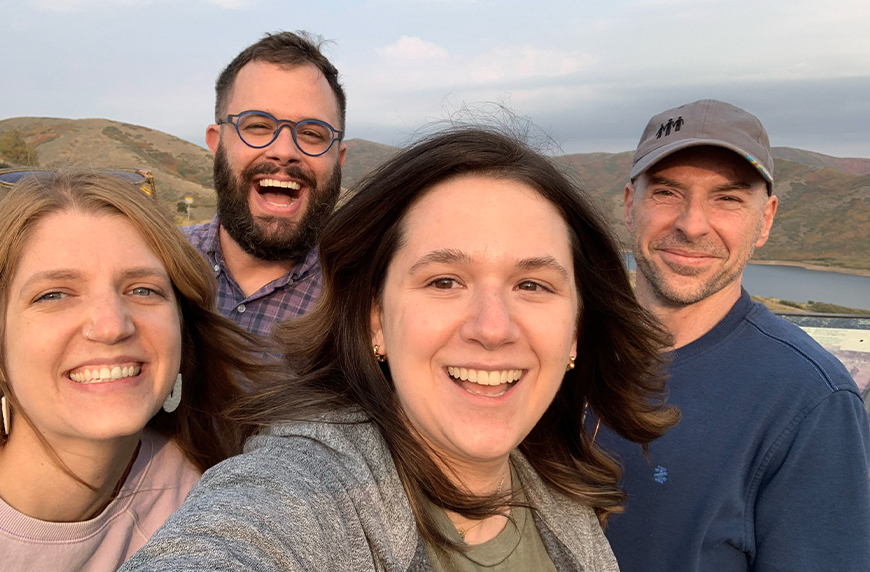 Results from a 2022 international study found that two in five tech workers are at high risk of occupational burnout due to the physical and mental demands of an unsustainable work/life balance. Putting People First is one of CHG's core values, and providing that balance for employees is an important focus. When Kelly Glenn, a UX designer residing in Dallas, TX, joined the CHG team, she found a tech job with a better work/life balance and the opportunity to grow in her career while working from home.
A tech job with personal and professional balance
The top reason listed for tech industry burnout is the sheer volume of work. Kelly had worked as a UX designer for boutique agencies in the Dallas area for 10 years before finding her fully remote role at CHG in May of 2021. She notes how different she felt after her job transition.
"The amount of work that designers have at smaller agencies can be a lot. At any given point I would be working on seven to 15 things, so I'd be bouncing from one thing to the other and it could feel unmanageable at times," Kelly says. "Working in-house, we can move things along, give and take a little bit here or there, because we're on our own timeline and we don't really have anybody to report to but ourselves."
Kelly says that the work/life balance from agency to in-house at CHG is like night and day in terms of mental health. "Personally, I am in such a better spot than I had really been at any point while working for agencies."
Another common reason for tech burnout is lack of recognition for a continued job well done. Kelly says the development plans and advancement opportunities at CHG are unlike her previous experiences.
"On my last team, it was me and one other guy, so if I get promoted to senior designer, creative director, or whatever else, it's just a title; there's not really anything that changes. The team stays the same, so you're just left to your own devices to enhance your skill set," she says.
A tech company that isn't a tech company
"The best way I could describe the digital org at CHG is it's more of a startup experience. The teams are small, but we have the backing of a billion-dollar company," Kelly explains.
CHG encourages collaboration and innovation from its digital teams while staying up to date on the latest technology to continue professional development. The many departments under the CHG umbrella also provide support and insight into customer needs, assisting in the engineering process.
Kelly also appreciates how her leaders at CHG make sure she stays connected despite working remotely.
"Check-ins, weekly one-on-ones, being there to make sure that you are set up for success — not only with tools but with the teams that you're working with — our leaders make sure you're personally developing your skills," she says. "Our leaders really encourage growth and work to make you feel like a vital part of the team."
Additionally, Kelly feels supported at CHG as a woman in a male-dominated field. "In UX design, there's not a whole lot of women. I've worked with so many awesome women here and that is not something that I've really experienced in my career before."
For the past three years, CHG was named to the Women Tech Council Shatter List, an award honoring companies that are helping to break the glass ceiling for women in technology. There are many women in senior level roles on the CHG digital team.
"There's a reason why we are listed in Forbes and Glassdoor's best companies to work for," Kelly says. "The core values of CHG are more than just a promise on paper. They are the heart of what drives the company."
A tech job with a 10-foot commute
Kelly has found that working from home with her husband and dog nearby is something she thoroughly enjoys, and says she does not miss going into an office at all. She prefers her current 10-foot commute.
She jokes that "most of the time I have Star Wars pajama pants on." The expectation of having the perfect office environment to be productive has shifted according to Kelly. "It definitely makes it a lot easier to be on camera for meetings when you're not the only one who's just looking how you would look in your everyday life. Most of the time there are kids and dogs in the background, and that's ok."
"I think working virtually has opened up a lot of opportunities for people to be more relaxed and have that work/life balance," Kelly says. "You have more freedom to do things, more autonomy to just live life while also working."
Working remotely with the ability to feel comfortable in your home office space is still a popular job perk following the height of the pandemic. But providing a manageable workload, clear path for advancement, vast professional support system, and diversified workforce are also vital factors in a successful career. These are just a few of many benefits CHG can provide in a tech career with a better work/life balance.
CHG Healthcare is currently hiring. If you're looking for a company where you can have a tech job with a better work/life balance, check out our open positions.