CHG encourages our people to find a healthy balance between their work and personal life. That means we want them to take time for themselves, decompress, and spend time with family and friends. For some of us, that means playing in a band.
CHG punk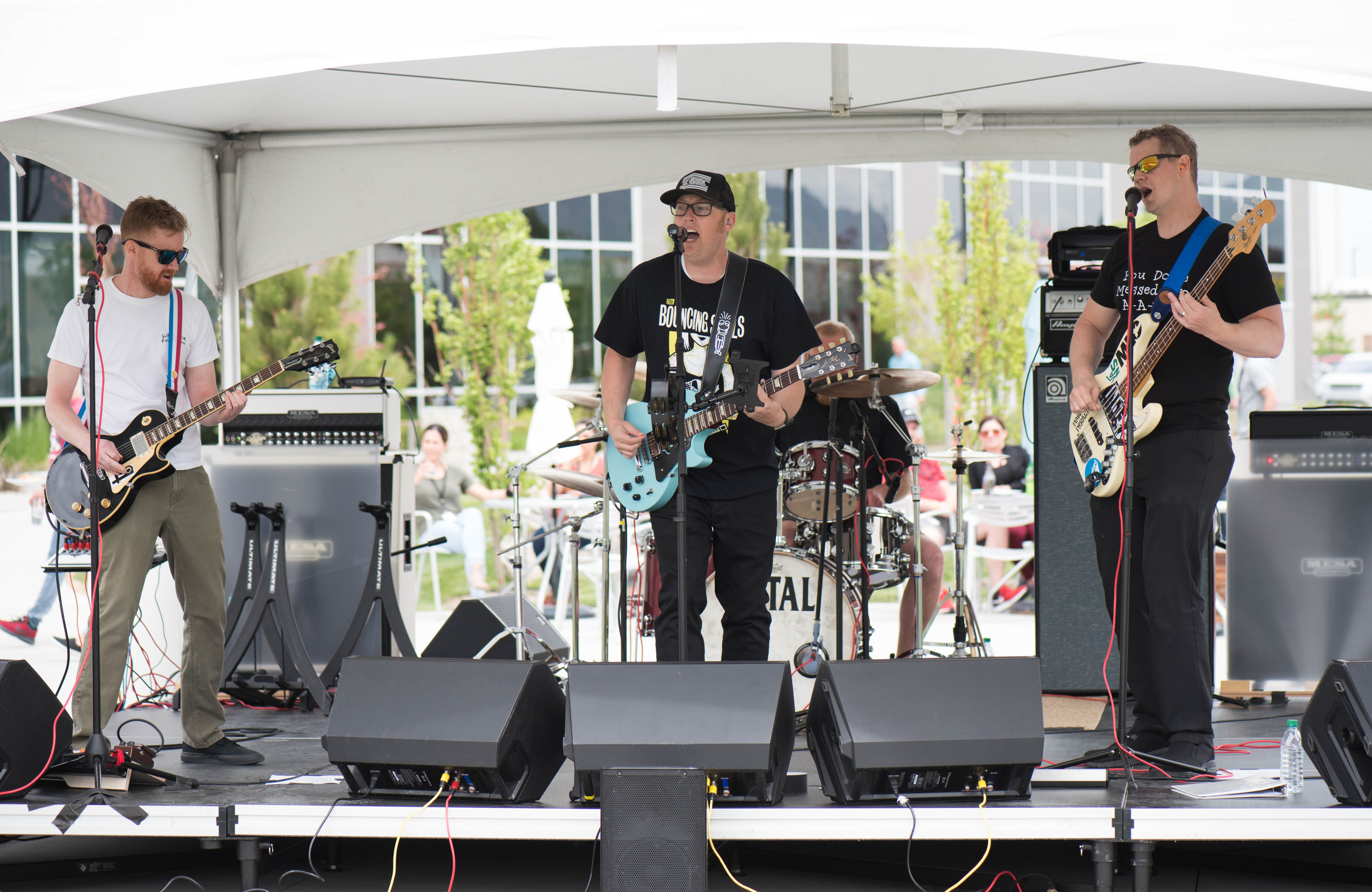 CHG's director of public relations, Spencer Sutherland, uses some of his time off performing with his band, Johnny Tightlips. He really appreciates that he can express himself freely while at work.
"I love that I can be myself," Spencer says. "I love that I can wear my Misfits shirt to work. I love that I can have a guitar in my cubicle and pick it up when I need a break from my computer."
Spencer's the lead singer/guitarist of his band, inspired by '90s Southern California punk bands like Pennywise and NOFX. His band members went to the same high school — though they didn't know it — but didn't unite as a band until 2005. They practice every week in Spencer's basement and perform a few shows a year.
A rocker tracing his roots to … the Mormon Tabernacle Choir?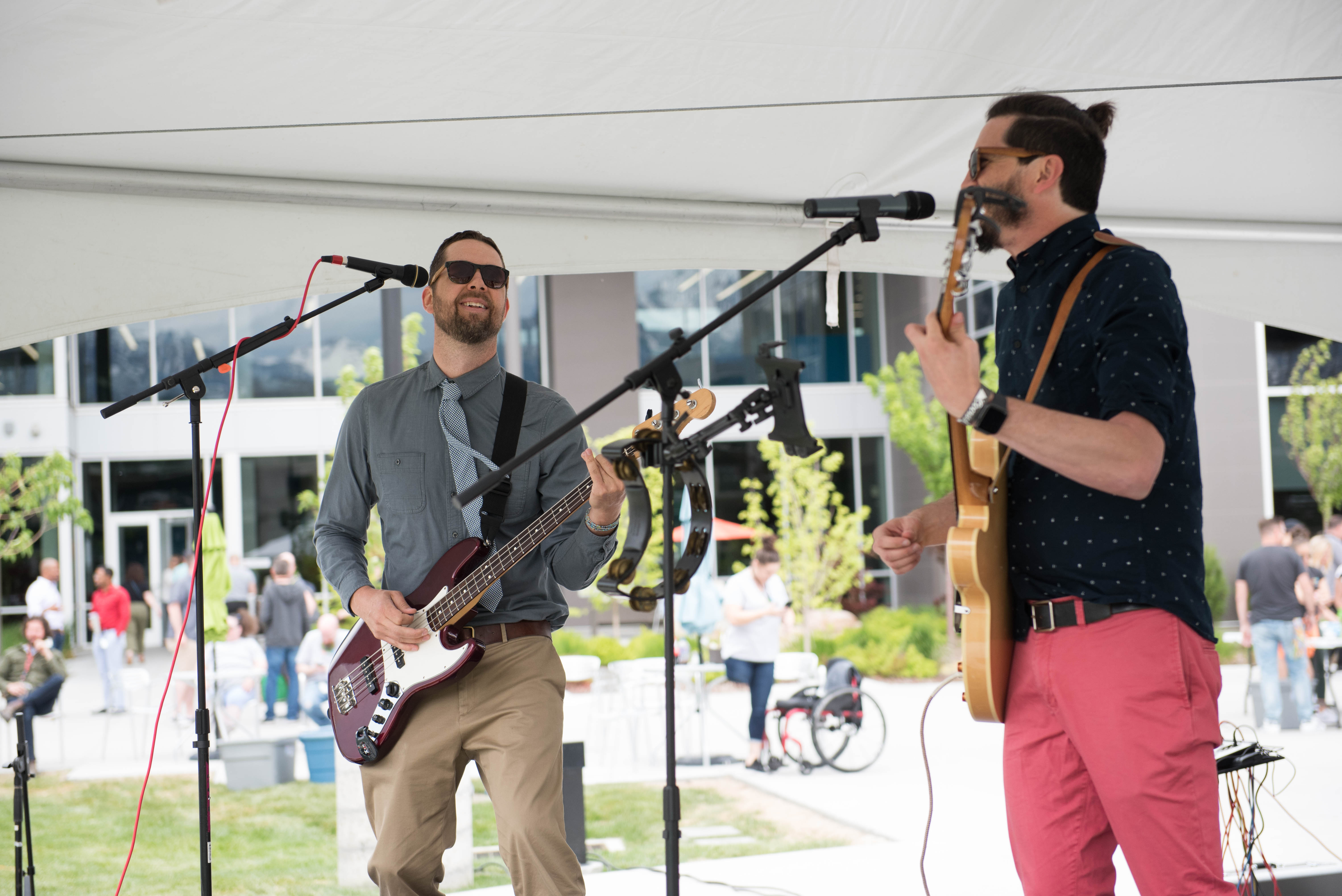 CHG also boasts another rock star, senior copywriter, Grant Olsen. Grant found his love of music at a very young age. His father was in the Mormon Tabernacle Choir, and his sister was in a band and showed him how to play guitar. "The rest is history," Grant says.
Their band's name is the Gatsbys ("because it sounded posh"). In their current form, the band has been together since 2006, but Grant and one of his bandmates have been playing together for two decades. Grant feels like CHG encourages him to take the time off he needs to perform, without guilt, allowing him to pursue his passion outside of work.
"Anytime I need to take time off to play a gig, my leader is really supportive," Grant shares. "I just got back from a five-day trip to the East Coast, and I never felt any stress about missing that much work."
Business in the day, party at night — well, some nights and weekends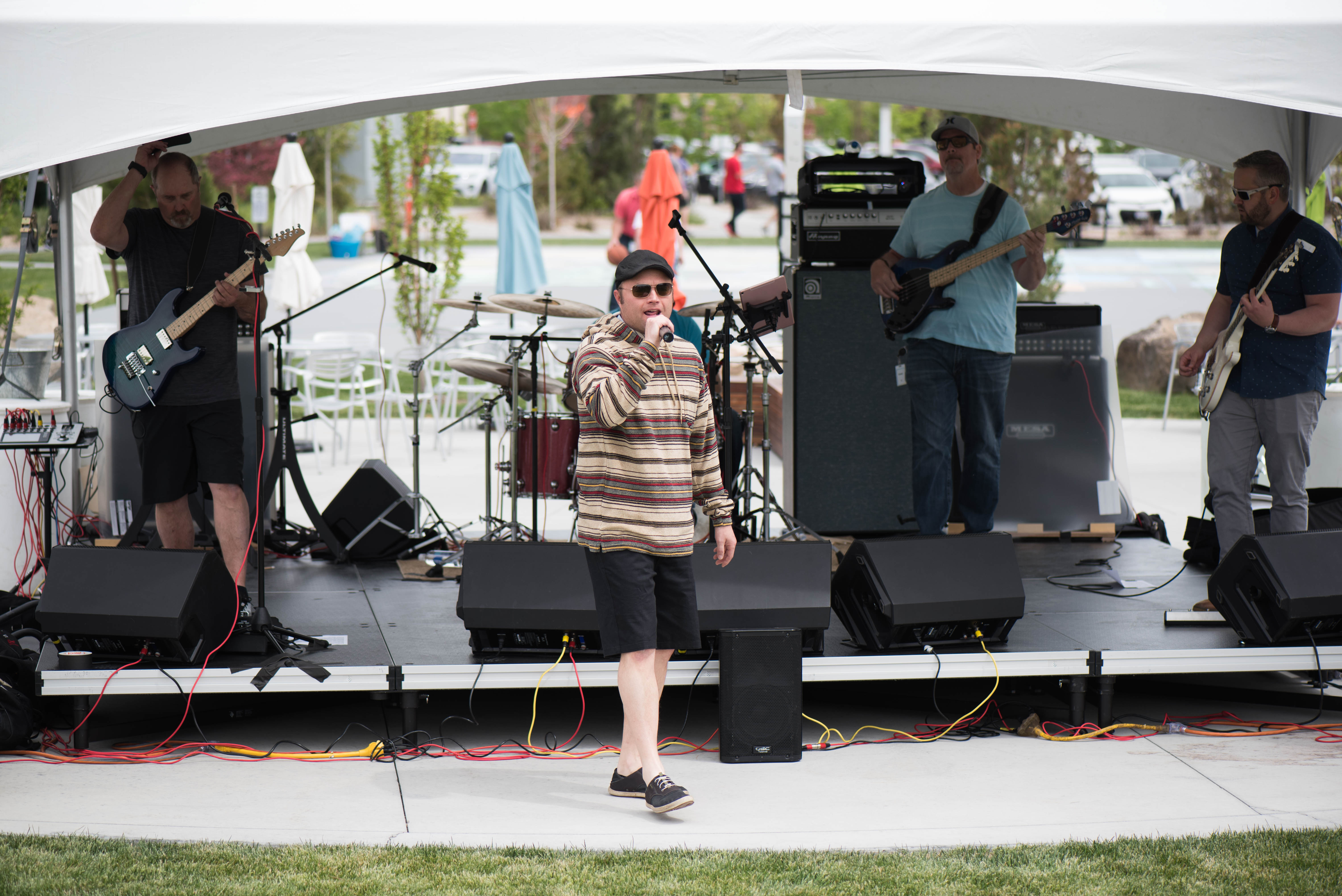 CHG's senior manager of IT support services ("an amazing team of PC experts and solution magicians, known as the IT desktop services team"), Brandon Whiteley, is another of CHG's talented musicians. He sings — and occasionally picks up a guitar — in a band called Pressure and Time. For three years, the group has played rowdy rock n' roll and bluesy tunes that you might find in "dirty bars."
He traces his love of music back to a tape he was given to him by his mom for his birthday in 1987 — Fore! by Huey Lewis and the News. "I played it in my Ghostbusters tape player over and over and over and memorized every singing part. I tried my best to sing and sound like Huey."
Like Spencer and Grant, Brandon is very appreciative that CHG encourages him to freely express himself, but while Spencer rocks his Misfits T-shirts at work, Brandon's decided to stick to wearing business casual at work.
"On one hand, I get to come to work and be the polo-shirt-wearing, technology nerd that I am," Brandon says. "On the other hand, CHG allows me to put on a rock concert...on company grounds...during business hours." (He's referring to the concert CHG put on during our annual Putting People First Week.)
A deeper connection with coworkers
These rock stars feel like they're Free to Be Me at CHG, and on top of that, they're beloved by their coworkers.
Not only do Spencer, Grant, and Brandon feel CHG encourages their free expression both inside and outside of work, they feel their bands have allowed them to have a unique connection with their coworkers.
"Mike Phillips designed our album cover, Liz Cornwall helps us line up shows, and Tina Lang wrote lyrics for one of our songs," Spencer says.
Grant shares that one coworker, Chloie Dale, said they sounded "dreamy," and he says that was one of the best compliments they've ever received.
Our rock stars were honored, and a little apprehensive, about being asked to perform at CHG's annual Putting People First Week. At first, Spencer thought it was a terrible idea — playing in the daytime, at work, while everyone was sober — but he says it was incredible fun.
He shares, "It's great being supported and surrounded by coworkers who care about you inside and outside of the office."
Join our amazing group of rock stars! Check out the open jobs at CHG.