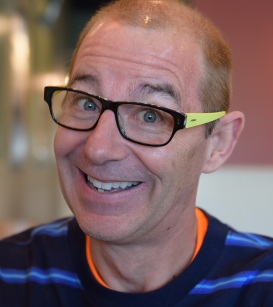 Since 1992, Darrin Christensen has brought a lot to CHG's
CompHealth
division as a physician recruiter, client developer, and even resident photographer. That's why — to fully get to know Darrin and his experiences over the years — we're sharing some of his favorite photos alongside his quarter-century's worth of memories.
What was your job title when you first started working at CHG?
We were called schedulers back then as we ran a full desk model, meaning we were both client and physician reps at the same time.

What do you do in your current position?
I am still doing the same job on the same team as when I started: sales for family practice. Except now I am working just on the client side.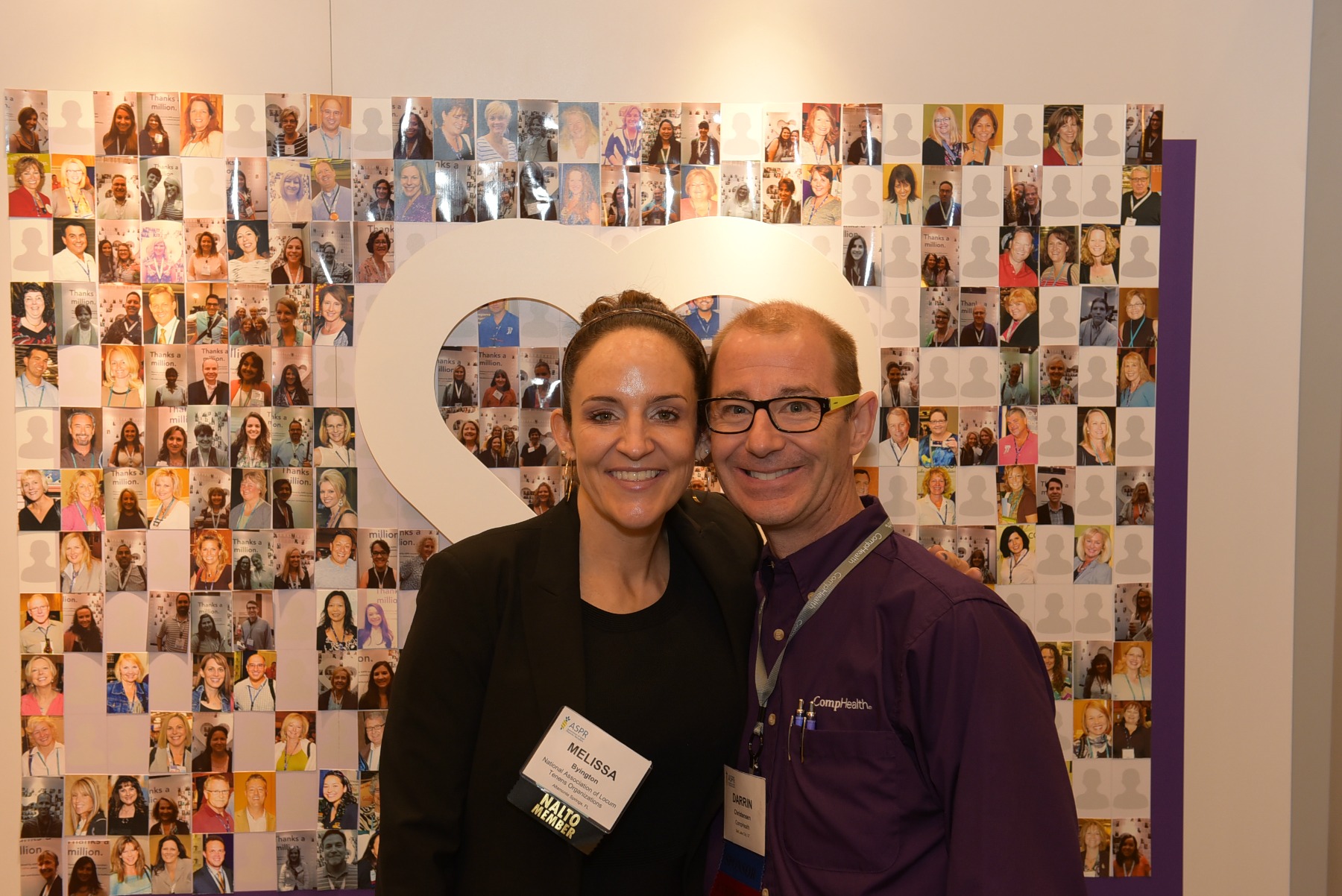 Why do you like working at CHG?
The opportunity to learn and grow. The market in healthcare is dynamic and always changing and that means we as individuals must learn new things and grow in order to continue to be successful. The job is never boring or mundane — even after 25 years!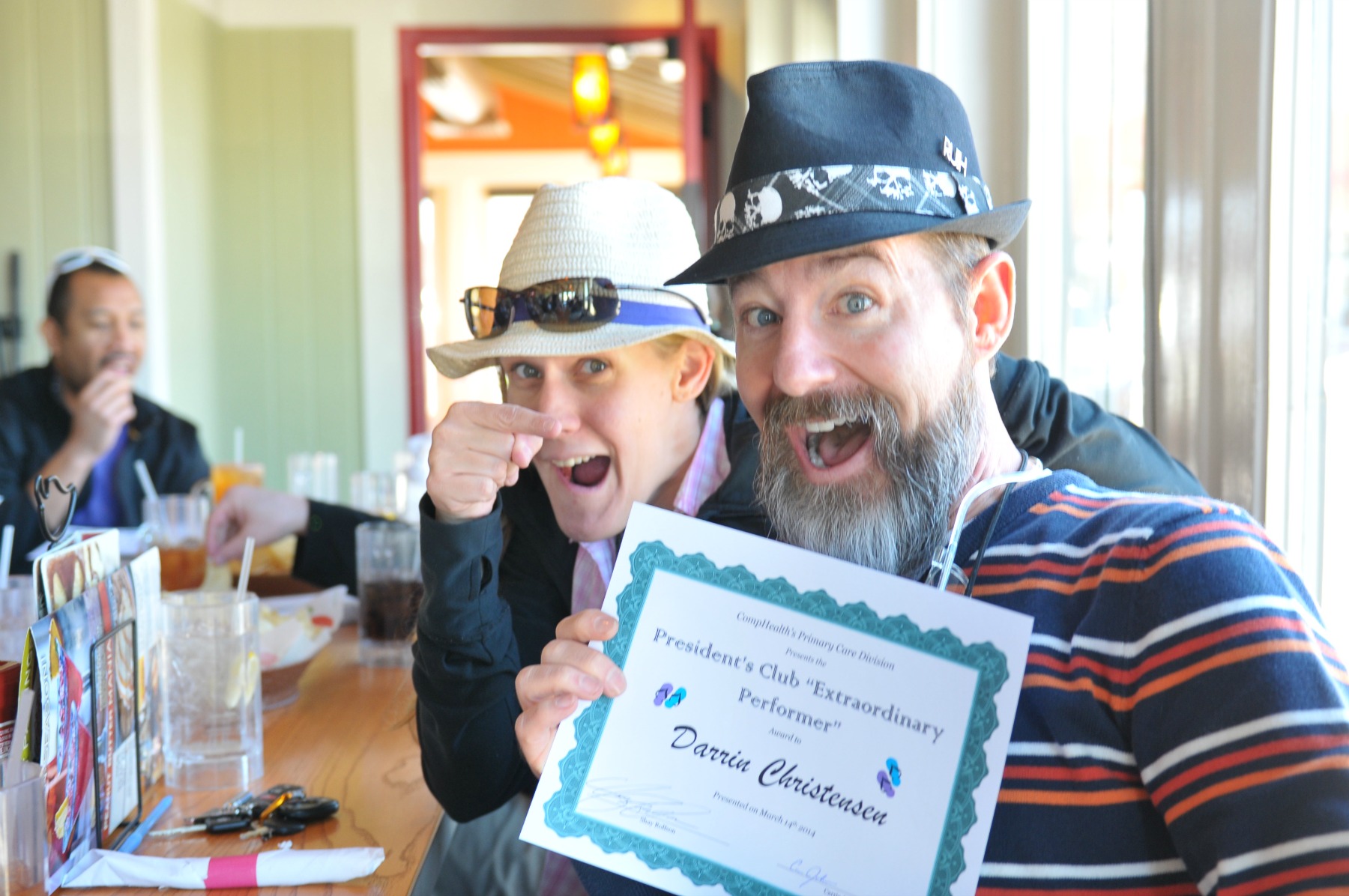 What was it like when you first started working for CHG?
It was very up and down for a while. It was a great start as our founder, Dr. Therus Kolff, was still leading the company. Then we were controlled by a few other corporate entities for a few years and those were harder years. But once Mike Weinholtz and Sean Dailey and their teams came in and took over, that is when we really started to get a handle on what is important and then we really started to grow. CHG has moved from 150 employees to over 2,000 since I started. Very cool! [caption id="attachment_6836" align="aligncenter" width="1430"]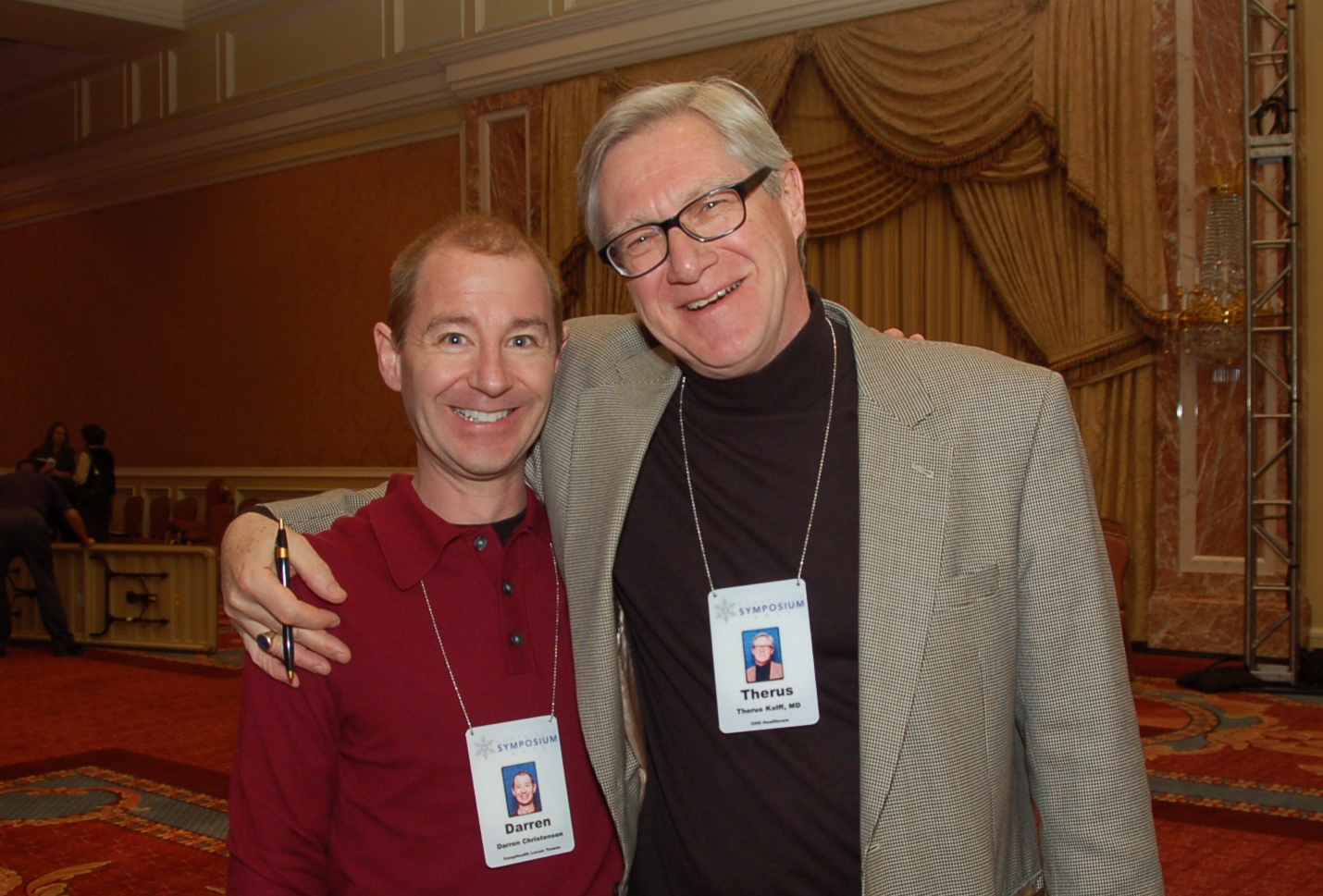 Darrin and Dr. Kolff[/caption]
What is your most memorable moment at CHG so far?
Of course I have had a lot. One that really sticks out in my mind was my 20-year anniversary. Mike Weinholtz stood up to say a few words and those words moved both of us to tears. It was a nice embodiment of the impact that we each make in others' lives and careers. Mike and I have been friends for 20 years now and he has taught me so much about always striving to do your best for others and treating each other as equals. We all have different jobs and responsibilities. Mike and the great team he assembled to follow him have always treated me like a friend. We are all in this together to make each other the best we can be. [caption id="attachment_6837" align="aligncenter" width="1800"]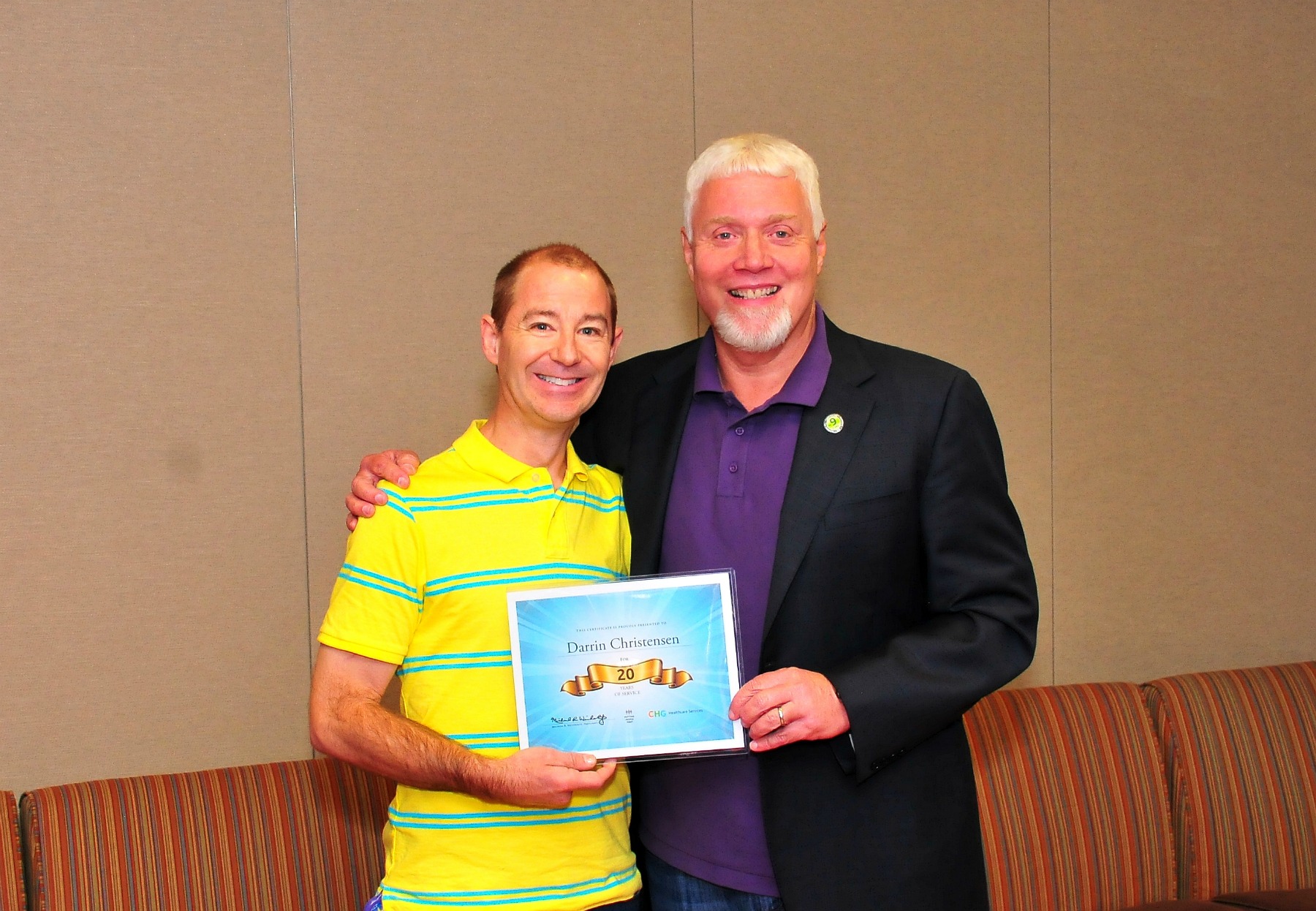 Darrin and CHG's past CEO Mike Weinholtz[/caption]
What advice do you have for others looking to grow their career?
The 20-year mark was the time that really made me stop and think about this journey. What I realized is that I did not remember the details of all the placements that went well or that blew up.  What I remember is the relationships developed with both our external docs and clients and with coworkers internally. Those relationships are what truly mattered to me in reflection. So my advice would be to always treat others with kindness and respect and try to make friends with those you work with. Think long-term and not transactional.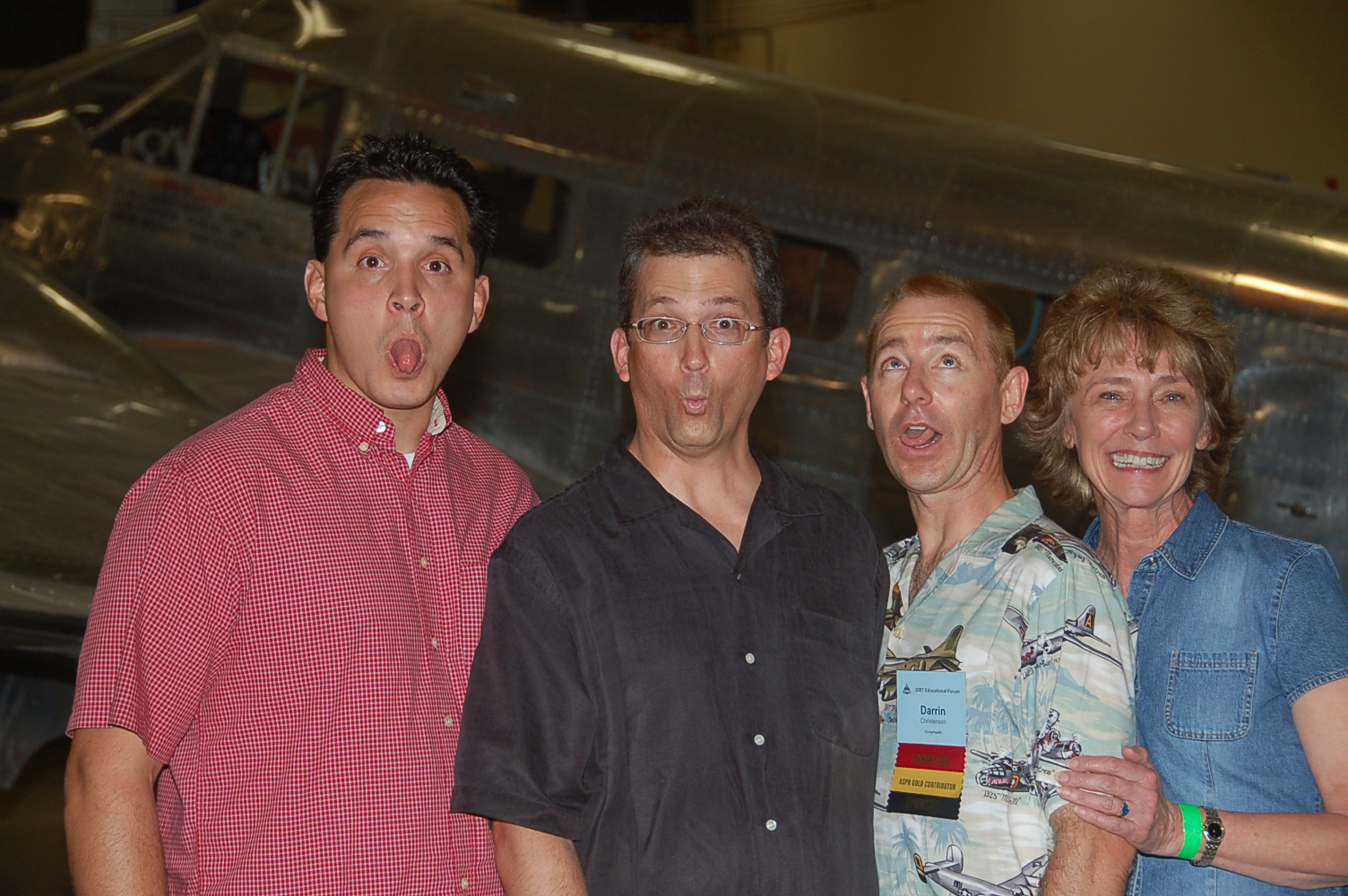 How have you grown personally while working here?
I have learned and grown and matured a lot during my time here. About 10 years ago, I discovered books on tape and I have had a chance to listen to a lot of different books from some fiction to college courses on particle physics. Most of my favorites are in the self-help area where I can learn about new skills on how to communicate better with clients and peers and work on my areas of weakness to try to get better in those areas. This job gives me a great laboratory to experiment in and try different sales techniques and approaches to see what works and what does not. I have a lot of fun doing that!