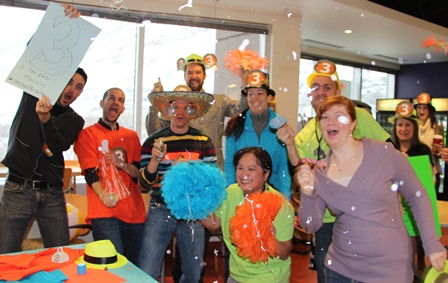 CHG employees from east to west agree: CHG is a great place to work. Fortune magazine agrees, too, naming CHG No. 3 on its "100 Best Companies to Work For" list. That's four years in a row for CHG, and we'll admit we're awfully proud of this company and its people. With turkey hat-donning leaders, a fun-filled culture, unique benefits and other great perks, it's obvious there are many reasons why people love working here!

Check out the top 10 reasons we love CHG -- and be sure to check out a video and photos of our Fortune celebration!

10. Tuition reimbursement program

"When I started here, I had my associate's degree in accounting. The tuition reimbursement program allowed me to continue my quest for more knowledge, and I went back to college to get my bachelor's degree as well as my master's degree. When I decided to study for the Certified Payroll Professional exam, the tuition reimbursement program paid for the exam and all I had to do was pass, which I did. This experience has truly allowed me to accomplish the goals that I set for myself many years ago."
– Kimberly Del'Valle, accounting, RNnetwork in Boca Raton, Fla.

9. On-site health center

"CHG added a health center to its office in Salt Lake City. It is a huge benefit and time-saver when my family or I need medical care. I can get an appointment quickly, and it's easy to get my needs met. Putting People First is really not just a tagline. It is lived and breathed through our organization."
– Jennifer Lemon, benefits and compensation, CHG in Salt Lake City, Utah
 



8. Good listening skills

"The company actively seeks our feedback, and it's great to know that even if we have concerns or disagree with something, our CEO and CHG are always ready to listen."
– Martin Schrader, sales, CompHealth in Salt Lake City, Utah

7. Transparency in communication

"I am very thankful that I get to work for a company that values the transparency between our leaders and employees. The fact that our leaders think it's important to keep every employee in the loop about our company's plans — including what we need to work on and celebrating our achievements — makes this company one of the best to work for. Good communication, transparency and trust are the main foundations of a successful company."
– Miguel Martinez, accounts receivable, CHG in Salt Lake City, Utah
 



6. Flexible scheduling

"Flexible scheduling has allowed me to participate in my children's sports activities. My 14-year-old son plays high school baseball. A lot of parents miss the games because they're in the late afternoon/early evening. Because I've been able to come to work early, I've been able to go to all of the games while continuing to get my job done."
— Joseph Amaru, sales, CompHealth in Norwalk, Conn.

5. Sponsored philanthropy

"My most memorable experience at CHG was when CHG sponsored employees helping out in the community while paying us for a day's work. It shows how CHG not only cares for its employees, but everyone in the community as well. I never fail to be continually amazed at the caliber of this company."
– Christal Potter, sales, CompHealth in Salt Lake City, Utah


4. Executive leaders who hand out whoopee pies

"One of the unique things about this company is the executives. I am amazed by how much the executives seem to enjoy and care about their employees. It is not unusual to see them throughout the building amongst the employees; in fact, they personally bring treats around to all of us. Just this week they came around with turkey hats on and handed out pumpkin whoopee pies!"
– Mary Coombs, payroll, CHG in Salt Lake City, Utah
 



3. Focus on YOUR growth and improvement

"We believe that if we build a people-focused culture and provide the tools to be successful and engage employees, everyone can meet their full potential. In short, everyone can be a 'high potential' employee. Therefore, we design training and development programs for all levels of employees and leaders, from brand-new to seasoned veteran. Our goal is to create a learning organization where employees are dedicated to the continuous improvement of their skills, their team results and the company culture."
– Kevin Ricklefs, senior vice president, CHG in Salt Lake City, Utah

2. High-energy, people-focused and fun culture

"The work environment is unlike any other I have ever experienced. I would describe the atmosphere as high-energy, motivational and fun. I am so proud to be a part of CHG and all that it stands for."
– Tom Morris, sales, Weatherby Healthcare in Fort Lauderdale, Fla.


1. What we do matters: The providers we place touch the lives of millions of patients and their family members each year.

"I believe my teammates and I are here for the right reasons. We know together we make significant impacts in patients' and families' lives by matching exceptional healthcare workers with communities in need."
– Kelly VerHage, sales, CompHealth in Grand Rapids, Mich.