Spending 40 hours a week at the office often means co-workers become some of our closest friends or even a second family. This is especially true for Vicky Carlsson, Dianne Hunsaker and Susie Ahrens who have worked for CHG Healthcare Services together for more than 20 years — but their history and friendship goes back even further than that.
Susie began working in the accounting department at Holy Cross Hospital in Salt Lake City, Utah in 1975, and two years later, Vicky joined her team. In 1987, the two met Dianne when she was also hired by the department, and the three became fast friends.
"The hospital ran out of room and the accounting department was moved into a doublewide trailer that became our little accounting world away from the Catholic nuns who ran the hospital," recalls Susie, who today is a senior accounts payable specialist for CHG. "Of course, what happened in the trailer, stayed in the trailer!"
In 1992, the head of the accounting department left the hospital for a job with CompHealth. Over the next year, she recruited the women one-by-one to also join the company.
"CompHealth has felt like home from day one because of Vicky and Dianne being there and making me feel like I was among family," Susie continues.
Vicky, a senior accounts receivable consultant for CHG, agrees that having established friendships made the transition to a new job easier. "It has been so nice to have such great friends at work all these years."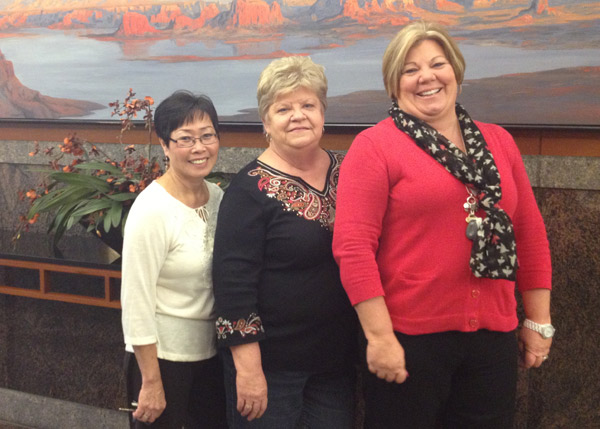 Today, Dianne works as a senior director of CHG's Lean team. Although she is in a different department than the other two ladies, she has maintained a close friendship with both of them. "It's so nice to have good friends at work and to be able to see a familiar face and catch up on what's happening in your lives," she says.
Susie points out how grateful she is that all three of them have had the opportunity to work for what she says is "an amazing company."
"Even though we're not on the same team," Susie says, "it's still comforting to know that we are under one roof and part of this wonderful CHG family."
Are you the kind of person who would fit in at a company where co-workers are like family? Visit CHG's careers page to see current job openings.