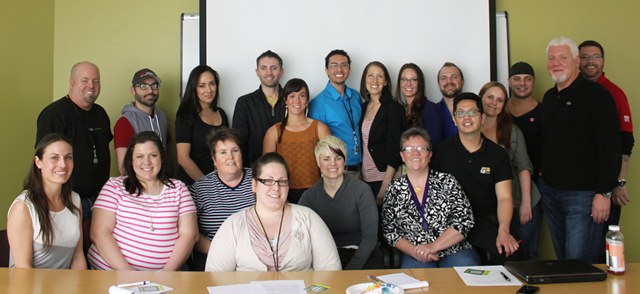 Members of CHG Pride, our first Employee Network Group, gather for a photo.

Our people now have a new way to connect with others at CHG — Employee Network Groups! As CEO Michael Weinholtz recently announced, these groups are an opportunity for employees to join others with similar interests and allow CHG to foster diversity, inclusion and fairness.
Each group will be open to all of our people, and once it has been officially recognized, members can receive up to $500 per year for approved activities! Groups must also submit a formal charter that includes a purpose statement, structure of members' roles and responsibilities, and an operating plan.
People throughout our offices have welcomed the opportunity to form Employee Network Groups. The first group, CHG Pride, has already been approved and is planning an activity in June — with our CEO supporting it. And a board game group is underway in the Salt Lake office.
"Employee Network Groups give everyone an opportunity to connect to something they enjoy while expanding a network of friends with people within the CHG family," says Mark Robinette, travel consultant on CHG's travel team. "As the members of the CHG Pride group say, 'I'm free to be me at CHG.'"