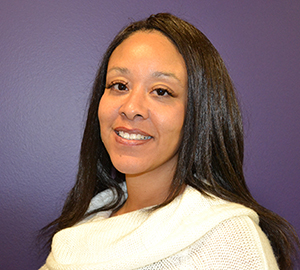 If you know Charese Jamison, physician recruiter with CompHealth locum tenens, you're familiar with her selfless personality. What you may not know, however, is how Charese's uncertain beginnings shaped her into a bold advocate for girls and women across the country facing adversity.
"At 16 years old I was pregnant and homeless," Charese recalls. Looking for help, she decided to turn to The National Crittenton Foundation (TNCF) — an organization that offers support for young women in need.
Florence Crittenton of Wheeling, W.V., took Charese in with open arms and gave her strength through support groups, daycare, loving relationships and more. By age 28, Charese was excelling in college and eager to return the favor to the organization that had helped her so much.
"I have been a spokesperson throughout the country, spreading the word about what this organization did in my life and where I am today," says Charese. "My personal mission statement is to serve God and others by contributing to and investing in the lives of those around me."
Giving hope to others
Living by her motto, Charese and seven other Crittenton women came together to form BOLD (Bridging Opportunity, Love and Determination), a group under the umbrella of TNCF that creates positive social relationships between young American women who may never have experienced them otherwise.
Each year CHG offers employees eight hours of Volunteer Time Off, or paid time away from work for volunteer activities. Charese used her VTO to help launch the BOLD Society smartphone app, a national virtual health and self-empowerment tool that links young women to each other despite generational and geographical barriers.
Recognition by the White House
Recently, Charese and two of her BOLD co-founders attended the Champions of Change event at the White House to be recognized for their efforts. Out of 1,000 nominations, 11 were chosen to earn the title of "Champion of Change." Charese and her co-founding sisters were three of an additional 50 change-makers invited to come take part in the event.
"It was pretty incredible," recalls Charese. "I still feel very blessed because out of all of those people, I was chosen to be part of this select group."
As for working for CompHealth, it's no coincidence that her mission statement is almost identical to that of our division: to make a difference in the lives of our people and the communities we serve. It's also a testament to women like Charese that Fortune recently ranked CHG No. 15 on the 100 Best Workplaces for Women list.
"I have the pleasure of working for CompHealth, where women are woven into the fabric of every area from executive leadership to sales and facilities," Charese says. "These women are intentional and inspire me to move forward not just as an employee, but also in life."