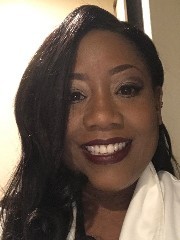 "My dream has always been to work in a healthcare organization where I can use my passion for customer service to make a difference in the lives of patients," says Hopal Watson-Grenion.
Hopal is making her dream come true at Weatherby Healthcare, which is part of the CHG Healthcare family of brands. As a senior sales consultant on Weatherby's surgery team, Hopal says, "Weatherby provides me with the perfect mix of putting my customer service experience to work recruiting physicians and helping patients by putting these physicians to work."
Dr. William Barrett is one of them. Besides his work as a locum tenens, or temporary, physician, Dr. Barrett spends about six weeks a year onboard Mercy Ships, an international floating hospital that provides free medical care and life-changing surgeries to patients in need. Dr. Barrett says making a difference like this wouldn't be possible for him if he still had his own practice. "You can't take blocks of time off like that without paying a dear price," he explains.
Hopal arranges temporary assignments for Dr. Barrett at various hospitals. She makes sure everything from his credentialing to hospital privileges and even flight arrangements are all in place, leaving Dr. Barrett free to focus on caring for his patients.
"I get a sense of accomplishment when the physicians I put to work go to places that they are able to make a difference in the communities they serve" says Hopal.
She sometimes gets letters or emails from patients and hospitals, telling her how much they appreciate the excellent work of physicians she sends.
Hopal says, "Working with Weatherby is truly a rewarding experience. I am able to make life better for patients through the doctors I put to work."
She also makes life better for the physicians she serves. Dr. Barrett says working with Hopal gives him the opportunity to focus on what matters most – giving his patients, at home and abroad, the best care possible.
If you are interested in a career that makes a difference, check here for our open positions.