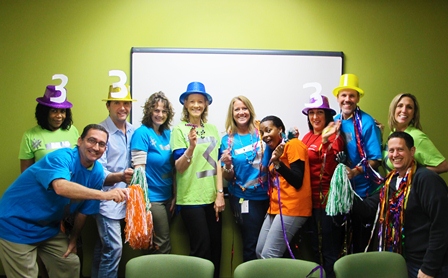 Leaders at Weatherby Healthcare office in Fort Lauderdale, Fla. celebrate CHG's No. 3 rank on Fortune magazine's "100 Best Companies to Work For" list Jan. 16.
CHG ranks No. 6 on Chief Executive magazine's list of the 10 Best Private Companies for Leaders! The list, part of a larger article about companies with exceptional leadership development programs, includes well-known companies Procter & Gamble, GE and PricewaterhouseCoopers (PWC). "Being recognized at No. 6 on the 2013 'Best Private Companies for Leaders' list is a great recognition of the effort CHG has made over many years to have the best leaders, the best people and the best culture," says Kevin Ricklefs, CHG's senior vice president of human resources. Kevin notes that several years ago CHG's training teams began improving the skills of both tenured and new leaders and dramatically increasing CHG's ability to grow leaders within the company. "At that time, less than 40 percent of new leaders were promoted from within, which meant that the majority of leaders were being hired from the outside and this caused many problems, including slow ramp-up times and higher turnover rates, between 15 to 20 percent," Kevin recalls. "Through the many leadership programs we developed and implemented, we have achieved our goals. In 2012, we promoted 75.9 percent of new leaders from within the company, and our leadership turnover is at an all-time low of 8.2 percent."
Melissa Byington: From recruiter to running a division
At CHG, leadership qualities are cultivated in employees their first days on the job. Just ask Melissa Byington, president of
CompHealth locum tenens
in Salt Lake City. A single mother with a four-year-old daughter when she started as a recruiter in 1997, Melissa worried that her family responsibilities would hurt her opportunities for leadership but her leaders didn't see it that way. "I know of other employers that would have viewed my single-parent status and need for flexibility as less than ideal. But I am fortunate to work for a company where ability, knowledge and passion are more important than who you know, personal circumstance or gender," Melissa says. "Now a married mother of three, I have continued to progress through leadership at CHG because of the company culture and faith of the senior executive team. My second promotion actually occurred while I was on maternity leave." Melissa, who accepted her role as president in January 2011, is assisted by three female vice presidents and they collectively lead more than 400 employees. While this responsibility may seem daunting at times, Melissa credits her success as a leader to constant advice (and occasional criticism) from others. "I am so fortunate to have hundreds of people willing to give me feedback. There isn't a day that goes by that I'm not learning from the people on my team, and there are hundreds of us," Melissa shares. And Melissa notes that CHG's focus on personal development — for each employee — has played a big role in her growth as a leader. "Each role in our organization makes a difference, and we spend the same amount of time and energy developing every member of our team. As a result of this commitment to growth and development, I'm proud to say I'm not only a better member of the team, but I'm also a better wife and mother," Melissa says. "CHG's focus on the core values of putting people first, growth, quality and continuous improvement helps each person flourish. Development isn't reserved just for leaders; it is part of our culture."
Greg Prine: Five leadership opportunities in 10 years
Greg Prine started in 2002 as a consultant at
Weatherby Healthcare
in Fort Lauderdale, Fla. and has since worked as a sales manager for multiple teams and even served as a director of sales and business partners at the company. Now a senior director, Greg says that CHG's unique way of leadership helped him to achieve the position he currently holds. "Both CHG's senior leadership team and the leadership team at Weatherby Healthcare are very approachable and willing to provide support, encouragement and guidance. Executives really do lead by example and employ servant leadership," Greg says. "When you see their hands-on approach, you quickly realize that this is the way CHG puts people first." Greg notes that specific leadership programs CHG offers have made a difference in the way he leads his team. "CHG offers a variety of leadership development courses, including senior leadership retreats and the CHG Leadership Summit held twice a year," Greg says. "I also learned a lot from a servant leadership course the CEO taught several years ago." But even with all of these leadership tools at his fingertips, Greg says the most important things he's learned as a leader have come from working with Weatherby Healthcare's group president, Pat Kennedy, and observing CHG's leaders as well. "Pat is a consummate team player. She truly cares about our people and wants everyone to be successful. She's also not afraid to have tough conversations, and she pushes you to do your best," Greg says. "As I progressed into a senior leader, I focused on our mantra of 'one team, one company, one goal.' I've also learned that the most important thing a leader can do is coach and develop his people to be successful." The full version of the Chief Executive magazine article, including both the 40 best public and 10 best private companies for leaders, is available in print. Check out the online version of the 
article
now!
Note: The list of the 10 best private companies, on which CHG is listed, is not included in the online article. Check out the print version for more information!