Healthcare Traveler has named Jerry Broughton, a recruiter for Foundation Medical Staffing in Edmond, Okla., as one of the magazine's recruiters of the year. Recruiters are nominated by their travelers and chosen by the publication. The feature will run in the December 2010 issue of HT. In the meantime, we asked Jerry a few questions to get to know him better.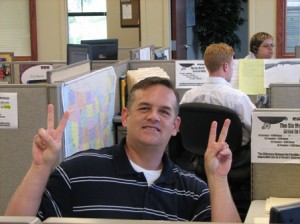 What is your exact title and what team are you on? Account manager for the dialysis travel team under the direction of the incomparable Joe Hill.
How long have you worked at Foundation Medical Staffing? This May will be four years.
Each day you arrive at work, what is your primary focus? Helping my travelers live their dream while helping them do the Lord's work every day.
What do you strive to accomplish each and every day? Making sure I go home to my family knowing I did all I could today to take care of my family of travelers and my co-worker family.
What makes you successful? What is the key to your success? My sense of urgency with doing what needs to be done, but the real love of the job and the people who count on me.
What do you find most rewarding about your job? I get to come to work every day and help people save and prolong the lives of the people they treat. I can't do what these great healthcare professionals do, but I can darn sure do everything for them so they can do it.
What do you know now that you wish you knew the week you started at Foundation? Just how much I would love working here at Foundation and CHG. I get to work with the best, most caring people I have ever worked with in my 20 years of business.
What are you looking forward to in 2011? 50 and 30!! Being a part of the growth that we are projecting here at Foundation. To get to be a part of this great initiative with people you really care about is a special thing!