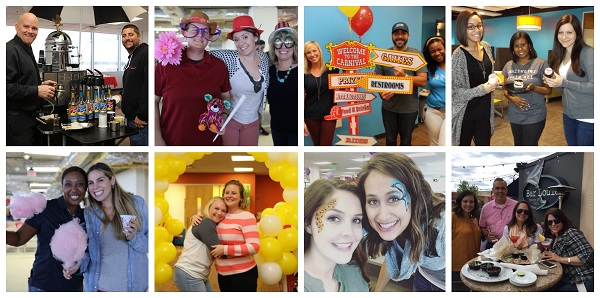 "The fact that we have 2,000-plus employees and get to do things as if we were a small business just amazes me," exclaims Josh Kelly, a physician recruiter for
CompHealth
locum tenens in Salt Lake City. Alex Kalpaxis, a sales consultant at
Weatherby Healthcare
in Durham, NC, agrees. "It really is amazing how much the company gives back to its employees." CHG held Employee Appreciation Week — an entire week chock full of fun activities to thank our people for everything they do — in all seven offices May 16 - 21. We asked our people what their favorite part of the week was. Here's what they said:
Weenie Wagon cookout
"It was a chance to catch up with people I don't always have a chance to talk to," says Nikki Smith, a client administrator at CompHealth allied health staffing in Grand Rapids, Mich.
Happy hour at Bar Louie
"It's nice to be able to connect with coworkers outside of the office environment," shares Katie Oakes, a placing manager, also in our Grand Rapids office.
Photo booth
"I love that our company encourages us to let our hair down a little," says Mark Brousseau, a national account executive with CHG in Salt Lake City. "I really enjoyed taking a crazy team picture."
Breakfast served by leaders
"My favorite part of EAW was the fun and encouraging atmosphere," says Andre Nunes, a sales consultant for
Foundation Medical Staffing
. "And being served breakfast by our leaders really brings value to those relationships and gives a great demonstration of servant leadership."
Employee Appreciation Allied Olympics
"It was fun to huddle up as a team, come up with a game plan and then cheer on our country as they competed," says Patrick Lambert, a licensing coordinator with CompHealth allied health staffing in Salt Lake City.
Bowling
"It gave everyone the opportunity to get to know other employees on different teams and to socialize in a different environment," says Cortney Patrick a senior consultant on CompHealth's permanent placement division in Fort Lauderdale, Fla.
Barista
"The barista was absolutely awesomesauce and those bagels — they were so yummy," exclaims Shannon Miele, a learning and development supervisor at Weatherby Healthcare in Fort Lauderdale, Fla.
Jeopardy
"My favorite part was dominating in Jeopardy," shares Chris Madsen, a placing manager for CompHealth locum tenens in Salt Lake City. "We learned things about our team that we couldn't have otherwise and had a blast doing it!"
Bingo
"I can't list just one thing," exclaims Rachel Myrer, a wellness coordinator for CHG in Salt Lake City. "I loved playing — and winning — Bingo.
Mini-massages
"And the mini-massages were the perfect way to relax midday," Rachel adds. Jason Townsend, a sales consultant for Weatherby, sums it up best: "Working for a company who treats you like family and proves it though actions is why I love being a part of this team!" Check out a video recap of the week's activities: