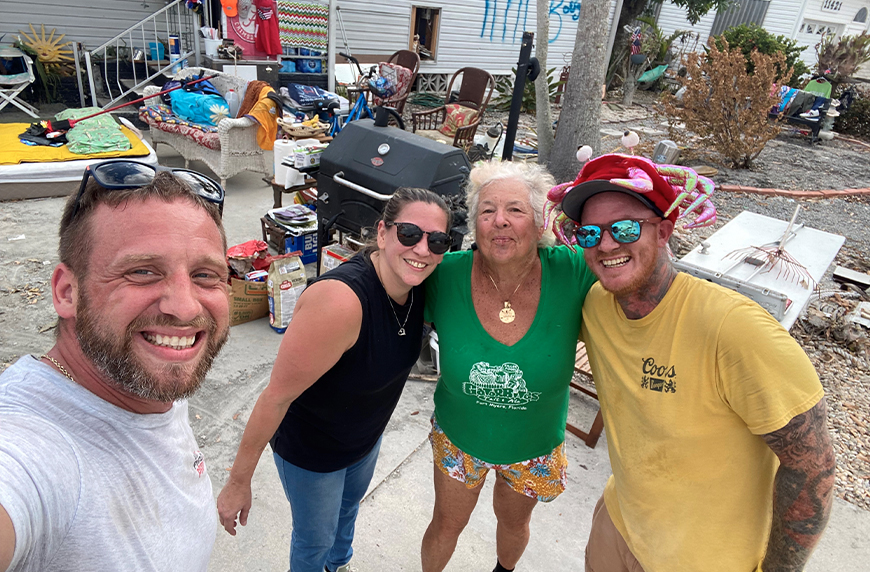 At CHG, our mission is to make a difference — to our people, our customers, and our communities. So, it's no surprise our people go above and beyond to give back to those in need. And we empower them to make a difference by giving employees paid volunteer time off (VTO) each year to volunteer with an organization or cause they're passionate about. Here are just a few of the ways our people made a difference this year!
1. Making a Difference Week
We make giving back fun. And our annual Making a Difference Week does just that! For 17 consecutive years, we've devoted an entire week to raising money for charity. This year, team members raised more than $367,000 for the Making a Difference Foundation.
2. Serving and learning in the Navajo Nation
Earlier this summer, a handful of our people had the chance to visit the Navajo Nation in Tuba City, Arizona, for an immersive service trip. The volunteers not only cleared out weeds and dug trenches but also learned about the Navajo culture and even a little bit about themselves.
Watch the video below to find out why Kelcy Perry says, "Volunteer opportunities like this don't come around often. I'm experiencing a different way of life and a different way of doing things, and I can really see the impact I'm having."
3. Fighting childhood hunger
Our CompHealth teams in Grand Rapids, Michigan, and Salt Lake City, Utah, worked together to fight childhood hunger this year by gathering food items and organizing sack lunches and food baskets for local kids in need. In addition, they raised more than $500 for food pantries in each location. In Utah, every $1 donated turns into $9.04 in goods and services for Utahns facing hunger. So, times that by $500, and you've got thousands of dollars of resources to help families in need.
5. Assembling hygiene kits
Employees from our Weatherby Healthcare division teamed up to take care of people experiencing homelessness in their area. They spearheaded the donation of items for hygiene kits that would allow people to experience the simple dignity of being able to brush their teeth, wash their faces, or wear clean socks. Employees could donate items like shampoo, toothpaste, and similar products, order them from an Amazon wish list, or meet and help package the items into personal hygiene kits. The team assembled more than 120 kits, which were distributed to men, women, and children in their local community.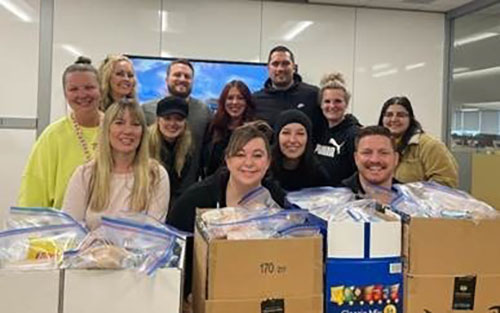 4. Providing international relief to Ukraine
Millions of people have been displaced due to the war in Ukraine. To try and provide some relief to those left homeless, CHG employees volunteered to help purchase, create, and assemble over 5,000 hygiene kits for Ukrainian refugees. Most of the hygiene kits were sent to Poland where they were distributed. In addition, the Making a Difference Foundation provided a $30,000 disaster relief grant to purchase mobile butterfly ultrasounds and EKO cardiac stethoscopes.
Five CHG employees also participated in a humanitarian trip to Poland where they helped care for displaced Ukrainian children, including playing games and sports with them and helping at mealtimes. The group also assisted with shelter organization, arranged activities for guests, and welcomed new guests as they arrived.
6. Helping special needs dogs
Allison Dancho introduced her CompHealth team to Perfect Imperfections, a charity dedicated to rescuing special needs dogs. Caring for animals with disabilities requires food, toys, and other supplies — all of which our Connecticut crew happily donated. Ana Primeau and her teammates used the organization's wish lists on Amazon and Chewy to supply more than 30 items. They also collected items in the office before delivering their donations to the charity.
7. Helping with Hurricane Ian relief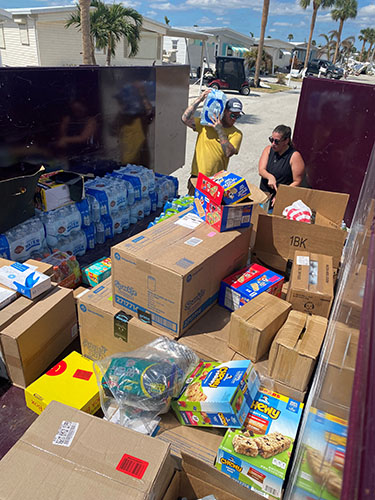 After Hurricane Ian left a path of destruction in late September, many of our Weatherby Healthcare team members used their VTO to help residents of Bayside Estates, a 55+ community located in one of the hardest hit areas of Fort Myers, Florida.
"We were able to provide not only donations, but also hugs, hope, smiles, and a little bit of laughter during this devastating time," shares Tara Domalewski. "The community was amazing, and it was awesome to see people come together to support each other."
In addition to supplying donations, the team checked to make sure floors were safe for residents to enter their homes, worked to remove debris from houses and yards, helped residents recover valuables, and generally assisted with anything else residents needed.
"I had the pleasure of meeting a Weatherby provider, Dr. James Sensecqua, and his family," Tara adds. "They were flooded out of the bottom level of their home and have started to gut everything. I was able to bring them a care package to provide a little bit of relief and comfort."
Giving back is one of the things CHG employees do best. After all, putting people first isn't just one of CHG's core values; it's a deeply ingrained part of our culture and a key characteristic of every person we hire. When it's part of who you are, looking for ways to help just comes naturally.
If you like giving back to your community, CHG Healthcare may just be the place for you. Check out our open jobs and join our team!