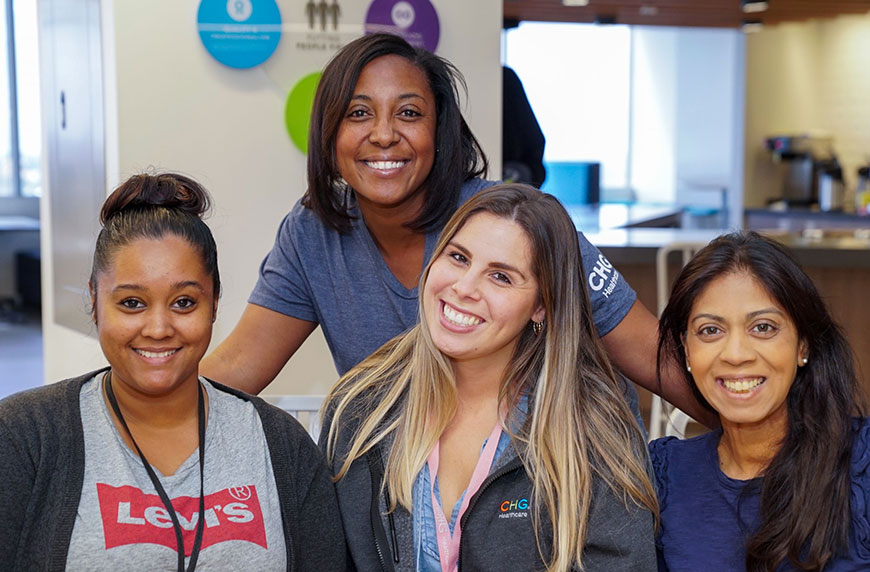 The CHG Healthcare story began in 1979 when a University of Utah physician developed the concept of locum tenens (traveling physicians) as a way to deliver much-needed medical care to rural areas across the country. More than 40 years later, CHG has become one of the leading healthcare staffing companies in the nation, providing temporary and permanent placement of physicians, allied health professionals, and nurses to healthcare facilities around the world. Last year, the company placed 17,000 healthcare providers serving 37.5 million patients.
But CHG isn't just a leader in its industry. For over 10 years, the company has been recognized for its award-winning culture, becoming a leading employer. With its focus on creating a great place to work, CHG established a workplace environment that fosters diversity, equity, and inclusion — a place where everyone can bring their whole self to work.
"We've been on our culture journey for more than 20 years and have continued to evolve our culture to meet the needs of our people," said Christine VanCampen, vice president of Diversity, Equity, and Inclusion at CHG. "We're committed to continuing to create and deliver a value-based work environment where everyone feels respected and included and has an opportunity to be successful."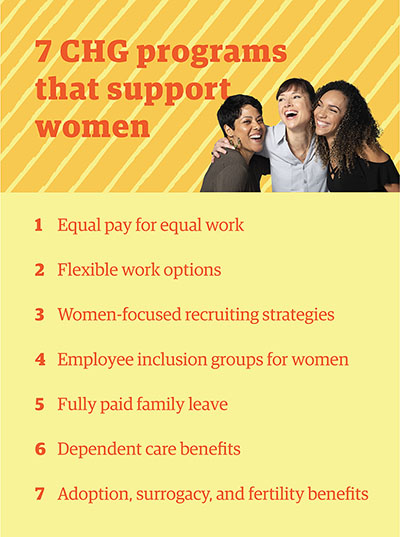 A great place to work for women
Headquartered in Midvale, Utah, the company has grown to 3,800 team members in nearly every state. Out of those, 59% are women. CHG is actively recruiting women in various roles throughout the company and supporting them on their career journey by implementing benefit programs and practices that support and empower women in the workplace.
Unique family-friendly benefits
Many of the company's employees are parents trying to achieve a healthy balance between their careers and time with their families. In addition to a comprehensive benefits program, the company also offers a variety of unique employee benefits to make it easier for team members with families, including:
Adoption, surrogacy, and fertility benefits
Paid family leave
Dependent care benefits
Volunteer time off
On-site fitness centers and lifestyle spending account
"I never imagined being with a company that cared so much about their people and cared so much about family and putting us first," said Jonella Ortino, a senior compliance coordinator at CHG. "As much as I wanted to grow my family, CHG wanted me to grow it too. Working for a company that values you and your family is something you can't even describe."

Flexible work options
Flexibility at work isn't a one-size-fits-all approach. What works for one person may not work as well for another. To help team members find the right balance between work and personal life, CHG employees partner with their leaders to develop a schedule that works best for them and the business. From going into the office full time to remote and hybrid schedules, CHG offers a variety of flexible work options that empower people to successfully get their work done in a unique way.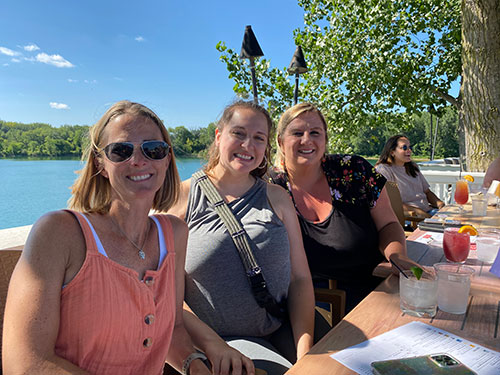 Equal pay for equal work
For the past 15 years, the gender pay gap in the United States has stayed pretty much the same. In 2020, women earned 84% of what men earned. However, at CHG, women make on average 100.24% compared to their male counterparts. Maintaining parity in compensation requires an understanding not only of what's happening in the company but also being aware of industry trends. CHG's compensation team approves every pay change before it takes effect. That allows the company to audit compensation in real time and make any necessary pay adjustments to ensure parity between men and women or between new and tenured employees.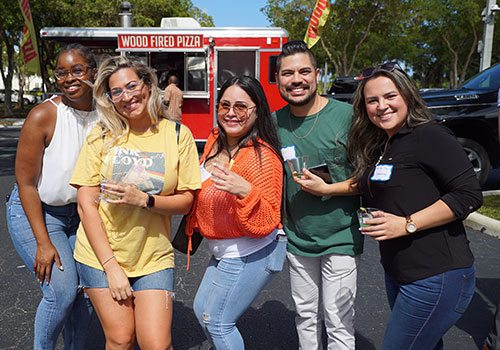 Employee Inclusion Groups for women
Connecting with coworkers and feeling a sense of belonging is important to building an inclusive workplace. CHG sponsors Employee Inclusion Groups (EIGs) to support and encourage individuals and provide opportunities to network with and learn from each other. One of the women's groups, WIT (Women in Tech) and Wisdom, has nearly 90 members who meet quarterly to connect and discuss career development. Guest speakers have also been invited to share best practices for navigating the workforce and home life.
"We care about our people and creating a culture where everyone feels like they belong," VanCampen noted. "Although we've done a lot of great work on both the culture and DEI fronts with programs like our EIGs, we know we need to lean in deeper to ensure we're continuing to hire diverse candidates and create a meaningful experience for all of our people."
Learn more about open positions at CHG Healthcare on their website.
This article first appeared on InUtah.org.