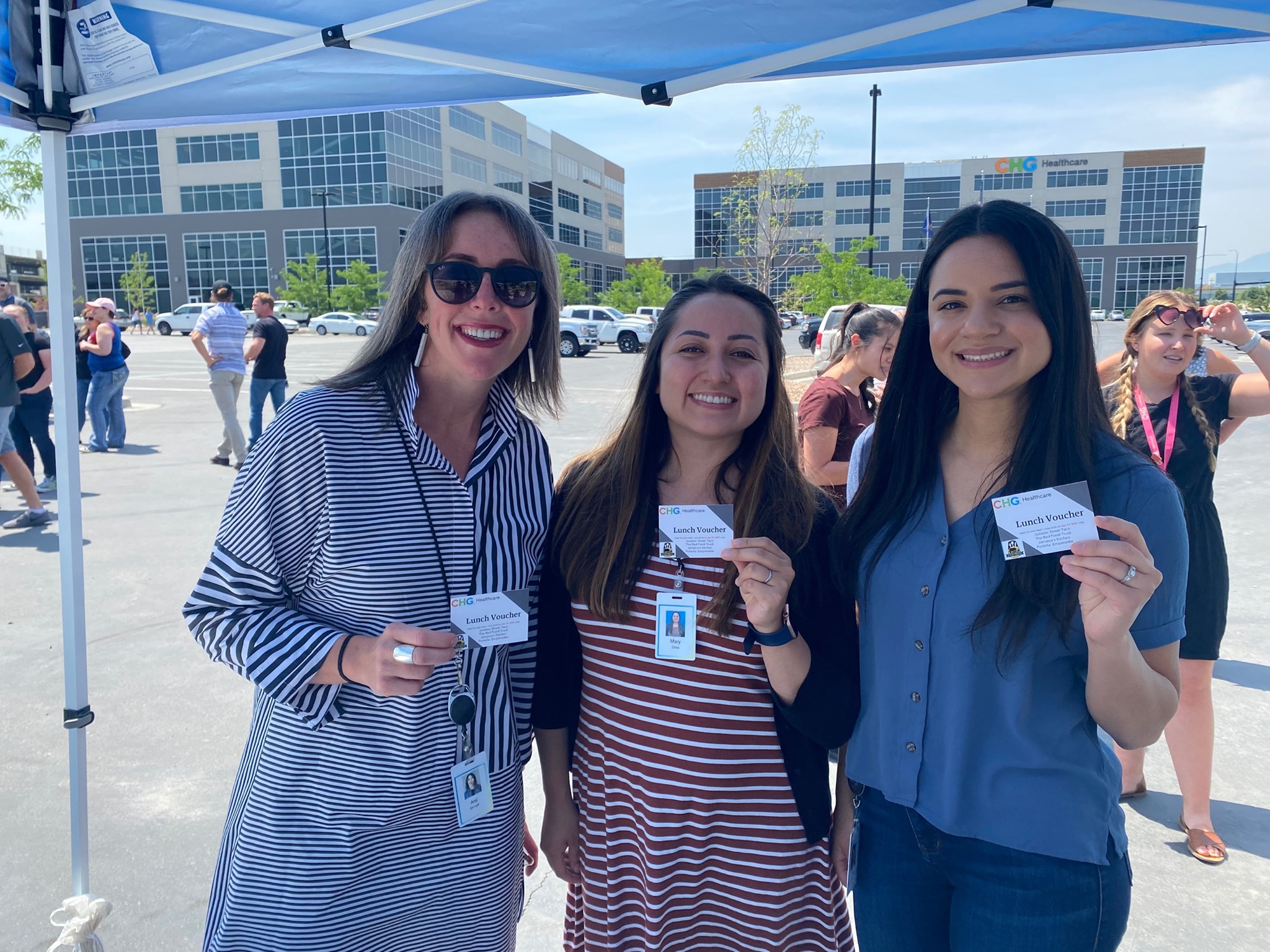 Is the fringe on your fringe benefits looking a little sparse these days? Maybe you should take a closer look at what CHG Healthcare has to offer. Besides competitive salaries, we've got some pretty sweet perks as part of our full benefits package.
Here's to your health
Of course, we offer great health insurance packages. That's a given. But does your company have an on-site gym or an on-site health clinic? Can you drop in on licensed health providers for a flu shot, a strep test, or a second look at that cut without having to take time off work or even leave the building? We didn't think so. Did we mention it's free? And that your kids, spouses, and domestic partners are also covered?
Speaking of kids, they never get sick during business hours, right? For that matter, adults could use some after-hours help too. That's why we love our Teladoc perk. Your doctor is as close as your phone, 24/7, all paid for by CHG.
Trying to eat healthier but need some help getting started? Teladoc also includes nutrition services at no charge.
Your mental health is as important as your physical well-being. You can meet face to face, for free, with licensed counselors at our Marathon Health clinics. Or schedule mental health guidance through Teladoc or the TalkSpace app. You can connect with a licensed counselor for online therapy, night or day, at no cost.
Maybe you're trying to get pregnant, but the stork is being stubborn. Did you know CHG provides fertility benefits? One CHG couple saved $30,000 because their tests and procedures were covered under our plan.
Many companies offer maternity leave but CHG believes new dads need time with baby too. That's why moms and dads can qualify for up to twelve weeks of paid parental leave when the baby arrives. Adoptive and foster parents can also qualify for this important bonding benefit.
Boost your wealth
Whether you're buying diapers, paying tuition, or just trying to build a nest egg, CHG has benefits that will help you make your money go even farther.
Matching 401(k)? Absolutely!
Customized financial app for money management? For sure! UpWise by MetLife is free to all CHG employees. It can help you set realistic financial goals and then suggest simple actions to help you achieve them.
Need extra help building a budget, financial planning for young professionals, or best investing practices? Free webinars with our financial partners can help you make decisions about your money that will have you smiling all the way to the bank.
How about college tuition reimbursement? We practically invented it. OK, maybe we didn't invent it but many of our employees save thousands while they're working toward their degrees. We also cover job related courses and certifications. And the longer you're with CHG, the more the company pays toward your college costs. Watch how this employee uses the benefit to help her complete her degree.
Work here or there
If you hate your commute and love working in your jammies, CHG's hybrid workplace is for you. You'll work with your leader to come up with a plan that helps you keep your work / life balance humming with happiness.
Reward your success
At CHG, we work hard to make a difference in the lives of everyone we serve – our providers, our clients, our communities, and definitely our people. Whether you're a member of our sales team or a business partner supporting other teams, CHG makes sure your hard work is recognized and rewarded.
For those who qualify, President's Club treats the top salespeople to lavish trips and a ton of fun and pampering. Our business partners are also recognized for their excellence. Top performers in this category are rewarded with the Circle of Excellence award. Winners in each of our divisions receive two weeks paid time off, along with $2,500 to spend any way they want. Pretty great, right?
Sharing your passion
We're not just all business. We go out of our way to support our people as they volunteer in causes near and dear to them. As individuals or teams, employees can receive paid volunteer time off. Every year, employees who volunteer in their communities can be nominated by their CHG peers for a Difference Maker award. Winners receive an all-expense paid humanitarian trip abroad.
If your perks pale in comparison, check out our careers page. We think we're just what you're looking for.