When 13-year-old Kate Campbell learned about West Michigan Therapy Dogs, she knew her big, cuddly, lovable dog, Porter, was a perfect candidate.
She researched the certification process and found that she was eligible to be a junior handler, provided that her mother joined her and signed up as a handler. Fortunately, her mother, Britt Campbell, a provider representative for CompHealth allied health staffing in Grand Rapids, Mich., was familiar with therapy dogs and had often heard from her clients how helpful they were in the medical facilities. Britt thought that getting their two-year-old golden retriever certified as a therapy dog would be a great idea.
"Porter is an extremely mellow, lovable and, you could say, extremely needy dog," Britt explains. "He loves to sit and let people pet him. Actually, that's all he wants to do. We decided to use his powers of laziness for good and not evil."
Britt and Kate soon enrolled Porter in the West Michigan Therapy Dog training program, which consists of prescreening evaluations, eight weeks of classes and three shadow visits under the supervision of an evaluator.
Even though Porter is a mellow and well-behaved dog, Britt and Kate found themselves holding their breath during a session on food training.
"The trainers dropped food on the floor and Porter had to walk by it," Britt says. "My daughter and I looked at each other and were like, 'Well, it's been fun, we're out of here.' However, Porter actually passed the test! He did great and he continues to surprise us with how he reacts with the patients."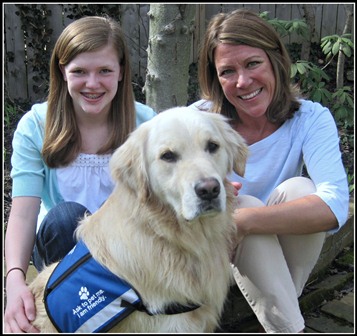 Today, Porter is a certified therapy dog and a doggone good one, too, if the Campbells have anything to say about it.
"He seems to know the patients that need a kiss or the ones that just want to rest their hand on him," Britt says. "Even when he's in a huge bear hug from a dementia patient who doesn't want to let go, he remains kind and gentle!"
The mother-daughter-doggie trio has visited a geriatric rehab hospital, a veterans' hospital, a traumatic brain injury home and a rehab center. They are also planning on working with Ruff Readers, a program that helps children read by allowing them to read out loud to therapy dogs, thus eliminating the stress of reading. After that, the next step is to get Porter the Delta Certification, which will allow him to visit patients in the major hospitals.
Until then, Britt and her daughter are happy to continue visiting those they can and watching people light up when they see Porter.
"There's nothing better than being part of making someone's day brighter," Britt says. "My daughter also loves the program and the exposure to all the different people and situations has been an incredibly positive experience. People love Porter. It's so rewarding to know you are making a difference. "