The CompHealth allied health staffing division in Salt Lake City, Utah, proved that they are more than a match for any sticky situation – spider webs included.
On May 10, the team headed out to the park for a voluntary training on keeping a positive attitude.
"Rather than go down the road of the traditional classroom training, we decided to see how people would react when we created a challenging situation and then affected the general attitude with negativity," says Jared Southard, a senior training and development specialist.
Jared and his team challenged participants to pass each person on the team through a "spider web,"  in less than 30 minutes. The catch, however, was that each hole in the web could only be used once until every hole had been used. Additionally, if any part of their bodies touched the web while they were passing through, they had to go back and choose a team member to sit out for a short period of time.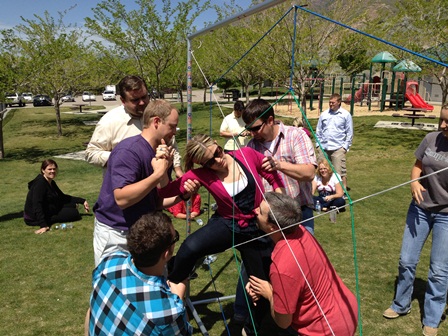 Throughout the challenge, Brad Hopkin, manager of operations at CompHealth allied health staffing, purposefully approached the situation with a negative attitude while facilitators Jared and Aaron Smith, a senior training and development specialist at CHG in Salt Lake City, Utah, did their best to bring morale down, telling the team that they didn't expect them to finish such an impossible task.
"It was interesting to see how the negativity spread," Brad says. "People became frustrated and nitpicky, and we failed as a team."
Whenever any team member was caught complaining, they would be temporarily pulled out of the game, making it that much harder for their team to complete the task.
"After failing, we sat down and talked about our attitudes, both those of the negative plants and those of the players," Brad says. "We were asked to do it again with a focus on positivity. As we did so, everyone was happier, we had more fun and people and the facilitators were more lenient with mistakes."
Although they were unable to finish the first round, Jared says that once the team began focusing on staying positive, their success sky rocketed.
"With these lessons in mind, the team then set a goal for completing the web in a shorter time while being aware of their attitudes," he says. "The team finished the second round in less than ten minutes."
Although he was skeptical at first about the training activity, Brad says that it was the most engaging and useful training he's participated in.
"The demonstration showed the effects of attitude, both positive and negative, and stressed the importance of keeping a positive attitude and the successes that can bring," he says. "Our corporate training folks did a great job!"
Check out more pictures from the activity in the photo album!