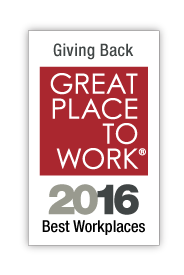 Fortune magazine recently named CHG on its
50 Best Workplaces for Giving Back
list. The ranking is based on a survey where our people rated the meaningfulness of their work, the difference they make in their jobs, and the impact their organization makes in the community. "Our philosophy is to make a difference — not only to the medical providers we place and the millions of patients they serve — but to our people and the communities we live in," says Scott Beck, CEO of CHG. Here are five unique ways CHG empowers our people to give back to our communities and each other:
1. Volunteer Time Off
Each calendar year, CHG offers eight hours of paid VTO to our employees to volunteer for a nonprofit of their choosing. In 2015, our people used more than 4,000 hours of VTO to serve our communities.
CompHealth
's Kerstin James connected with the nonprofit Icing Smiles and
used her VTO to make a cake
for a little girl who needed a heart transplant. And last Thursday,
RNnetwork
's Amber Rand and Malinda Figueroa used their VTO to help build a home through Habitat for Humanity.
2. Employee Compassion Fund
Difficult or tragic events affect our people each year. Thankfully, we help take care of our own. Funded by our people, for our people, the Compassion Fund provides need-based grants to employees facing financial hardship. Through employee donations and events like the
Compassion Fund 5K
, last year we awarded 20 grants — totaling more than $25,000 — to help our people who fell on hard times. 
3. Difference Maker award
This award celebrates our people who are committed to changing the world by making a positive social impact on others and in their communities. More than 50 employees were nominated by their peers this year. The field narrowed to
13 finalists
before our four Difference Maker winners were announced:
Jenna Barrett
,
Charese Jamison
,
Michelle Rhodes
and
Brooke Ziakas
. These four winners will join our CEO on a company-sponsored service project and safari to Kenya, Africa, this summer.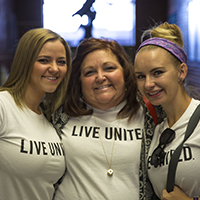 4. Company-wide community service opportunities
CHG also sponsors community service projects and fundraising events. Pizza-eating competitions, ping-pong tournaments and Hot Wheels car races are just a few of the activities held during workhours to
raise more than $700,000
for United Way last year. And last September, 60 Salt Lake City employees made a difference to a local high school in need during our annual
Day of Caring
.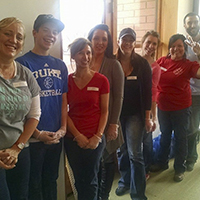 5. Employee Network Groups
To support our culture of inclusion, CHG provides the opportunity for our people with shared interests to create Employee Network Groups and provides each established groups $500 financial support annually. One of our ENGs,
CompHelpers
, hosts ongoing drives for The Road Home and Utah Food Bank, and delivers meals for two Meals on Wheels routes.