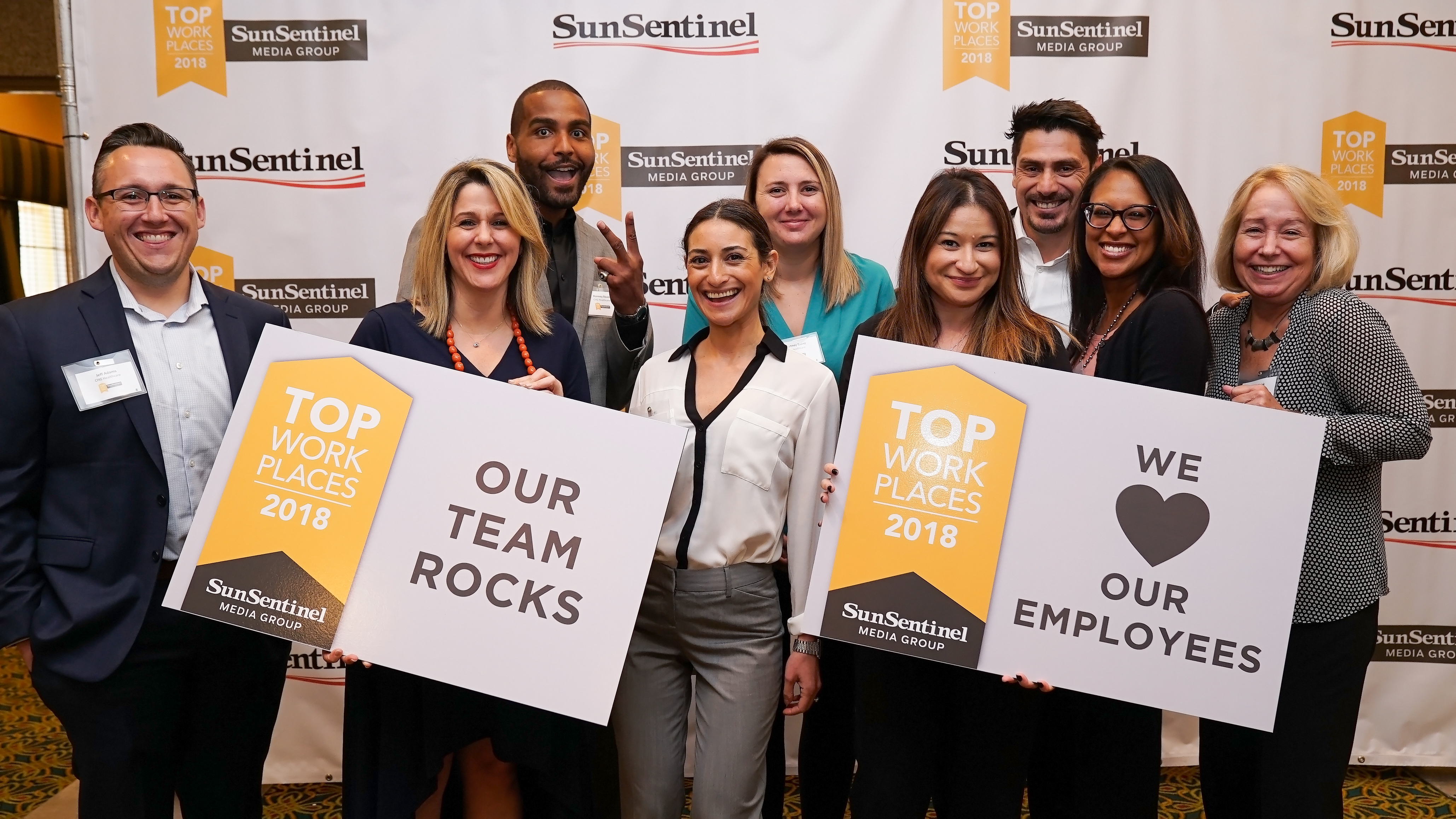 Three 
CHG Healthcare
 companies — 
CompHealth
, 
RNnetwork
, and 
Weatherby Healthcare
 — were named to Sun Sentinel's list of 
2018 Top Workplaces in South Florida
. The list is based on the results of an employee feedback survey administered by
Energage
that measures several aspects of workplace culture, including alignment, execution and connection. Here's how the three divisions ranked on Sun Sentinel's list:
CompHealth ranked No. 11 on the midsize company list.
RNnetwork ranked No. 1 on the midsize company list.
Weatherby Healthcare ranked No. 3 on the large company list.
"CHG is a great place to work because our people are committed to putting people first," says Scott Beck, CEO of CHG Healthcare. "They are passionate about the work they do and make a meaningful difference in the lives of the healthcare providers we serve — and ultimately the patients these providers help." CHG's commitment to its 
core values 
and 
people-centric culture
 creates an environment where employees feel supported at all levels of the organization and are 
encouraged to be themselves
. The result is a workplace that's not only fun, but diverse and inclusive — a place where employees are passionate about the work they do and can grow their careers.
VIDEO: 
Find out why CHG Healthcare is one of the country's best companies to work for: 
bit.ly/CHGbestcompany
The company offers employees a variety of unique benefits, including:
Volunteer opportunities: Employees receive eight hours of paid volunteer time off each year to serve in the community and also have the opportunity to participate in national and international humanitarian trips.
Employee Compassion Fund: Funded by employees, for employees, the Employee Compassion Fund provides tax-free financial grants to help employees facing financial hardship.
Flexible schedules: The company empowers leaders to create flexible work schedules with employees to find an optimal balance between their job and personal responsibilities. Alternate work schedules include flextime, job sharing, a compressed workweek, telecommuting, and regular part-time work.
Growth and development opportunities: From new employees to company veterans, CHG offers a wide-range of learning and development opportunities to help employees remain competitive in their roles and enhance their personal growth. The company also supports its people's career interests through its tuition reimbursement program with reimbursement amounts ranging from $1,000 a year for new employees to more than $5,000 a year for tenured team members.
Employee Network Groups: Employees are welcome to use company resources, as well as $500 per year, to form clubs or groups based on their personal interests.
In 2017, CHG was listed as one of People Magazine's 
Companies that Care
, one of 
America's Best Employers
 by Forbes, and as a top workplace for 
women
, 
millennials
, 
Generation Z
 and 
IT workers
, among others. CHG and its brands have also been recognized as top workplaces in
Utah
,
Connecticut
, and
Oklahoma
. Last year, CHG's healthcare staffing companies placed more than 14,000 medical providers across the country who served nearly 27 million patients. The company employs more than 2,600 people in eight offices across the country, including Utah, Florida, North Carolina, Connecticut, Michigan, and Oklahoma.