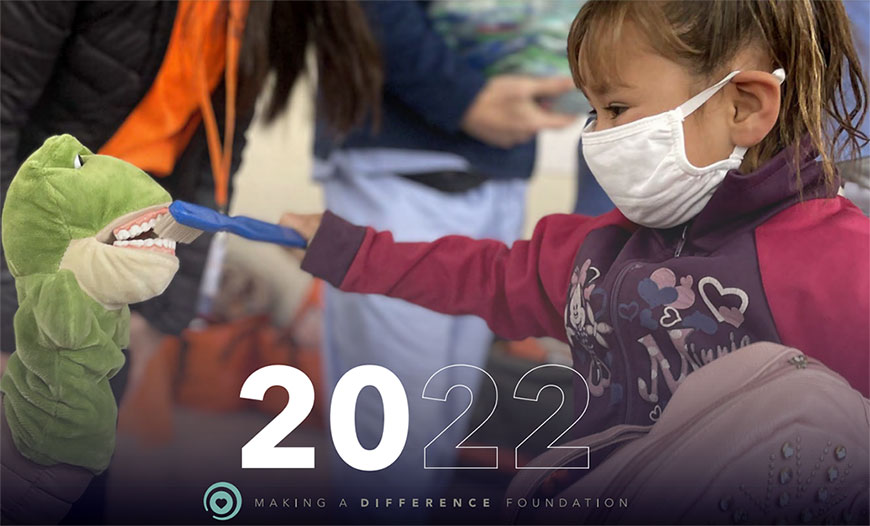 The Making a Difference Foundation (MADF) exists to support the passions of medical providers and CHG Healthcare employees in their efforts to give back to their communities and the world.
The foundation achieves its mission through grant programs focusing on two areas: Community Grants and Healthcare Grants:
Community Grants focus on supporting local nonprofits where CHG employees are actively engaged as volunteers
Healthcare Grants focus on providing healthcare to underserved populations and supporting medical providers who volunteer on medical mission trips around the world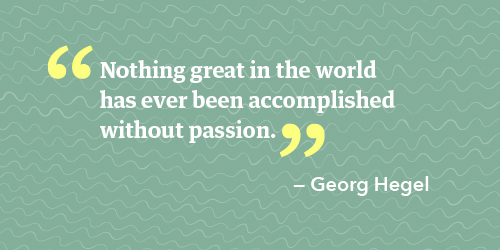 The impact of the Making a Difference Foundation in 2022
MADF recently released its 2022 annual report, detailing the impact of the dedicated CHG employees, medical providers, donors, and foundation staff in their local communities and around the world. 2022's highlights include:
46 Local Grants awarded to organizations with which CHG employees are actively volunteering
$90,000 in Sustainable Healthcare Grants awarded to organizations making a meaningful healthcare impact in underserved communities
$93,000 in Disaster Relief Grants awarded to organizations aiding in the recovery of areas affected by disaster and conflict
94 healthcare providers supported in participating in medical mission trips
19 First-Time Medical Mission Trip Grants supporting providers on their very first medical mission trip
14 medical mission trip locations on five continents
$1,911,650 in funds raised
$509,104 in funds disbursed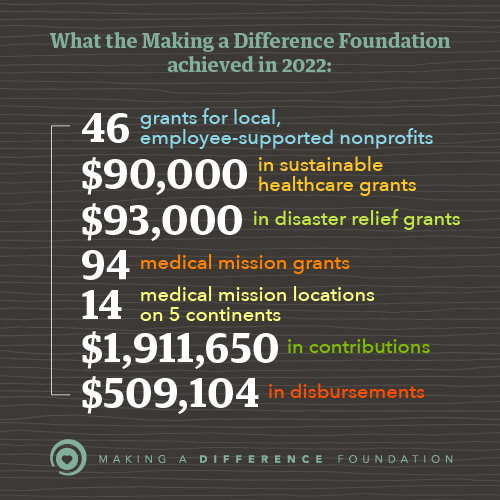 Additional grant offerings from the Making a Difference Foundation
This year, MADF created three new grant programs:
Team VTO Grants, which encourages teams at CHG to use their volunteer time off to volunteer with a nonprofit, after which the nonprofit becomes eligible for a $500 donation from MADF.
Divisional Matching Grants, where each division is eligible to apply for a $2,500 donation for a nonprofit organization with which the division actively volunteers.
Community Impact Grants which support the company-wide volunteer activities organized by CHG's Community Impact Team. These new grant programs, combined with three current grant programs, create an opportunity for the foundation to support causes most meaningful to CHG employees.
One of the marquis programs supported by the MADF is medical mission trips to underserved communities. MADF supports medical providers who are passionate about giving back, an aim that is core to the mission of the foundation.
How the Making a Difference Foundation gave back
Building hope in Guatemala
Among the providers who participated in a medical mission trip in 2022 is registered nurse, Jessica Edwards. Jessica volunteered with ER Abroad and volunteered at a medical clinic in Escuintla, Guatemala. In her words:
There were two things that had a great impact on myself, my journey, and my future lifestyle. These two things were the most beautiful and the most devastating things I have ever seen.
First, one of the days, we were picked up at the Land of Hope and stood in the back of a pick-up truck. They took us less than a quarter mile down the road to a landfill to bring families back to the clinic. I knew families lived at the landfill, but I was not prepared for what I witnessed. Children, women, and men living under tarps held up by sticks. I felt as though I was parading around in their home. I felt guilty. Here I am in clean clothes and name-brand shoes, and they are living with no running water, barefoot, and in a landfill. I was heartbroken. The reality of poverty was witnessed by all of us, and it left us in silence.
Second, one of the mornings, the Land of Hope offered a church service to send us volunteers on our way. The people gathered and rang the church bell to tell everyone in the community to come. The same families I had treated in the landfill just days before were there. They thanked us all for coming and treating them. They sang the most beautiful hymns in Spanish. I am grateful that my nursing journey led me to ER Abroad and this small, little village in Guatemala. I forever have been changed.
Bringing relief to Ukraine
In 2022, the world witnessed one of the most devastating humanitarian crises of our time unfold in Ukraine. MADF mobilized quickly — working with a trusted partner, International Medical Relief (IMR), to render relief and medical services to Ukrainians displaced by conflict. The foundation dedicated funds to deliver life-supporting equipment and to support medical providers to travel to Poland to administer much-needed care to people fleeing violence.
Support of generous donors
MADF is supported by generous donors — including CHG Healthcare, CHG's employees, medical mission trip donations, and other external donors — who play a pivotal role in advancing the foundation's mission and impact.